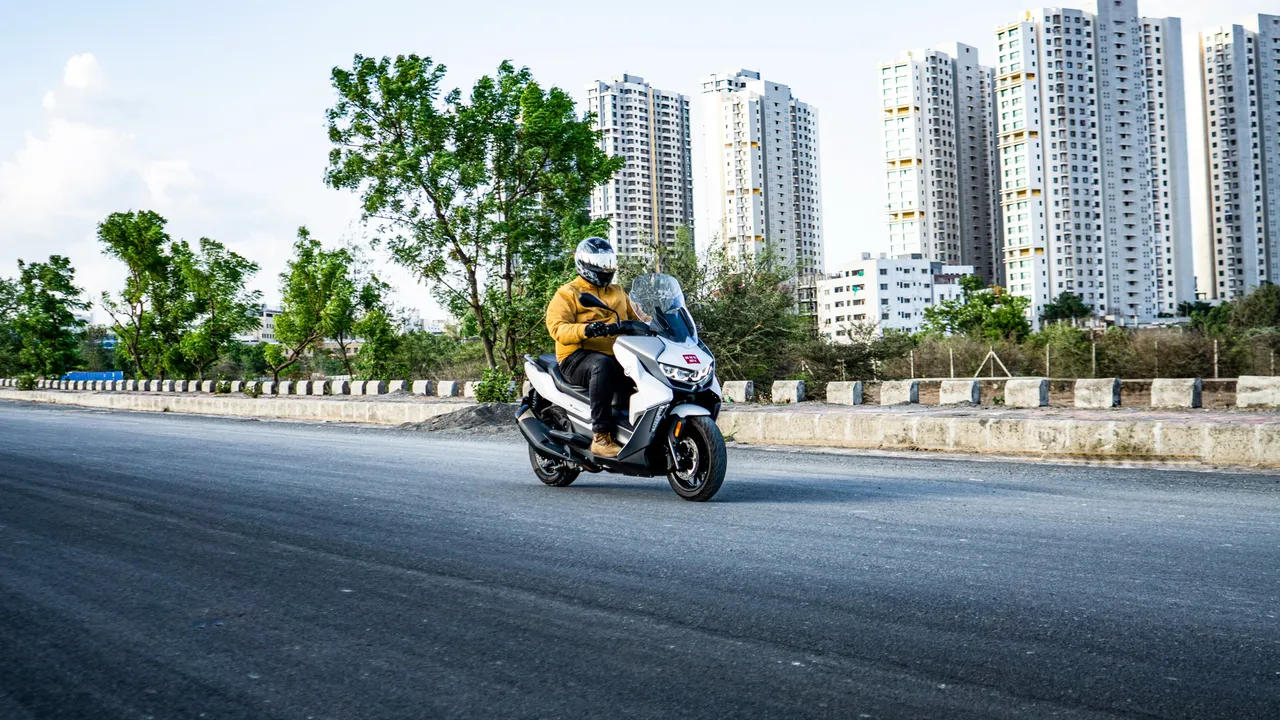 Big, powerful, enticing,expensive… And, the list goes on. These are the cool adjectives one can associate with the BMW C 400 GT. The C 400 GT is the latest offering from the BMW brand under the BMW Motorrad portfolio. Trust me, don't go by its hefty price tag and try (read Ride) it before deciding to buy a maxi-scooter for yourself. The maxi-scooter space may be getting densely crowded with new scooters coming in from Yamaha, Aprilia, or any other brand, but none of them are close to the C 400 GT in any terms. Considering the sticker price, performance, comfort, and looks, the C 400 GT is way beyond all of them. How? Let us start with what comes with it.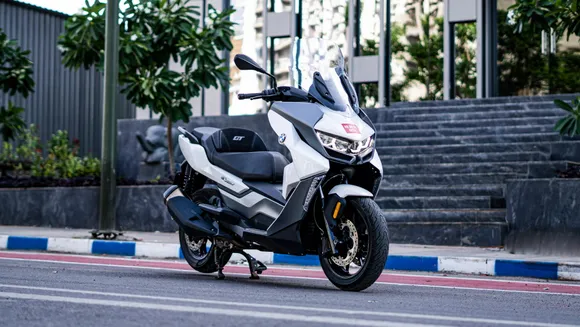 What's there in it?
Trust me, the C 400 GT is more enticing in the flesh than in the pictures. My initial impression before taking up the road test, was why is this maxi-scooter so huge? But, sooner or later I realized it's BMW's way of upping the game in the segment. Since there are no direct rivals to the C 400 GT for now in India, it is an ace player in the segment. How?  At first glance, you notice a chiselled apron up front with neatly integrated quad DRLs with LED headlamps. Complementing them below are vertical turn indicators that are neatly tucked in giving the complete package an aggressive stance up front. The next thing that immediately grabs your eyeballs is the non-adjustable tall windscreen, giving you the feel of riding a high-end cruiser bike.
Walk towards the side, and you notice a colossal footboard that can accommodate and comfortably make room for your feet, regardless of your frame or size. Also, you will notice a spine-mounted 12.8-litre fuel tank giving you the impression that there is very little space on board, but trust me that's not the case. And, it's something that impressed me a lot along with the low-height seating arrangement for the rider with a cushioned back support, allowing me to go for a few more long rides than I would typically take on. Even the pillion seat was as comfortable as the front, with a step-up positioning, making it comfortable for both the rider and the passenger. While walking towards the rear, you find a neatly sculpted LED tail lamp setup adding to the overall sportier stance. Though BMW calls this a maxi-scooter, in my opinion, it is no less than a sporty maxi scooter. 
Now BMW did not forget to impress us with a slew of features. First on the list was the keyless start, with just a press of a button that allows you to start, stop and lock the C 400 GT. Then were the designated switches for functions like glove box and trunk opener. The two glove boxes on either side had enough space to accommodate your smartphone, wallet, and other accessories. One of them was even equipped with a USB port, allowing you to charge your electronic gadgets on the go. The trunk also had enormous space to accommodate a full-size, full-face helmet in the flex case which opens up with a toggle switch in the trunk. Mind you, this flex case also doubles up as a safety feature, allowing you to avoid riding without a helmet, as the C 400 GT doesn't propel forward with the flex case active. 
Now, speaking of features, what impressed me most was the 6.5-inch TFT screen, which lights up with a welcome animation on ignition. The instrument cluster is not a touchscreen but instead can be controlled using a rotary dial placed along the left side of the handlebar. You can use this dial to toggle between various menu options and even your favorite tracks. Yes, you read that right! The C 400 GT can be paired with your smartphone and you can access all calls, messages, and notifications on the go. And, if you have a Bluetooth-enabled helmet, then you can listen to your favorite tunes or even answer your calls while riding. The instrument cluster besides these features displays all the required ride information in bold and clear lettering. Overall, the BMW C 400 GT is packed with features, and clearly, BMW Motorrad has left no stone unturned to offer a dose of comfort and luxury with the C 400 GT.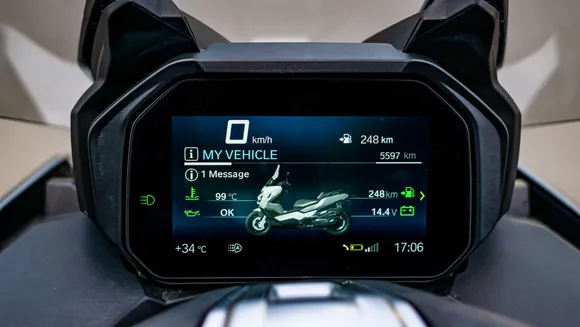 The Powerhouse
Bigger the better! Yes, that's what BMW Motorrad had in mind for a maxi-scooter. Powering the C 400 GT is the single-cylinder 350cc petrol unit. The petrol engine here makes a total output of 34bhp and 35Nm. The claimed top speed on paper is 139 kmph, however, the journey to triple-digit speeds with C 400 GT was quite an easy task. I didn't expect a maxi-scooter capable of doing these speeds, in comparison, to what I have tested in the past, but when it's a BMW, there is no doubt of being unimpressed. Even the 0-100 times felt quicker, and if I had the appropriate testing gear I am sure I would have been surprised with the numbers that this BMW seems more than capable for. Also, I believe those figures would have been marginally better than many motorcycles with similar capacity, which weigh below the C 400 GT's 214-kilogram mark. Well, the only drawback that if you were to ask me from this engine was the exhaust note. Being a BMW, the enthusiast in us might look out for a powerful scooter like this to have a burbly exhaust note but I am sorry to say this but this one lacked it. But, hey this isn't a concern at all, because there's a lot more to this maxi-scooter to impress us and a quieter exhaust is no harm to your ears and the people around.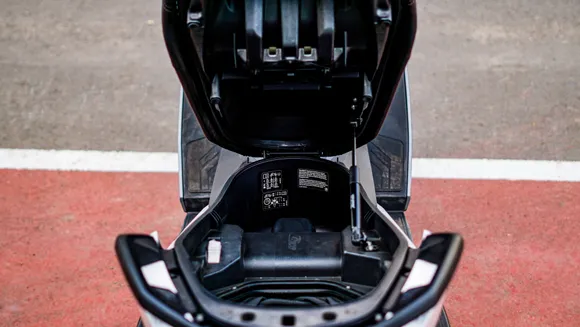 Ride and Handling 
While in the case of the ride, I must say I am impressed with the C 400 GT. Why? Because it may seem to a lot of people as an uncomfortable scooter, but trust me it is not. Thanks to the cushioned seats, and preload-adjustable shocks at the rear and telescopic suspension in the front, which in tandem do a wonderful job in tackling all sorts of road conditions. Not even once did I feel the thud on the rough patches, and instead felt it to be comfortable, making me change my mind about taking scooters for long rides, only if it's a BMW C 400 GT.
Whereas handling is concerned, the scooter may look like an unmanageable one to ride with its colossal 214 kg weight. But, with even weight distribution, the C 400 GT feels quite agile, which also can easily be manoeuvered through the slow pace traffic. Even when you are driving through a road full of twisties, the C 400 GT feels superbly planted. And, giving you more confidence while taking those aggressive corners were the super wide and grippy tires of the C 400 GT.  Even the brakes offered a good amount of feedback. With the Bybre setup taking care of the braking duties for the front and rear, the C 400 GT came to a complete standstill in very little time.  To sum it all up, the C 400 GT in terms of performance, ride, and handling offers you a riding experience that makes it a fun-to-ride scooter, leaving a lot of motorcyclists around you awestruck.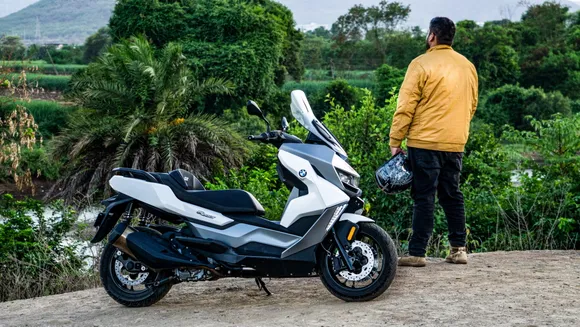 Should you buy it?
To be honest, it is hard to recommend a scooter with a price tag of Rs 10.40 lakh (ex-showroom). But if you are one of those prospective buyers, who has a parking spot full of high-end machines, and has room for something agile, comfortable, and full of performance for the Urban run-about, and the hefty price tag isn't a big concern, then the BMW C 400 GT is an appealing proposition for you. Of course, one may compare it with motorcycles around this price range, which offer better performance. But, what these motorcycles cannot do for you, is make heads turn around at every road you pass by, or grab eyeballs at every traffic signal. Also, the C 400 GT can put a lot of motorcycles to shame with its acceleration, power, comfort, and appeal.