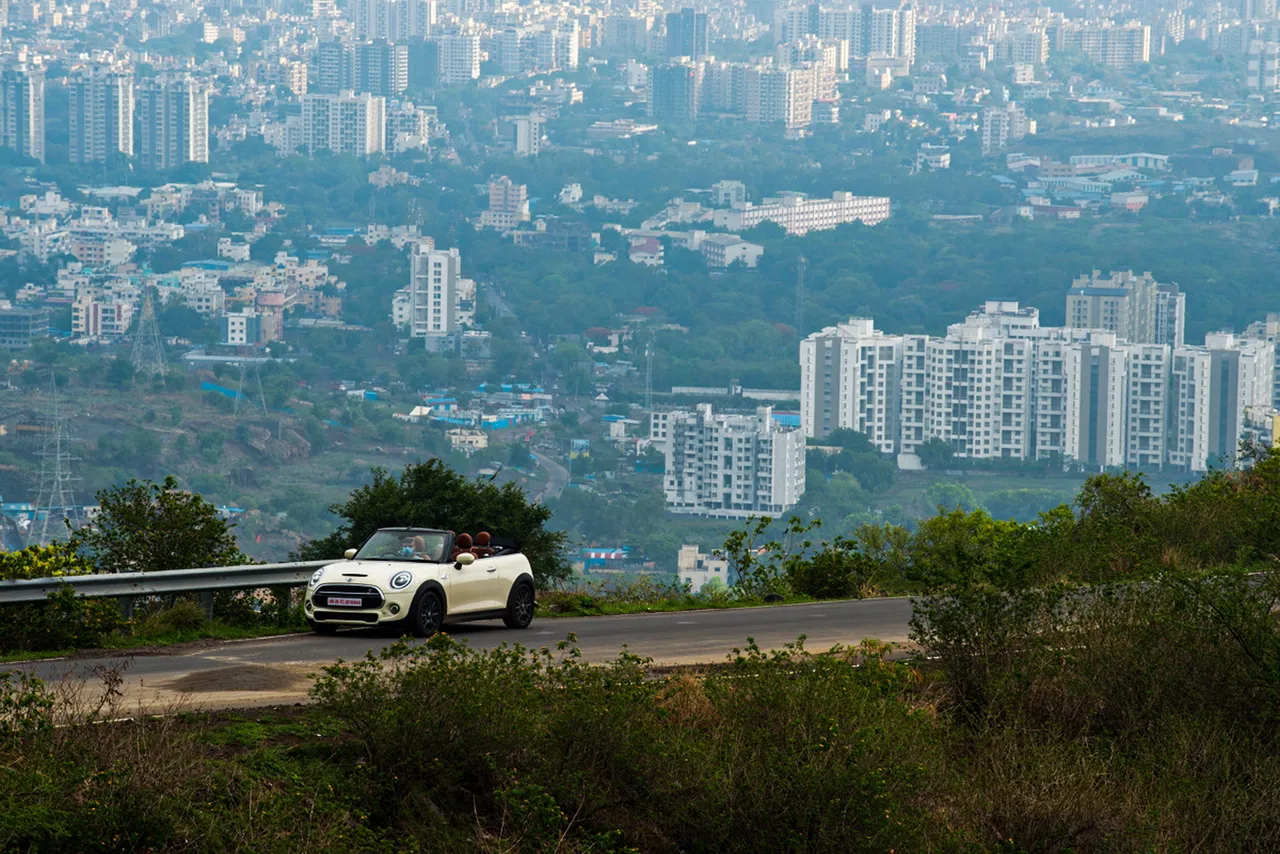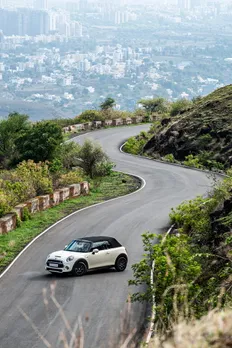 I am going to keep this review as simple as sitting in a lush meadow on a summer's day. Know why? Because this car right here, the Mini Cooper Convertible, is one of the most misunderstood cars I've ever heard of or come across. To start with, it isn't only a girls' car at all or perhaps anymore. And I'll weave you through the reasons as to why I say that. Firstly, it may have the word 'cute' written all over it, but haven't you ever received a compliment on your cute pajamas from your loved ones? Stop that pooh-pooh! It is a serious offense for a car with the kind of numbers it comes with; also for the fact that it wasn't easy for BMW to grip both the aspects in the same car. I am not saying it isn't cute, it certainly is, but it is notorious too. Alrighty then! It might also be noted that it sounds like your and my childhood. How? Haven't you been called cute when you were a baby? Heck! I am pretty sure some of us turned brattish while we grew up to a kid cooeeing away to teens. Well, that's that then! This is exactly what happened to the Mini over these years. What used to be just a car that was as pretty as a picture, grew up to be a playful one.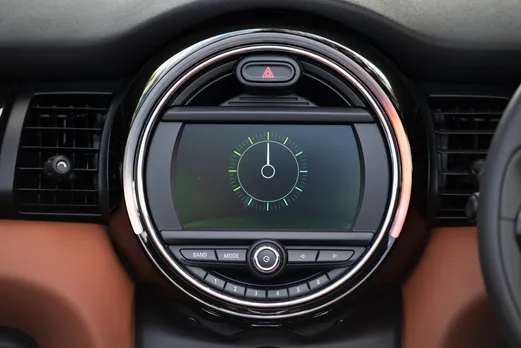 Top: The soft top design appeals to a lot of people around the people.
Bottom: A revamped central instrument cluster with Piano-black design panel as standard.
But before it did, it was cute for its looks. It still does. And that isn't easy. The designers at the headquarters have reworked the front grille and the bumper. The indicators on the side have a new place in the slim scuttles which look fresh and new. Upon looking at the headlight closely, you will notice that they've been tweaked a bit. At the back, the tail lamps get the retro-cool Union Jack motif. This will bear resemblance to the print on the fabric roof as well, for which of course, you have to stick your neck out with a heavy wallet. Now, (no pun intended) this is where the car starts to get naughtier, at the rear. Look at that bumper and the diffuser, they've been redesigned too, making the Mini a bit pugnacious there. This is how BMW has flown the design, from front to back, from cute to a tad violent. It's like that kid who is a mama's boy but doesn't hesitate to instruct you to not walk his way or hear his words.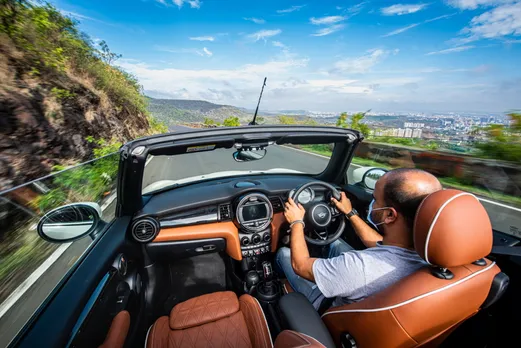 But on the inside, things get a bit vibrant, spesh with the new chequered pattern and the subtle ambient lighting around you. Of course, the old-school stack at the center remains the same which houses an infotainment system that still comes with an old soul but a new face. Also, if you want to connect your Apple to this Mini, you've got to cough up some. In the front of the driver, the matte-finished digital dash will give you all driver-related info on the go, like speed, fuel status, etc which goes easy on the driver's eyes while driving and otherwise. Now, onto my fave part, of course, after the sweet sound from the engine, is the Harmon/Kardon audio system. I think BMW has played it smart here by keeping the audio 'hype' a bit low; meaning, after listening to some instrumental music in there, it seemed as if it was designed keeping in mind the classical music listeners. It might sound a bit flat, but after a bit of reverse engineering, I discovered that jacking the volume up, the low-level passages with little fear will suddenly swell up to blow the speakers out of your doors! But keeping this comes into effect when the roof is not retracted down, which takes 18 seconds to go all the way down. And when it does, you don't want to listen to music from the speakers, but from the engine, don't you? And yeah! It will be evenly audible to all four in the car.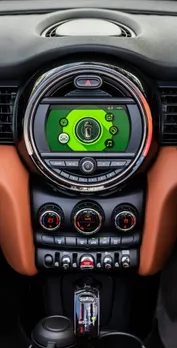 Right: The inner housing of the round headlamps are no longer in chrome, but instead finished in black. 
Bottom Right: On offer is an optional heated steerring wheel.
But there's no doubt that the driver will have most of the fun on the wheel. Producing maximum power of 192hp and a peak torque of 280Nm, the 2.0-litre turbo-petrol engine that keeps BMW's 2 series on the toes, will kick you in the seat with its sheer exciting nature, while the whole body and chassis of the Convertible will hold you snugly as well. Surprisingly, although it is obvious for me to miss a manual, I still did not miss it. I wouldn't miss a day with or without it; thanks to the 7-speed dual-clutch tagged along the paddle-shifters that combine and do the job well. Of course, the behaviour becomes gentler as you go down to Mild or even to the Green drive mode. A place that I barely visited since I liked how the Sport mode clutched so well with the car's directness and the steering's input vs output. But, the only factor that takes the last piece off the cake is suspensions. I would've liked them a tad firmer for the never-ending enthusiastic satiation that we have.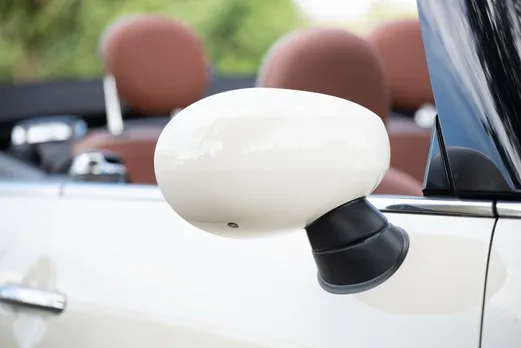 Top: 17-inch wheel size is standard on all trims of the Convertible. 
Bottom Left: The ORVM caps are body coloured and are on offer as standard. 
But hey! The Mini, and that too the Convertible for that matter, is not supposed to be your primary car or the go-to car that does everything for you. It is one of those cars that has to be kept fuelled up for a flash on the drive, once in a while. And when it is not doing that, it is still not wasting that space in your parking, since it is a looker like no other. Any other reason you want a car, you know you've got plenty of them to scroll through and get one home. But it isn't going to be a Mini. Exactly how you have an option of buying any wallet from the market, but it won't be a Harber London. Yeah! Enough milking the Chanels, Kate Spades and Marc Jacobs. Long story short, as much as I want to end it with 'why should girls have all the fun!', all I want to say is that it is nothing less than one of a kind.