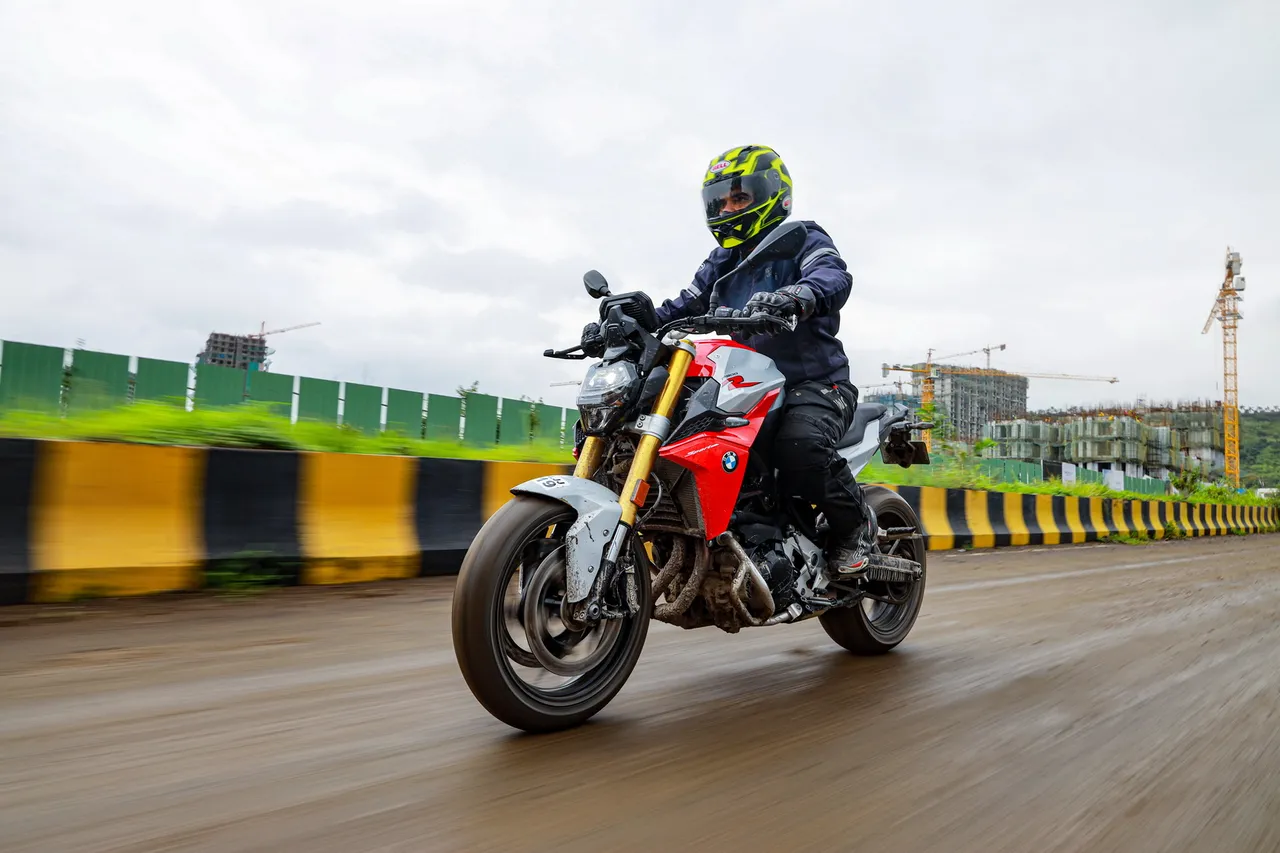 Ah! The new days of riding a bicycle! If everything else has faded out, the old coin of hope and pain just before balancing involuntarily hasn't. Question is, how well do you ride, and the point is, if something becomes easy to make or do, doesn't mean you are good at it willy nilly. Don't believe me? Go ask a chef about Huntsman Pies that's served with tangy Westmorland chutney. Better still, ask BMW about their first faired motorcycle. Why? Well, because they were the first ones to put a faired one on the road that goes way before their F900R you see here. Yes!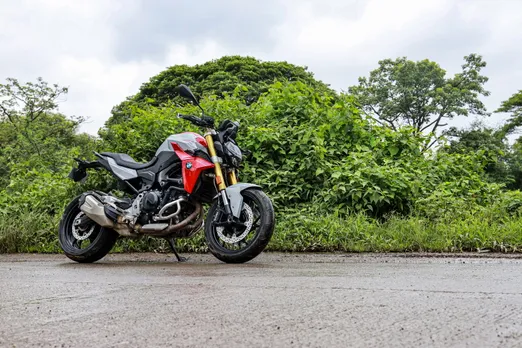 But why I am telling you all this? You see, the process of knocking a faired one together for the road may sound back-breaking, but it is easier than building a naked motorcycle. How? The fairing's métier is to smoothen the outline of the wind dashing past the motorcycle, reduce the drag and even keep the motorcycle buckled down, which relatively gives birth to a lot of scope for the aerodynamic engineers around the wind tunnel to draw a healthy margin and play around to set the final fast one in motion. Now, click the fairing out and you insolently cut the tailor's margins who gaze at hope from outside the wind tunnel, and encore the pain all over again. Ergo, because anything that surfaces after a lot of hard work turns out to be beautiful to say the least, it is one of the reasons why naked motorcycles are an acquired taste, none more so than the F900R. And BMW has managed to surpass the aforementioned impediments and hook the looks and performance under the same umbrella.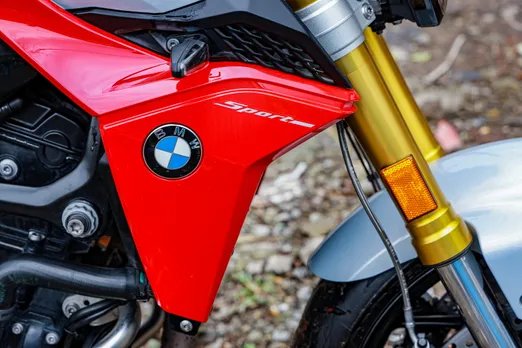 Now, looking at the angular, muscular and aggressive looks, one might say that it echoes the styling characteristics of BMW's profusely powerful roadster, the S1000R! But, this one is pretty compact and affable which has resulted in distinct roadster styling, still keeping it European, yet so minimal and a less intimidating package. The muscular tank with sharp recesses that flow intimately into the bikini fairings, end up in a low mounted LED headlamp cluster. Below it are the seventeen-inch wheels sitting both at front and rear, which add to the distinctive Supermoto stance of the F900R.
Form will follow function once you hop onto the F900R. The sharp tank, the high-set footpegs and the seat has given birth to a sports-bike-like feel. So we won't see what might have been like a low-mounted clip-ons, but nah! That's just not how things flow at Motorrad. I mean, that's what I would've liked, but instead, BMW has come halfway with a set of standard bars that rise up to meet you. This clearly spells a comfortable rider triangle over its predecessor - the F800R - since the F900R comes with revised comfort design that tilts more towards a dynamic ride. The F900R features a steering damper mounted longitudinally to smoothen the surface of your doubts, and to counter the wobble from this (relatively) slow steering. Unlike the USDs, the rear mono-shock is adjustable for pre-load as well as compression. This sets the F900R for a classic cafe racer idea then? A lazy front and a crazy rear? Yeah!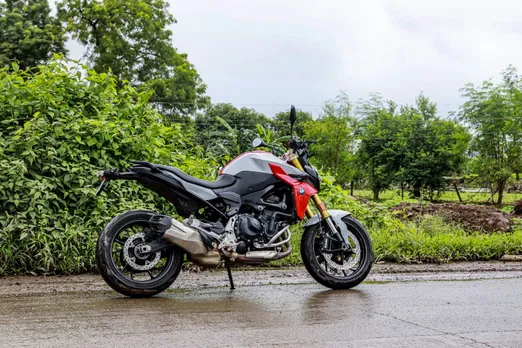 Moreover, the ride is quite pliant on short rides here and there, even with the rear damper set at a firm stock setting. But, twist her ear for longer distances at steady speeds and you might find your butt aching and knees a tad stiff, unless you give them a break by getting 'down'. In corners, BMW's unique proportion of comfort and dynamic topped with confidence (thanks to Battlax rubber) becomes brighter the more you mix straight tarmac with twisty ones. In the city, the short wheelbase adds agility to this roadster, but isn't so short that it feels unbalanced. Add the F900R's fluid steering and the upside-down telescopic fork's firm connection with the road to it and you're good to cut through the back streets and filter between the traffic. At times when there was no traffic, I don't think the forks ever approached the bottom of its travel, even under heavy braking, given the set of brilliant roads that we have, topped with the dubious people sauntering around. Speaking of braking, the no-nonsense dual front discs went well with the single disc and single-piston unit at the rear to stop the roadster without needing to calculate much. I am a huge, huge fan of the scalpel, but this motorcycle right here, didn't fail to cut a deeper smile on my face with its measured, middle-weight roadster ratio; as if cut out from a scalpel? Anyway, (bad) jokes apart, let's hop on to how the engine is.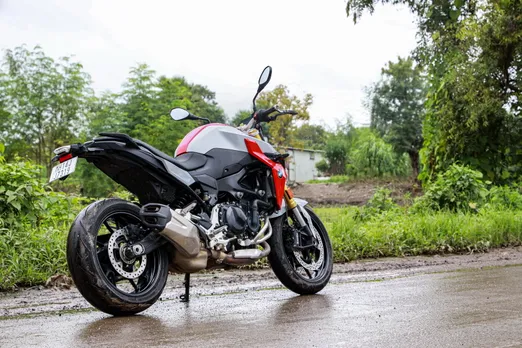 It is heavy at 211kg. But, it doesn't feel heavy once this roadster burns some rubber. Well, hat tip to BMW's parallel-twin that encompasses a 90-degree crank that fires at V-twin like 270/450 degrees, resulting into a max torque of 92Nm from as low as 6,500rpm. But, with more than 80Nm available from as low as 3000rpm, it feels like an evil feeling in the brain, just waiting to be ridden insane above it! Hence, here it feels right in between a maniac and a lackadaisical lad, more of a road-focussed performance motorcycle with a snatchy power since most of the grunt lies in low-to-mid range of the rev-band. Every time you tick by this point, the 895cc parallel-twin gets smoother, responsive and happier higher up the rev range and springs back to life, but thta is in the Dynamic mode, which brings it to its knees once you switch to Road mode. The seriousness is replaced by a smooth and an unhurried delivery. Still it is more fun than the Rain mode which will keep you at a flat-spot, no matter what.
This has definitely built a unique European character that feels and sounds a little rough around the edges, but you will like it if you are a European fan. I did, because I am. Of course, this also means that there will be a hint of vibrations at the bar. But, not as much to to leave you buzzing at the end of a city ride or even a long one, depending on how generously you use the slick 6-speed gearbox since the first four gears have short ratios.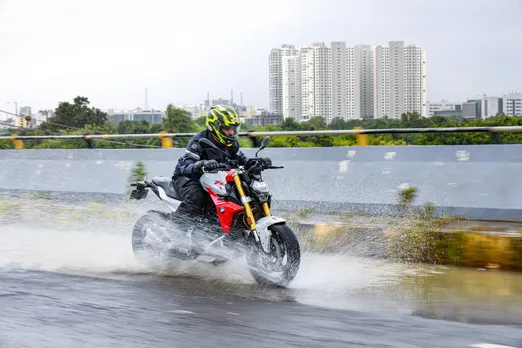 All in all, the F900R is a wonderful motorcycle to ride. It could sound over the odds, but it is as fast as any of its rivals in the segment. It also comes from a stable whose loud and fast four wheels are a yardstick in its entirety. Hence, as I said earlier, making an omelette isn't over someone's head who has mastered the complex process of making a Consommé; a recipe that's still being tried to be burnished by the master chefs all around the world.