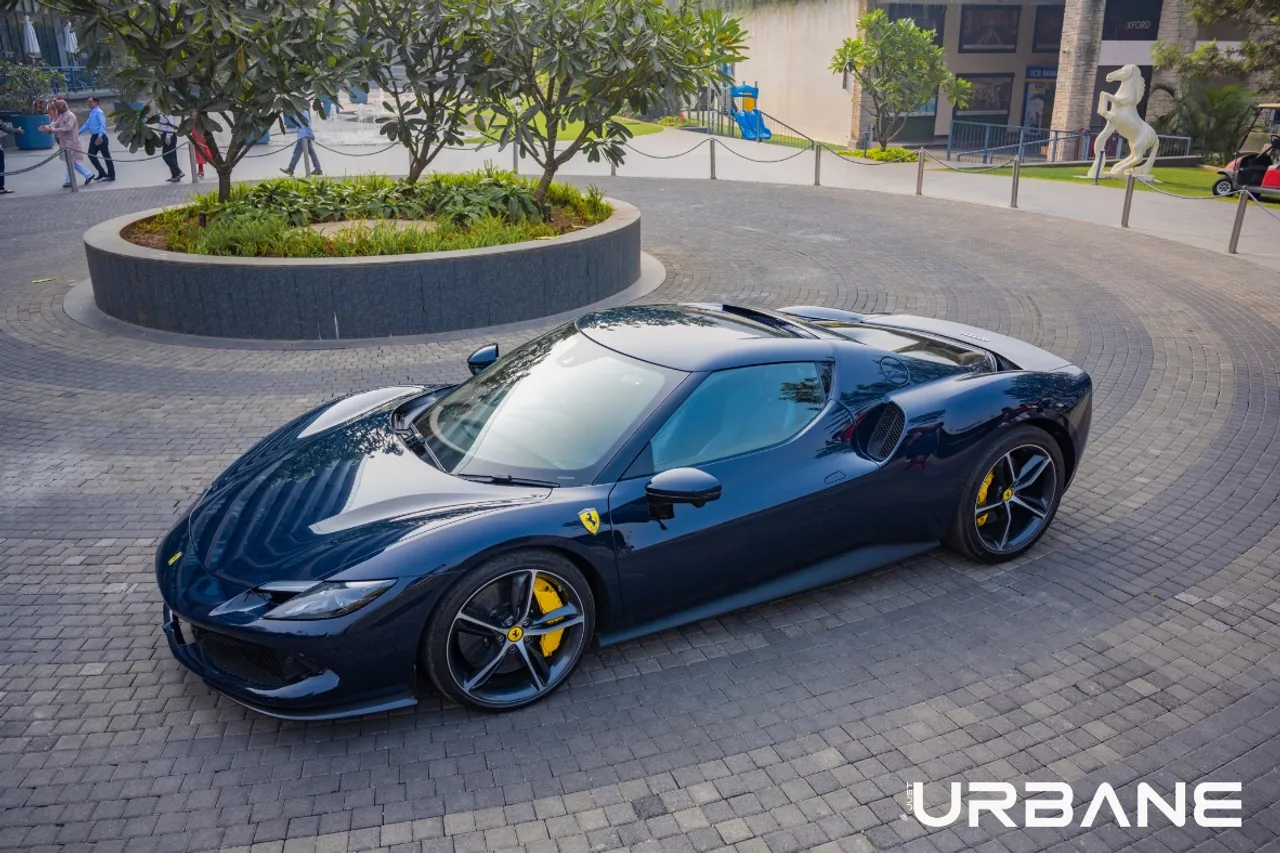 WORDS BY: HARSHIT SRINIVAS 
PHOTOGRAPHY: SHAILENDRA PARDESI, ANKUR CHAVANDE & ANUP LAKRA
LOCATION COURTESY:
OXFORD GOLF RESORT, PUNE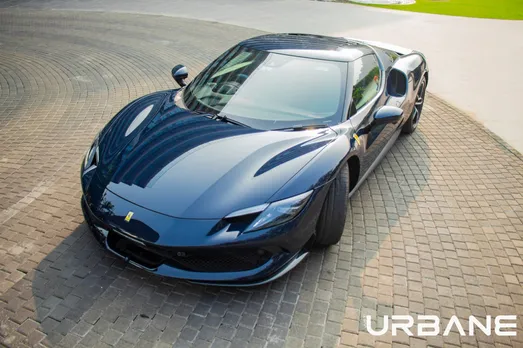 I am in my dreamland! Of course, you are, when you get a call from Ferrari, who are kind enough to let you review their latest offering for India which is the 296 GTB. But at the same time, you also need a tight slap, just to realise that it isn't a dream anymore. Since it's been a couple of years that I have been reviewing/testing cars, it's time now to realise that driving a Ferrari isn't a dream anymore. Moreover, it was my goal, to test a Ferrari. Any iteration, indeed! And, as the stars aligned, here I am behind the wheel of the drop-dead gorgeous Ferrari 296 GTB at the Just Urbane HQ. More than excitement, I had a feeling of being confused too! Why? Because, just like you all, I also read and heard a lot about this latest six-cylinder hybrid turbo, and seriously the more I read, the more I found myself grappling with a dilemma. Now, every automotive journalist out there has this honest motive behind all of their reviews, which is to tell you what the car(or bike) is all about. But, here it was a tad special, not because I was too excited about living my dream, but because I needed to learn (in the literal sense) about the Ferrari 296 GTB first. And, only then I would be able to spill out all the beans for you, to understand it in detail. Hence, now I would request you to kindly bear with me for that unintended extra dose of knowledge, thrill, and joy in every part of this feature, because when in a Ferrari every bit vouches for a thrilling and joyous experience. And when piloting the 296 GTB, I bet this same experience transforms into a fun-to-drive experience, without a doubt. How? Read on to find out..
.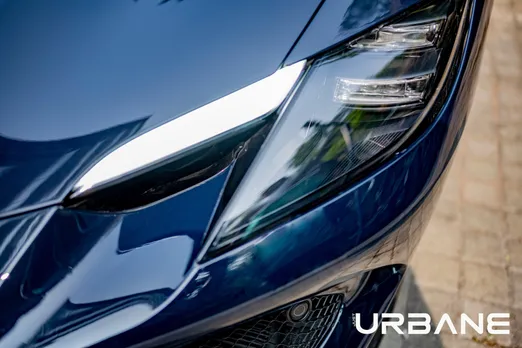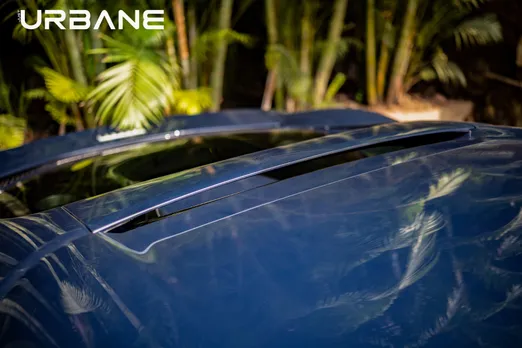 Now, there is no doubt about how striking Ferrari's look. It will be a nightmare for the Italian marquee or the enthusiasts, if ever a Ferrari on road, at all, goes unnoticed. But, what's new with the look and design of the Ferrari 296 GTB is the crux here. And, to answer that, here's what we figured out after having it right in front of us in the flesh.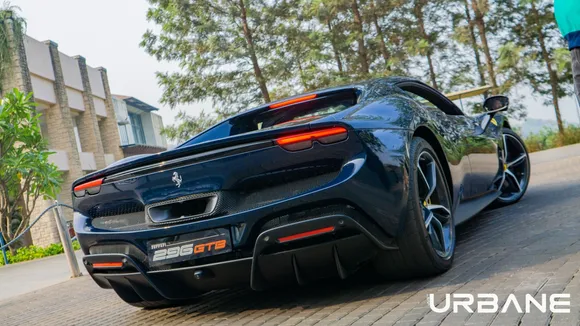 The Ferrari 296 GTB overall has a low-slung menacing look. The brand's inclination towards compactness and a futuristic design has made an impact on the final product as well. How? Well, walk up to the 296 GTB, and you notice an aggressively-appealing fascia. Drawing inspiration from the 250 LM of the sixties, the 296 GTB boasts a youthful character with neat creases and finishes. As spectacular as it is in the photos, it is even more so in the flesh. Maybe, I would have preferred mine in black as always. But, since looks are subjective, you can have yours in your preferred shade, from the twenty-seven-shade color palette. And, that was just all about the looks for the front, there was more to talk about the aerodynamics that has been heavily worked on. To start with, there is a centrally located inlet out on the bumper, followed by some character elements on either side of the bumper, that increase downforce to keep you closer to the ground. Next what you have are these neatly integrated inlets into the headlamps for cooling the front brakes - a very cool addition indeed.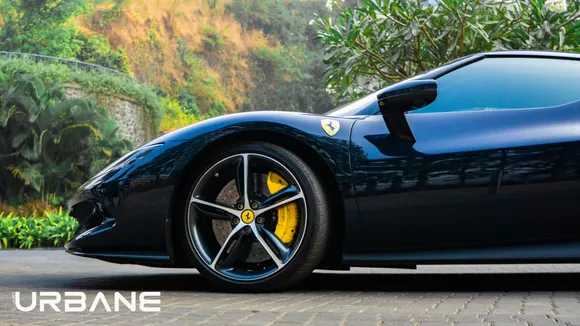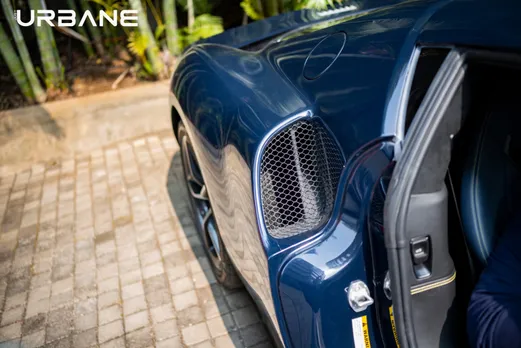 And, since that was for the aero and looks upfront, start walking towards the sides and you will notice the 296 GTB to be marginally shorter in length, and of course, it is by 50mm, but only if compared to the V8 berlinettas. Also, drawing attention and adding to the 296 GTB's character are muscular shoulders and highly optimised intakes for the intercoolers. Now, these intakes have been tweaked by fifty per cent in size when compared to the F8s. Good job Ferrari, on that note. And, if it was not enough to impress us, we found another uber-cool design element which was a spoiler, and what made it more exciting was its placement. Plush in line with the roof, this spoiler here is responsible for channeling air to the rear and it adds massively to the appeal of the car. Speaking of the rear, the distinct design element present here are elements such as an S-shaped diffuser, a centrally placed exhaust, and a wing that deploys at speeds for maximum downforce. Not to forget, that the 296 GTB in tandem with its compactness and futuristic design, also boasts a youthful character and I would like to doff my hat to the designers at Ferrari for yet another masterpiece.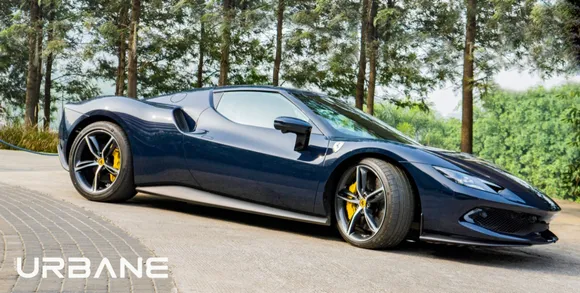 Next to talk about are the interiors of the 296 GTB, and it was just as beautifully laid out as the exterior. Seat yourself in the beautifully designed cockpit, and you feel no less than a fighter jet aviator. You might feel a bit skewed with your sitting position, and all thanks to the wheel tunnel in the front for this one.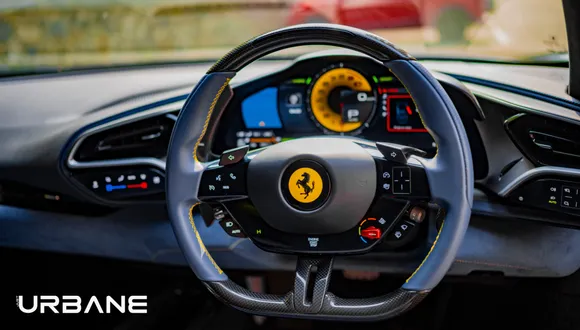 But, honestly, it ain't a concern, as you get used to it soon. The neatly laid dash does impress with its premium construction and an abundance of top-notch materials. Ferrari, of course! You can't doubt the feel of it and every bit screams money. Well, we all knew before the introduction of the 296 GTB, that Ferrari had an inclination towards a modernised cockpit as well, which is why you have a slew of few sporty elements such as a flat-bottomed steering wheel nicely wrapped in carbon fibre bits and leather with those yellow accents.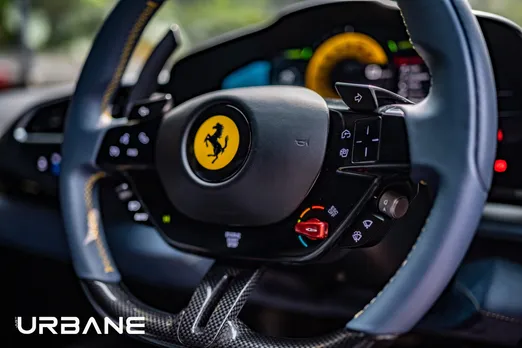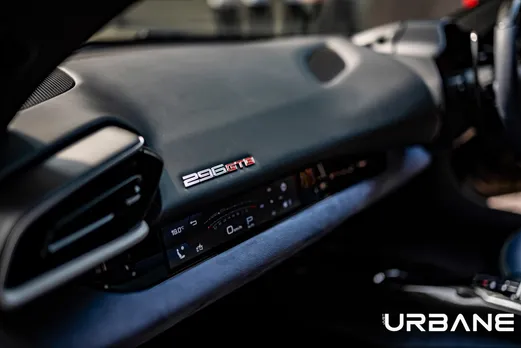 Not only that, but even the steering controls boast the same, with a unique touch to illuminate functions and they illuminate only when the designated functions are activated. Also, in line with them are the two mannetinos, where the one on the left bottom is an e-mannetino that helps you select the drive modes, while the regular physical one on the right helps you switch between Wet, Sport, Race, and TC-Off. Push this a bit harder, and you will be able to switch off the ESC as well if you are feeling brave. And, that was all about distinctive elements, what I missed seeing here was a central screen for all the information in bold and clear. But, I wasn't surprised until I noticed the way Ferrari chose to offer a much more convenient approach by integrating all that information on the gigantic instrument cluster which had everything to show that I needed while driving, while the co-passenger side also had a tiny screen for their set of the required information. Also, complimenting this tidy dash layout was a carbon fibre-finished central console, with physical switches to toggle between manual or auto transmission, engage the reverse gear and activate the launch control. And, behind these switches, was the power window switch for your ease.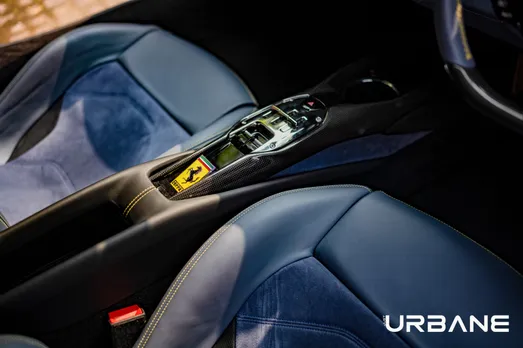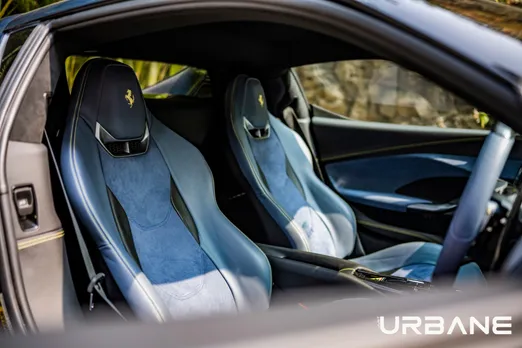 That said, this was all about the interiors, that we had on our test car, but if you are willing to configure your car then you can surely do that with a plethora of options available on the official configurator, and have whatever you want to have in your Ferrari.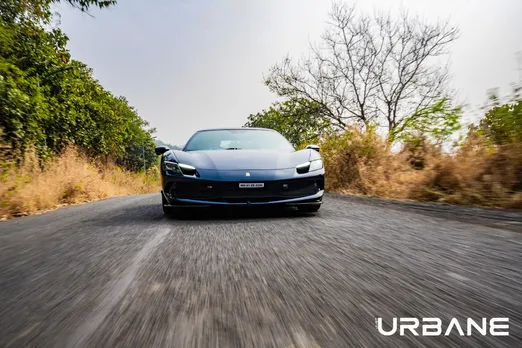 We now come to the most thrilling and exciting bit of the 296 GTB, and that is the drive and performance of the prancing horse. Now, most of the 296 GTB road test reviews on the internet today were either done overseas or on the race tracks, or in a controlled environment. And, I somehow wanted to test it on our ideal road conditions, which had a perfect mix of all surfaces. Guess what? I managed to do so and found the 296 GTB tick all the correct boxes in terms of dynamics. Not only this, I found the ride to be comfortable and for that, I would appreciate Ferrari's staple Magna ride suspension, which is not only getting better with every model but also gets the job done efficiently.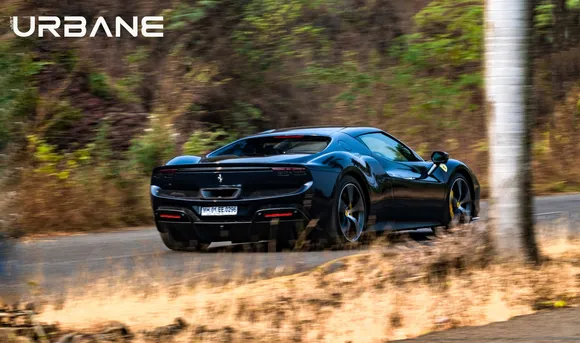 Matter of fact if you are on bumpy roads or you have a few dips to go through, the 296 GTB lets you tackle everything with ease. Now, many prospective buyers, do hesitate to buy a sportscar with low ride height, for obvious reasons, but when it's a 296 GTB you need not hesitate at all. Thanks to the lift function for coming to your aid, which lets you traverse through those high bumps, with an increase in nose height. With this function engaged, you just need to dial in a few steering corrections and you are out of those tricky situations in a snap. Also, this function comes in as a boon while climbing uphill or slopes, much needed when getting on or off the steep slopes in some parking lots.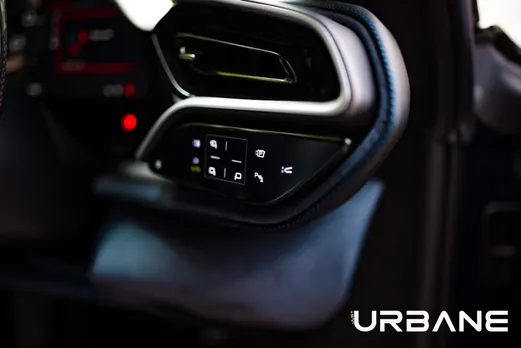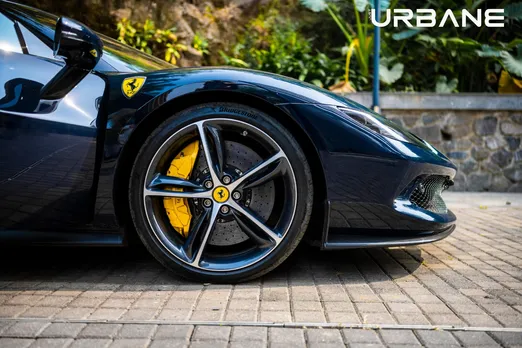 While that was all about the ride, the handling in the 296 GTB is also balanced. The steering feels direct and you stay flat, on those sharp, often off-camber corners on our roads with plenty of confidence. But, what I believe must have concerned you till now, is the first-ever six-cylinder turbo-hybrid heart here. Now, I can bet you will fall in love with this 2.9-litre V6 hybrid turbo engine as I did. With a combined peak output of 813hp and 740Nm, the engine has the character to complement the main highlight of 296 GTB, and that is a fun-to-drive experience. The power from this hybrid-turbo unit is sent to the rear wheels only, making it the first-ever hybrid rear-wheel drive Ferrari sportscar.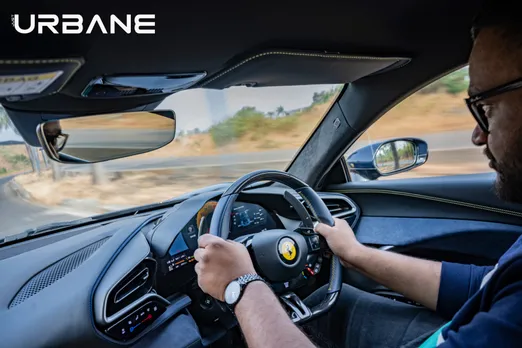 Also, talking of hybrid, the V6 engine here comes mated to an electric motor that single-handedly can eke out 315Nm and 167hp. Not only this, but it can also attain a top speed of 137kmph and offer an all-electric range of 25 kilometers, in pure EV mode on a single charge. Yes, you can charge the motor using a 7.7kW charger it in less than 60 minutes.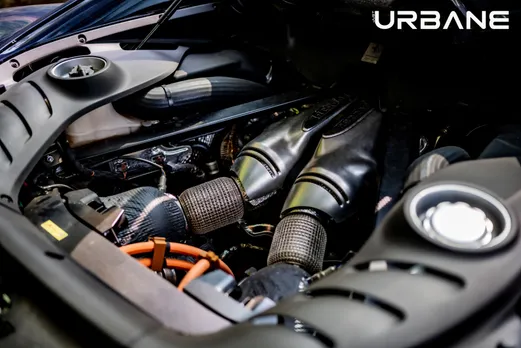 Also, when you are looking at claimed figures, you should also note that the 296 GTB can do a sprint from 0 to 100 kmph in flat 2.9 seconds, and can attain a top speed of 330 kmph.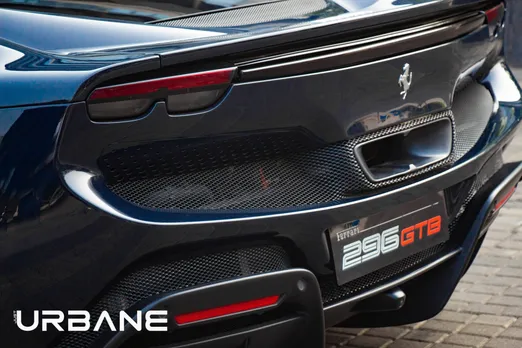 To sum it all up, I find myself falling short of words while sharing my verdict on the 296 GTB. Why? Because for me, prospective buyers aren't looking for opinions and secondly it hardly matters when you have made up your mind. But still, what I felt is what I am going to pen down here. And, that is, the 296 GTB might have got a downsized engine but it ain't compromising on performance. Secondly, at a stickered price of Rs 5.40 crore (ex-showroom), you are not buying another mid-engined sports car! Instead, you are getting a car that's compact, agile, practical for Indian roads, and most importantly a hybrid-turbo, which does not compromise on the fun-to-drive experience. Also, it lets you do your bit toward a cleaner environment, which is the least you can do while buying a Ferrari.