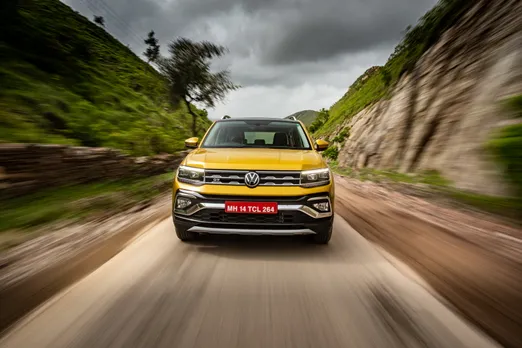 Conjectures about SUVs in India are many and varied. Hence, we all buttoned up a belief that India had enough patterns of SUVs to fit a family's, savant's, known and even unknown's suppositions, like a glove. Be it for the capability they came with, to the return value for the looks, features, goodwill or even performance, we as a patron, at some point, came halfway house over the way an SUV simply drove. Think of your favourite SUV and correct me if I am wrong. And this is where the Taigun comes in; with the way it drives to start with and much more. Of course, it might have its own learning curve down the path, but who doesn't. this is exactly why I am here to tell you what's good in the Taigun, and where it needs to get better, or not. So shall we?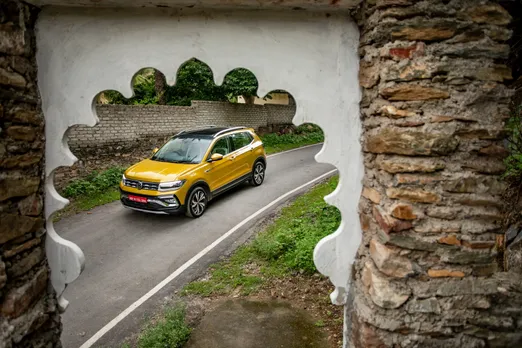 Price: `17.50 lakh (ex-showroom)    |   Engine: 1498cc, 4-cylinder, inline turbo-petrol
Power: 150PS@5000rpm   |   Torque: 250Nm@1600rpm   |   Transmission: 7-speed DSG
It has to start with the fact that Volkswagen has finally untied an SUV… correction… SUVW. Yes, that's how Volkswagen likes to address it. Hence, the Taigun might miss Volkswagen's calibre somewhere on the inside, but it hasn't lost on the character. How? Let me explain. In India, you used to either get quality or quantity. And because Volkswagen is known for the former, it has tried to hit the apex of both with the Taigun. Yes! It will give you the joy in the driver's seat with its 1.5-litre turbo-petrol engine that develops 150hp of maximum power and a peak torque of 250Nm, coupled to a 6-speed manual or a 7-speed dual-clutch automatic gearbox. One of the two options that we got to drive in Jaipur; the other being the 1-litre turbo-petrol that produces 115hp and comes with 6-speed gearbox, both manual or torque converter automatic options. So, once on the wheel, as much as the Taigun feels excited, it is calm in the city traffic as well. And when I say excited, it will not scare the children in the SUVW, since the delivery is right in between aggressive and takes-its-own-time. And while at it, the Taigun sounds good too, but only when you flex your right foot in the Sports Mode.
Bring in the smooth 7-speed dual-clutch automatic transmission to the scene and it will certainly shift when you want; or else you have the paddle-shifters to do the job. In the D mode, it will swiftly keep shifting to higher gears for better fuel efficiency, something you can use when you are chitchatting with the passengers, etc.
On the other hand, the 6-speed manual, my personal fave, gives access to sheer power with its smooth and sporty throws of the gearbox. Make you bite your lip out of exhilaration. And I will not hesitate to say (for your good) that you will experience the best of this engine with the manual. I did.
What makes the experience of driving even better is its body. On the smooth, straight and crooked tarmac, Das Deutsch quality was unshakably proven with its unwavering ride quality; while off the highway on Jaipur's infamous service roads, the Taigun drove us with aplomb.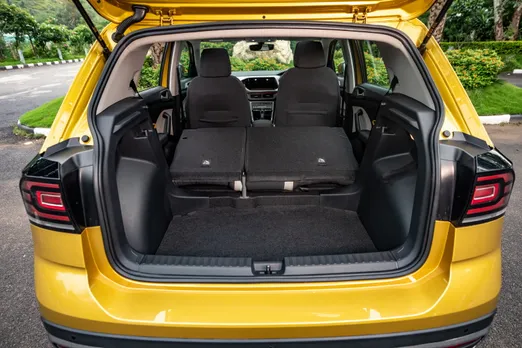 And while doing all this, the Taigun looks like a bona-fide German, which means it might not look like your definition of SUVs, but it will start growing on you once you live with one. I did, with both manual and automatic and at the end of the day, I wanted more. It did welcome me with open arms. But hey! The tail lamps at the rear that are connected via a light bar are not those arms I am talking about. Anyway, the Taigun isn't filled with lines unnecessarily everywhere, it has been kept simple to result in sophistication. The chrome bit though, instead of it 'could've', I am sure it 'must've been' made to suit today's large chunk of buyers' thoughts and expectations. Speaking of adaptations, Volkswagen has made slight changes in the interiors to suit today's idea of SUVs, but without losing on the German's simple characteristics. The dashboard feels fresh, the touchscreen that sits higher, looks and feels simple in black apart from the fascia that is finished in ceramic, which you have to keep cleaning by the way.
The interiors are not entirely dull. The 8-inch digital instrument cluster adds not-so-sharp colours that comes as GT auto's package. And with the GT manual variant, you get analogue dials (my fave again), which look basic, and a sporty flat-bottom steering wheel.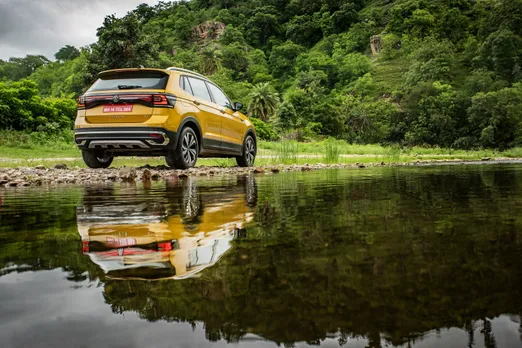 And as usual, the fit and finish and the overall build of the same feel that they would last long, really long. And now, what remains is the seating. While the GT's front seats felt comfortable and held me nicely while I was busy doing all the above trickery, upon trying the rear seats with two more people felt a tad cumbersome.
Hence, this SUVW is meant for four of you. Exactly what Volkswagen means. It will never overpromise. Which is why, whatever their point of focus is, they will deliver it with poise and quality. Then be it the simple looks from the outside or the overall feel on the inside, the Taigun might not come to you as a feature rich SUV–something that's been trending now–but this SUVW will clearly offer the kind of ride that you deserve, something that's been missing since long. And someone who does not offer something out of choice, is always better than something not being offered out of capability or option. And although we just got to drive the 1.5 litre equipped engine, the 1 litre engine equipped Taigun should be promising.