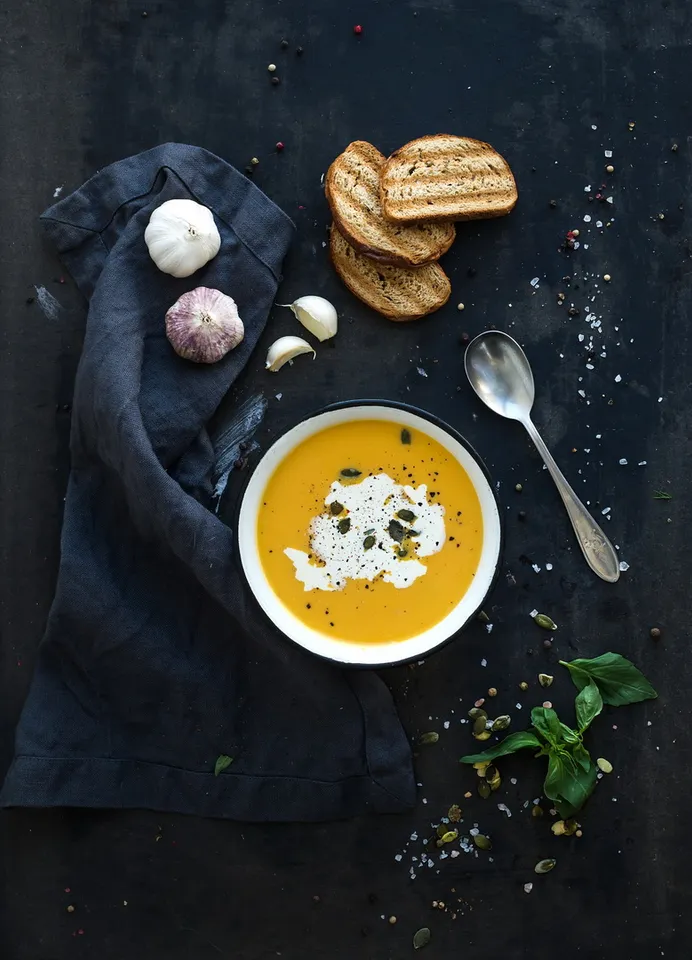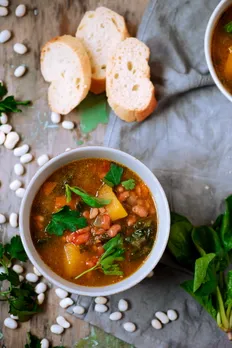 By 
André Baranowski
 | SERVES 4-6
2 cups dried cannellini beans, soaked overnight
2 medium carrots, roughly chopped
1 rib celery, roughly chopped
1⁄2 yellow onion, roughly chopped
3⁄4 cup extra-virgin olive oil
        4 cloves garlic (3 minced, 1 halved)
        2 cups squash, such as butternut, peeled and diced into chunks
        4 large kale leaves, stemmed & chopped
        1 medium waxy-style potato, peeled and cut into cubes
        Kosher salt and freshly ground black pepper, to taste
        1⁄2 tsp. crushed fennel seeds
        8 thick slices country-style bread
  Drain beans and transfer to a 3-qt. saucepan along with half the carrots, celery, onions, and 5 cups water. Bring to a boil and reduce heat to low; simmer, covered, until beans are tender, 40–45 minutes.
Set 3⁄4 cup beans aside; transfer the remaining beans and their cooking liquid to a blender and purée. Set puréed beans aside. 3) Heat 2 tbsp. oil in a 5-qt. pot over medium heat. Add minced garlic and cook, stirring often, until soft, about 3 minutes.
Add reserved bean purée, along with the remaining carrots, squash, kale, potato, & 1 cup water
Season with salt and pepper, bring to a boil, & reduce heat to medium-low; cook, covered, until the vegetables are tender, about 20 minutes
Stir in the crushed fennel seeds and reserved whole beans.
Meanwhile, toast the bread and rub it with the cut end of the halved garlic clove. Drizzle each toast with 1 tbsp. oil. To serve, place 1 to 2 pieces toasted bread in the bottom of soup bowls and ladle soup over the top. Drizzle soup with remaining oil through. Cool it on a rack for 10 minutes and enjoy!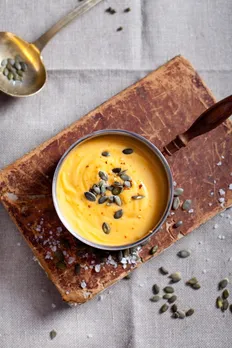 By 
Renee Comet
 | SERVERS 6
1/2 yellow onion, sliced thin
1/2 cup carrots, peeled & thinly sliced
1 rib celery, trimmed and chopped
2 cups canned pure pumpkin
Ground white pepper (to taste)
1 cup cream or half-and-half
Optional Garnish: pumpkin seeds (shelled)
Gather the ingredients. In a 4-qt saucepan, saute the onions in butter until transparent.
Add all the other ingredients, except the cream.
Bring to a simmer and cook, stirring occasionally, until the vegetables 
are very soft.
Place in a blender and carefully puree until completely smooth.
Pour back into the saucepan and add the cream.
Bring back to a gentle simmer, turn off the heat, and adjust the seasoning if necessary. Serve in warm bowls, and garnish with pumpkin seeds. Enjoy!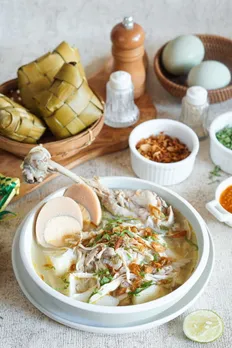 By Rasa Malaysia | Serves 4
1/2 pack rice noodles (8 oz)
1 skinless & boneless chicken breast cubes
1 stalk lemongrass, cut into 3 strips
1 can coconut milk, (400 ml)
1 can chicken broth, (411 g)
1 piece turmeric (2-inch) or 1 tbsp.powder
1 piece galangal, peeled and sliced (2-inch)
1 piece ginger, peeled and sliced (2-inch)
2 cups sliced cabbages, optional
2 hard-boiled eggs, cut into wedges
1 stalk spring onion, cut into rounds
Soak the rice noodles in warm water to soften them. Set aside.
Blend the spice paste in a food processor. Add some water if needed.
Add the oil in a pot on medium-high heat. Add in the spice paste and stir with spatula back and forth until aromatic.
Add in the chicken broth, coconut milk, lemongrass & water and boil it. Add in the chicken breast cubes. Cover the pot & simmer on low heat for 30 minutes. Add salt to taste.
Blanch the rice noodles, bean sprouts, cabbages (if using) in another pot of boiling water. Transfer them to a bowl once they are cooked. Add the Toppings of hard-boiled eggs, spring onions and add the hot chicken broth into the bowl. Serve hot with lime wedges and shallot crisps on top of the noodles
Fish Chowder with Mussels
By 
Lesley Holdship
 | SERVERS 6
300g mussels, cleaned and debearded
1 onion, peeled and finely chopped
1 clove of garlic, peeled and crushed
3 King Edward potatoes, peeled and diced
Sea salt and white pepper
250g sea bass fillet, skinned and cubed
150g undyed smoked haddock, cubed
Heat a pan with about 2cm water. Tip in the mussels, clamp on the lid and cook for a few mins until the mussels have all opened. Remove from the heat, sieve the mussel flavoured liquor to remove any grit and keep to one side with the mussels while you make the chowder.
Melt butter in a large pan, add onion and garlic. Cook gently over a low heat until the onion is tender. Add the potatoes and stir around in the buttery juices.
Pour in the stock, cream and 300ml water, season then simmer for 15 mins. Add the fish and simmer for another 5 mins. 
Lastly, the mussels can go in with the mussel liquor, then a good squeeze of lemon to warm through.
Serve steaming hot with crusty bread spread thickly with butter.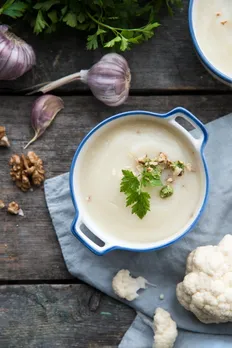 By 
Cassie Best
 | SERVERS 4-6
2 tbsp grapeseed oil, plus 50ml extra
1 large chopped head of cauliflower
Hazelnuts, chopped and toasted
Heat the grapeseed oil in a large pan and cook the onion until it starts to caramelise.
Add the vegetable stock cube, cauliflower and drained butter beans. Stir, then pour in the milk and water. 
Season and add the grated fresh nutmeg. Cover and simmer for 20 mins. Blend the soup with a hand blender until smooth, adding more liquid if necessary. 
Add the Dijon mustard, extra mature cheddar and double cream. In another pan, sizzle a handful sage leaves in 50ml oil until crisp. 
Ladle the soup into bowls. Top with the sage, oil and some chopped toasted hazelnuts.