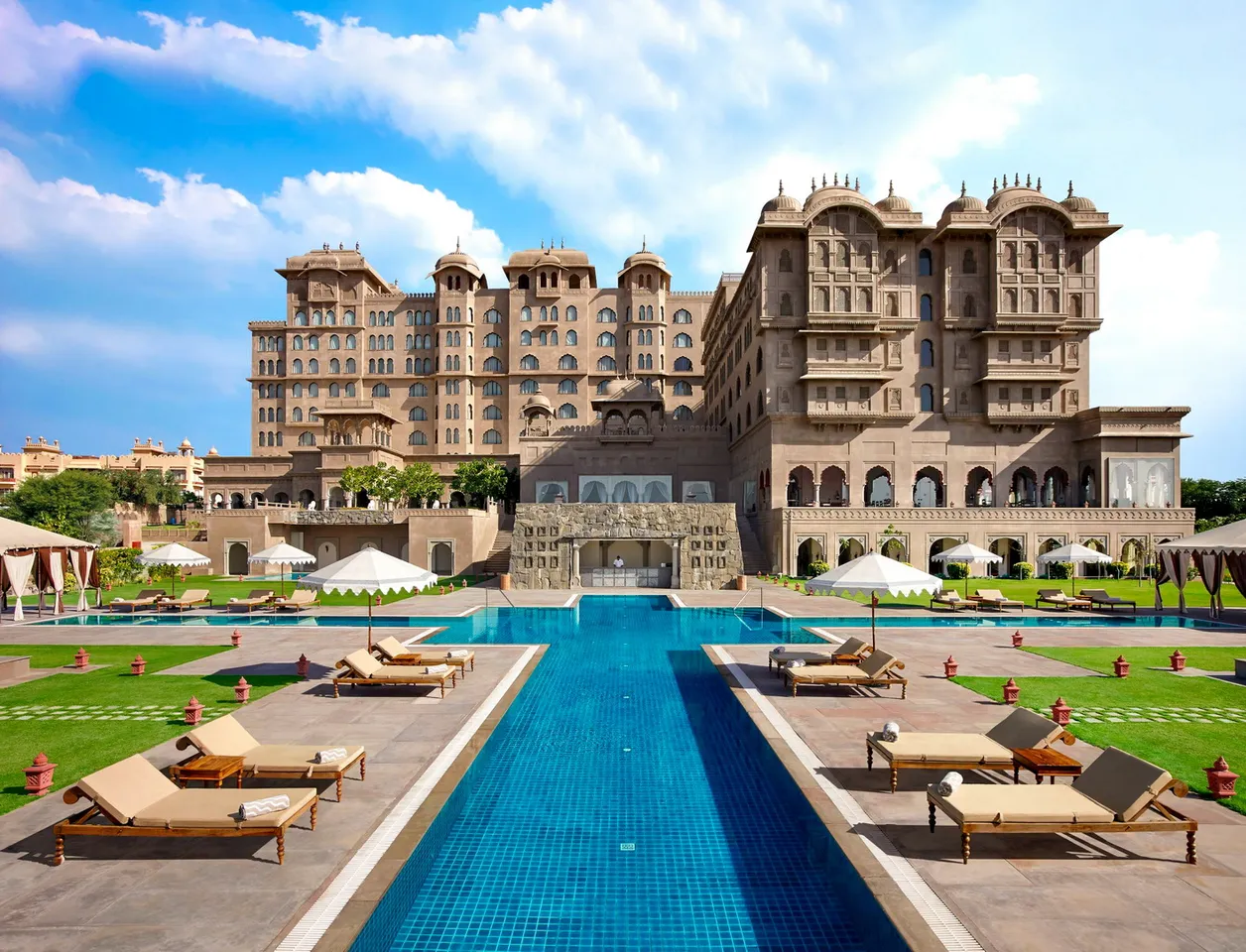 Padharo maare desh mei'.... I'm still humming the beats of this song. The overwhelming hospitality of Rajasthan is famous all over the world. We took a trip to the land of the royals and nested in the pink city of Jaipur. While this city has a plethora of places that give you a palatial vibe, we decided to check out Fairmont and dive into some luxury. Fairmont is a fairly new hotel built about 8 years ago. A British architect who derived inspiration from the Mughal and Rajput culture for the perfect amalgamation, spent two years solely in researching to create this magnificent structure.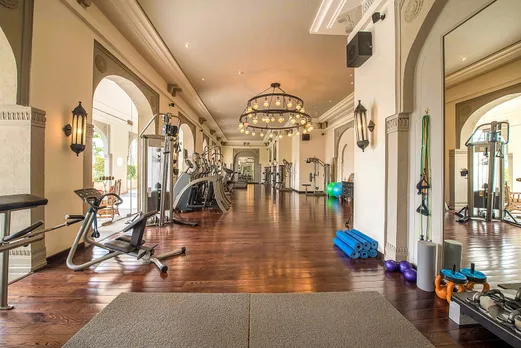 The minute you enter the gates, or as they call it the 'Jaisalmer gates' since they face the city of the sun, you can't help but gasp at the beautiful palace insight. As you step outside your car the Durban will greet you with the utmost enthusiasm as you can hear the drums beating in melodious tunes. They have a concept of 5 senses welcome- sight with Magnificent Façade, sound with Nagadas, smell & touch - Rose petal showered on you and taste with a welcome beverage. The interiors are a cusp of heritage and modern architecture which is amusing as you feel you are living in 1900s with air conditioning. They make a lovely promise of turning moments into memories and thus began our stay at the palace hotel.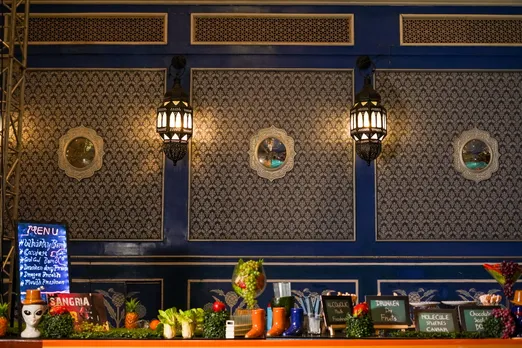 We entered our room and were greeted by flower petals on the floor, a welcome hamper with our picture printed on chocolate and some lovely decor on the bed. The suite had an outside living room with some fabulous furniture pieces, while the bedroom emitted extreme comfort. I excused myself to freshen up and as I entered the restroom I froze astounded by a beautiful large hot tub. I ran outside to share this update with my fiancé and did so a couple of times as a dog does zoomies in excitement. Just as to get a hyper dog under control I too was lured to sit down like a good boy to relish the scrumptious in-room tiffin experience. Besides being an apt method to the COVID social distancing norm, it also seems like your very own picnic in a castle without putting in the sweat to reach a scenic view.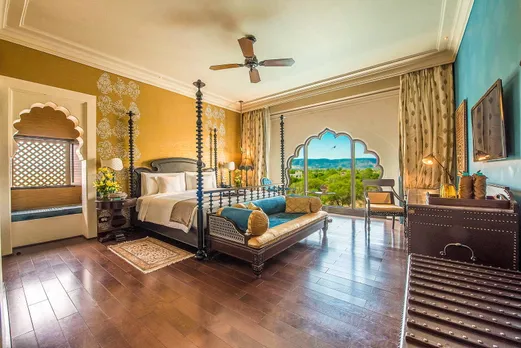 When in Rajasthan you got to be prepared to be fed all day long so we decided to walk around the palace to make sure we can enjoy each meal of ours. Fairmont Jaipur has a total of 245 guest rooms with the usual must-haves of a 5 star. What was most appealing to me as a blogger was each spot of the hotel is Instagramable. Beautiful terraces and an even more heavenly rooftop appropriately called "Asman". Water bodies, lush flora and fauna, the smell of incense while you hear some tunes always in the background and a smiling face at every corner is what sums up the soul of Fairmont. Sometimes you got to pinch yourself to make sure you haven't accidentally stumbled onto the sets of a big-budget Karan Johar movie.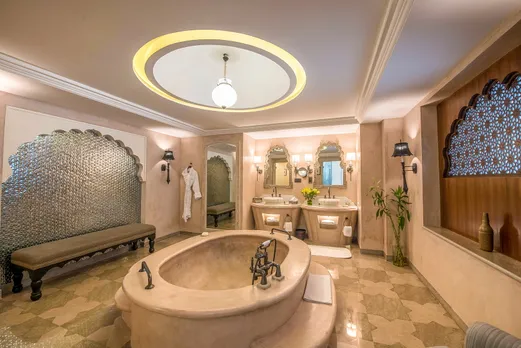 The hotel has 2 restaurants and 3 bars, one moment while the Punjabi me does some Bhangra to celebrate more bars than restaurants. Zoya is your all-day dining restaurant with buffets served for each meal along with an À la carte menu which is modelled to look like a king's tent amidst a hunt. Zarin, true to its name is all about gold and finesse, this is where we gorged on a Rajasthani Thali and were about to sleep on the dinner tables itself courtesy daal bati churma. The staff even joked that they would happily carry us to our rooms because we were kings and queens of the palace and our wish was their command. Aza was my favourite place at the hotel. It mirrors an emperor's hunting cabin and consists of a library bar, a true blend of classics. Anjum radiates light, true to its name it gives the illusion of you sipping a beverage surrounded by a constellation of stars. Cigar Diwan is the only indoor smoking area in the hotel, a much-required necessity in a desert. It reeks of sophistication and is clearly for the people who enjoy the finer things in life. An architectural marvel about this bar is that you can hear a self-echo if you're dead centre of the bar, maybe it's your inner voice calling to you!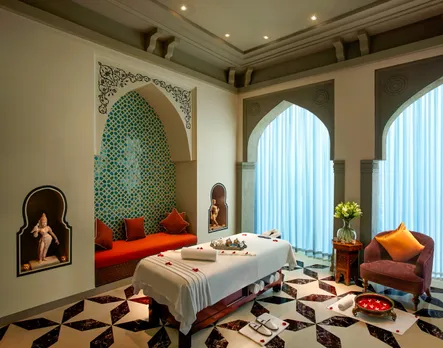 Fairmont Jaipur is a perfect hotel for a destination wedding. The architecture emulates a Mughal palace while it offers the best modern amenities. It's so well planned that they have various venues for you to take a pick and design your perfect wedding. It's a place where you can get whimsical and marry your one true love in a big fat Indian wedding. The only drawback to it being such a favoured venue for weddings, I as a regular guest would sometimes struggle to feel the vacation vibes or even a luxury hotel aura. If you so book yourself at the hotel do check if they have any weddings as it can get overwhelming to bear with not one, not two but three wedding at the same time!
In a nutshell, I fell in love with the hotel so much so that I am even considering it for my own wedding. A true testimony of a spectacular hotel is that you do not want to leave the property at all. To accomplish that in a city like Jaipur which is filled with heritage, culture and historical sites it is a feat I thought was near impossible. Fairmont Jaipur kept me, an explorer, in the palace hotel for an entire week and has left my heart wanting for more. When you get everything that royal Rajasthan stands for within the hotel boundaries with a tad bit extra finesse why would anyone want to step out of the beautiful world where you are the emperor. Stay at this regal property to live your childhood dream of being an aristocrat.