This was one of those tales that make you wonder, "Where do I even begin?" That was my exact state of mind when I started writing this piece. But the story has got to begin somewhere, right? Mine began with a sudden plan to take a month-long break from work to figure my life out. It was just one of those phases that everyone went through. You know like the lockdown had the banana bread trend and TikTok and what not. Then post-lockdown was initially all about Goa and the Maldives. Everybody just had to do it. Well, my plan did include Goa (guilty snicker) but before that was Himachal. Just mentioning the place brings back so many memories of each day spent there. Every day was like another shot in the arm, another day of being completely and senselessly high on life and adventure. And no, we aren't on the same chapter here when I say "high". You just have to wait to find out.
It started with a decision to take a break from work around the same time that my sister decided to take a sabbatical – another fancy term for a break as I've been told. Luckily, my sister's pahadi friend was getting married around the same time so we decided to make a trip to Himachal to witness the wedding and play tourist too. We took a flight from Pune to Kangra Airport in Himachal and the pahadi friend, Nitish received us at the airport. The journey from the airport to our homestay in Bir was enough to make me finally learn my Hail Mary. It does take a true Himachali in a Zen (or Alto) to drive on the Himalayan mountain range without making it the last drive of your life.
We arrived at Katoch Homestay. This particular homestay was at the very end of Bir. Away from all the other crowded homestays. Katoch was our own element, mainly because we had the entire place to ourselves. We were greeted by Sanjay, the owner of the homestay. Sanjay was this warm and friendly person, and if you're good friends with him, he'll tell you about all the local stories and even take you on his early morning treks. There was another thin old man who was Sanjay's aid. He had trouble hearing so most of the times we had to yell our orders and individual preferences of eggs. That man sure knows how to make some amazing aloo parathas and ginger tea. Then there was the group, Nitish – the groom, Sangeet, Ram, Kashif and Irfan.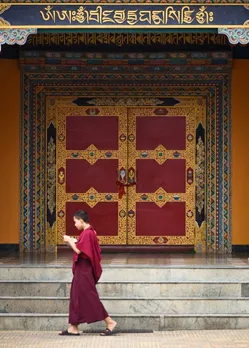 The first night at the homestay was some experience. Sanjay was nice enough to start a bonfire and the group huddled around the fire with food and chatted till dawn. The fire had started to die and all the lights at the homestay were switched off. That's when we noticed the sky. It almost looked like millions of tiny snowflakes had frozen in the sky during their descent. That was the view we saw before we nodded off with Lucky Ali playing in the background.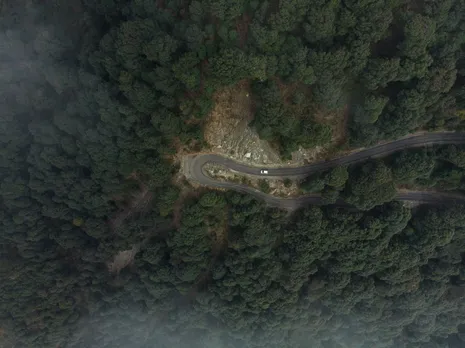 The next day we rented bikes to explore the monasteries around the homestay. Bir has a large Tibetan colony that was built soon after the Dalai Lama was granted asylum in Dharamshala. Unfortunately, the monasteries were locked as a precaution against the pandemic but we got a chance to visit the grounds and take in the sceneries. We spent our afternoon riding around, exploring the area and dipping out tired feet in ice-cold streams. However, the highlight for Sangeet was the fact that he was riding a Royal Enfield on the foothills of the Himalayas.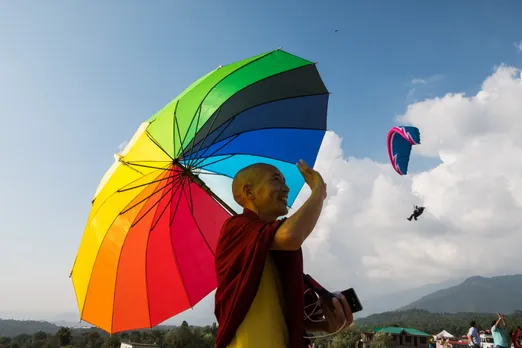 Around lunchtime, we were hurrying back to the homestay as we had booked ourselves for the evening to go paragliding. We split into three teams and started our bikes to get to the homestay. Unfortunately, the bike that Kashif and I were on broke down a couple of meters away from the homestay. Time was running out and we couldn't afford to miss out on paragliding so we decided to walk it. We were prepared to walk for 45 minutes to reach the site on that cold winter evening. Luckily, a tempo driver stopped to ask us if we needed help and he was kind enough to drop us off to the site. We hopped onto the back of the tempo and braced ourselves for the drive. This was the first time I had hitchhiked and even though the weather was unfavourable and we had crates of soft drinks as company, it was one hell of a drive!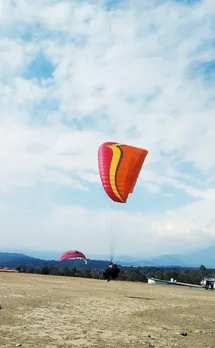 The takeoff site is a small meadow situated at Billing, about 14kms from Bir. The name actually comes from the Scottish officer, Captain Billing who served the British empire during the pre-independence era. The circuit stands at an elevation of 7,600 ft. (2300 meters). Morale was sky high when we were headed to the takeoff point in our jeep. We joked about the things we'll say when gliding through the sky and Irfan was sure he'll share shayaris (poems) with his pilot. But the road seemed to never get over and the circuit was still far away. Our laughs and jokes started to simmer down as the weather got colder and the road kept twisting and turning further. After another 20-30 minutes of pin-drop silence, we finally reached the takeoff site. We had 5 minutes to prepare ourselves for the jump as we were already late due to the bike breakdown. We pumped each other once again and then we were off. Sangeet jumped first. Then Kashif. Then as the instructors were tightening the body straps, my pilot told me to run as fast as I can at the count of three.
I was standing near the edge of a mountain, 7,600 ft. above the ground and in the next few seconds, I was going to jump. My pilot was ready and in position and shouted, "Madam, ready?" "Yes!" I shouted back. And I started running. In those six steps, I felt like I had a million butterflies in my stomach. At the last step, I looked down at the deep gorge below, took a deep breath and jumped. I was never someone who enjoyed rollercoaster rides and amusement parks as much, but once we swooped down after the jump and then picked up, my disoriented mind could finally focus and I could finally breathe again.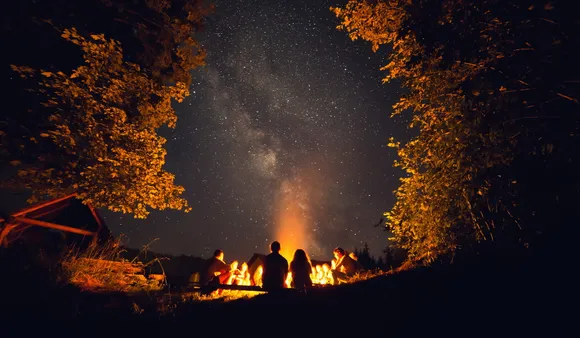 Now the agencies want to make you jump memorable so they record it for you. Actually, you record it yourself. Before jumping off, I was given this GoPro fixed on a stick so I could record myself. It was my first time jumping off a mountain and I do not trust these things a 100% so I was obviously holding on to dear life i.e. the straps. My pilot, who was actually a very sweet person, asked me to stretch my hand out and record my reaction. All I recorded was me shouting at him about how I was supposed to record myself and stay alive at the same time  (Awkward chuckle). After a point, he just took the GoPro stick from me and recorded the flight himself, that's when it struck me, "My life is in his hands." After a good 15 minutes of freaking out, I forgot about everything when I saw the view. I loosened my grip and just stared at the mountains and trees that lay covered with a thick blanket of fog. And above that, a bright orange ball shone brightly in the tangerine sky. The view was worth the jump, worth every single step towards the edge of the mountain. My fear of heights didn't bother me much and I insisted we take turns and swing a little.
The pilot ensured that the landing would be extremely smooth and I just needed to keep my legs up. Within no time, we were back on land. I unbuckled the straps and rushed to the group that was shouting and cheering during my landing. There was so much to tell them about my experience and they did too, but we all still had our heads up in the sky. We were speechless. But we did plan to go again the next day! We head over to one of the cafes at the landing site and devoured plates of steaming hot momos and rounds of hot chocolate. After an eventful day, we head back to our homestay to meet Sanjay and sit around the bonfire, the entire group and me with my layers of winter clothes once again.
The adventure doesn't end here. There are many more stories from Himachal to come and this was just an account of the initial days. In the next story, I will tell you about my experience in Mcleodganj, the nightlife and a bizarre hot spring. Until then, do consider paragliding in Himachal if you haven't done it already. They have the most experienced pilots and you're surely going to be gobsmacked by the view once you're up there. This is me signing off until next month. I'll see you soon with a new story to share.