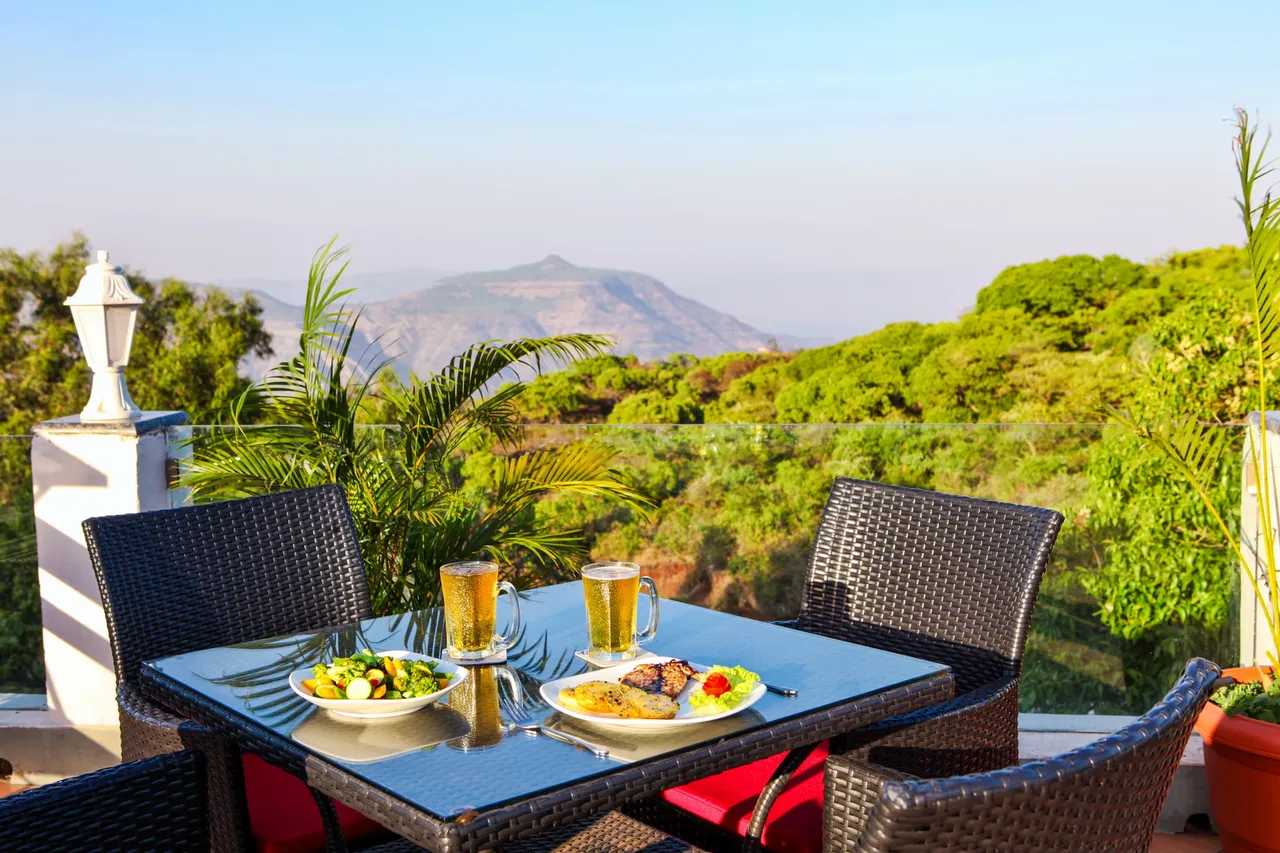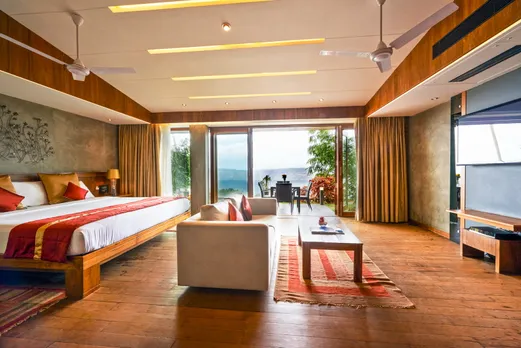 Pristine peaks, vast valleys, dense forests abuzz with birds singing sweetly in the trees, no this isn't a dream it's the view from my room at the Brightland Resort & Spa, Mahabaleshwar. Mahabaleshwar was a find of the British Empire and we can trace it back as early as 1215 during the reign of King Singhan of Deogiri. Originally developed by the British as a wellness retreat, the beautiful property of
Brightland, resonates the same values of luxury along with a keen eye for wellness.
Brightland Resort & Spa is nestled between thick rain forests and located high above sea level in the magnificent Sahyadri Mountains. I have been a regular at this property right from the time they had only three rooms. Today, they have luxurious rooms and suites spread over six wings- maple, orchid, lavender, tulip, poolside and the cottage wing. Their three suites are complete show stoppers that ooze opulence and are way ahead of their time, the lotus suite is perfect for families and the ivy and oak suite are ideal for couples on a romantic getaway. This resort is surrounded by acres of dense rain forests which give you a glimpse of the true beauty of nature. While the world is in frenzy with Covid-19, it's here where your soul is at peace as you immerse yourself in awe of mother nature.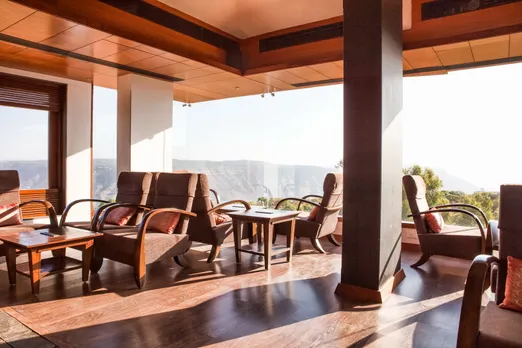 As you reach the resort you are welcomed with the warmest of faces, familiar faces, faces I've seen metamorphosis from young blood to wiser faces. As the world is just becoming aware of choosing brands and amenities that are "kinder" what's a bigger flag bearer of values than having people stick by you over years. You will usually hear Mr Vijay Shewakramani, the owner or Vijay Uncle as I dearly call him roaring with laughter, making the environment feel jolly throughout the year. With the first step, you have already dived into luxury at this resort, with the services being better than any 5-star resort ever.
The facilities provided are joyous to heart. A temperature controlled swimming pool where we can make a splash with a view. The Jacuzzi, situated right next to the swimming pool, is perfect for relaxing your muscles after a hectic day of hiking around the lush forests. They also have steam, sauna and bath areas near the pool and as the wind whistles gently, and you can hear wind chimes play melodious notes which hit your sweet spots to ease away all the city life worries. They also have a well-equipped tennis, volleyball and basketball courts to work up an appetite so you can enjoy their delectable meals.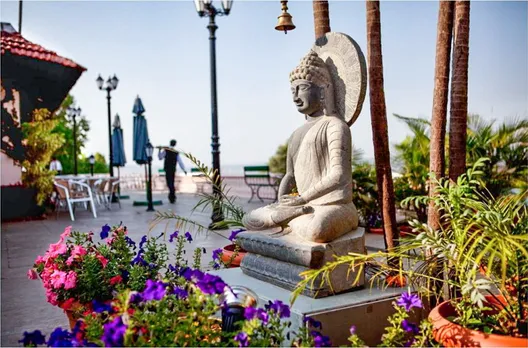 The restaurants here offer an array of cuisines that include Indian, Continental, Italian and Chinese. Exotic cocktails, mocktails and aromatic coffees are also poured and brewed in the bar. An inside secret, they bake their own bread, whip up their own ice creams which are to die for, make the yummiest homemade cream cheese and the strawberries are picked freshly from their farm each day. The restaurant offers the finest brick oven pizzas, mouth-watering Italian and Chinese delicacies along with Mughlai specialties. The Over the Edge Bar is aptly named as it overlooks a dramatic view which provides a cozy lounge setting enhanced by some toe-tapping music and stylish decor.
The fitness centre in the resort is well-equipped with all the modern amenities made at the behest of our very own Bollywood star Ajay Devgan while he was staying at the resort shooting for Omkara. If you're more of a nature lover and would like to practice yoga amidst nature, they provide yoga mats and yoga props on the go. As mentioned earlier the heed they pay towards wellness is recognised in the effort put into the Prana Spa which ensures to soothe your mind and body. Various treatments based on Ayurvedic and Western traditions are offered here and each treatment ends with a cup of herbal tea. The devil is in the details and they make sure to provide complimentary Wi-Fi in all public areas and rooms.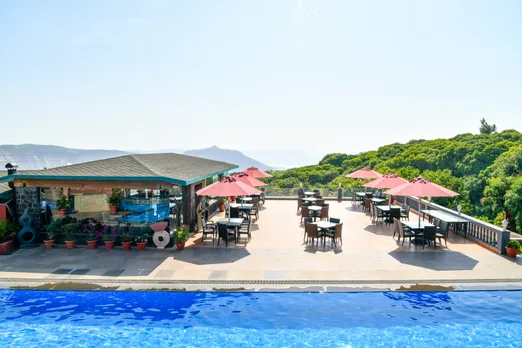 They even have a Kids Zone, an ideal play area which is equipped with swings and slides. The games zone also has foosball, air hockey, carrom boards, pool table and table-tennis tables. They cater to bibliophiles with a stocked library and also workaholics with a business centre where you can find our dearest publisher, Mr Abhishek Kulkarni, at any given time. They also have a discotheque area that hosts activities right from housie to magic shows and even movie screenings. It turns into a club at night where you can shake a leg or two.
What warms my heart the most is they silently work effortlessly towards sustaining and protecting nature. They recycle water, use building materials made of sustainable local resources and utilise solar heating wherever possible. They also frequently run clean Mahabaleshwar drives and pick up trash from the streets and forests.The scrumptious meals are mostly made by ingredients from their very own organic farm.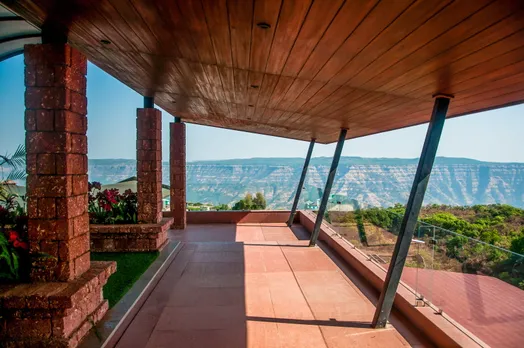 While I can keep ranting about the plethora of amenities, I cannot overlook how it's an ideal setting for intimate wedding ceremonies, just the kind I like. With a picturesque backdrop, it's a perfect location for a dream wedding. I've been fortunate enough to see some of my closest friends get married here and it felt absolutely like a fairy tale. 
Brightland Resort and Spa surely crafts memories that last a lifetime. It's a resort with a soul; you can feel the love at every glance, every bite, every touch and every experience here. They have put such deep thought in every minor detail that no matter your likes you will definitely find something that steals your heart. As being someone who has travelled the world, I assure you I haven't found any place that's so well-armed for every situation or interest thrown their way. Brightland has been my happy place for years and with the way Mr Shewakramani is continuously upping his game, I'm sure it shall have my heart for eternity. Take my advice on this, take a break from your crazy hectic city lives and dive into luxury at the Brightland Resort and Spa and you may thank me later.