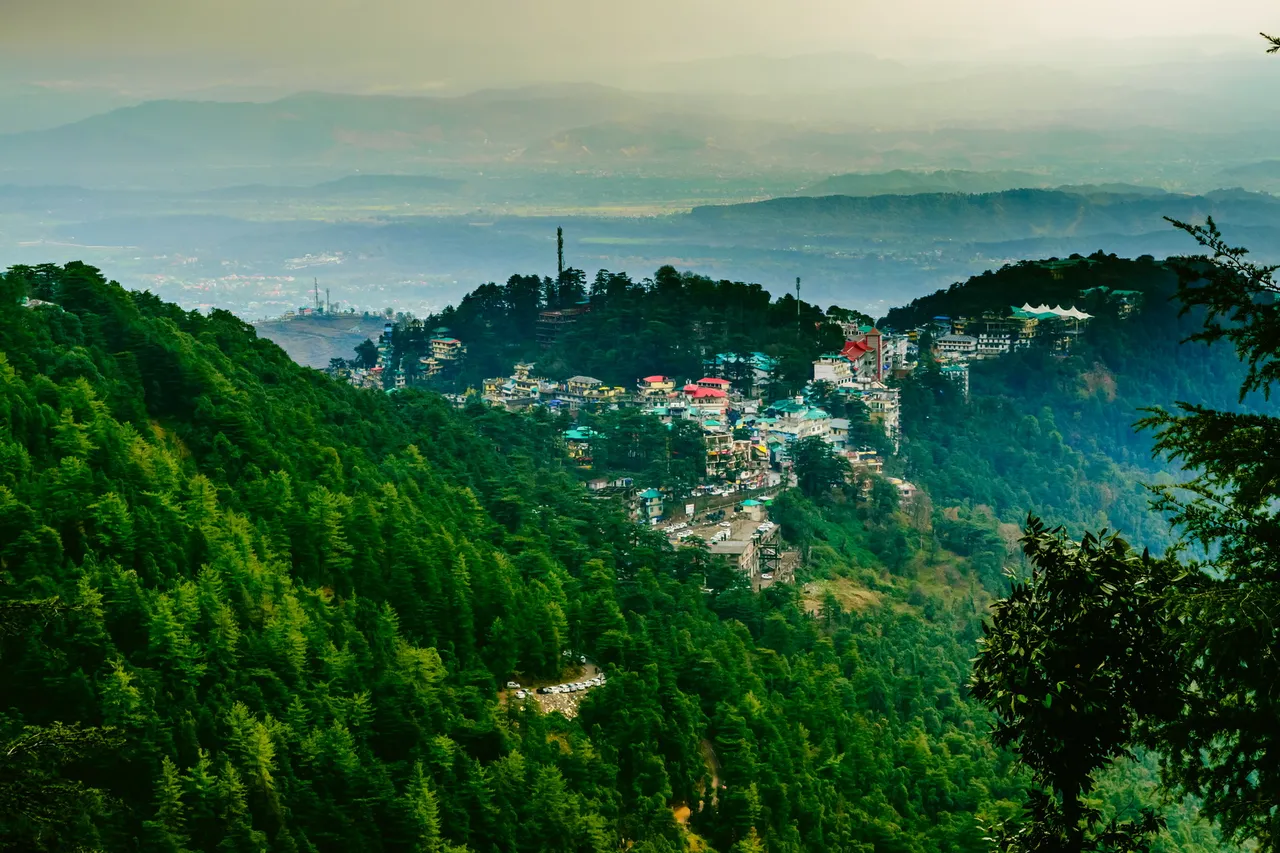 I hope my last story inspired a few adrenaline seekers to add paragliding in Bir to their bucket list. Himachal has so much to offer and there's so much more to explore. However, here's an account of my adventures from the parts that I explored of this wonderful place.
In the previous story, I wrote about paragliding in Bir and biking through the foothills of the Himalayan range. The second-half of our trip was in McLeod Ganj. We hadn't planned anything for this trip; we were simply relying on our gut feeling and just doing what felt right. That's what we did when we packed our bags and left for McLeod Ganj the very next morning.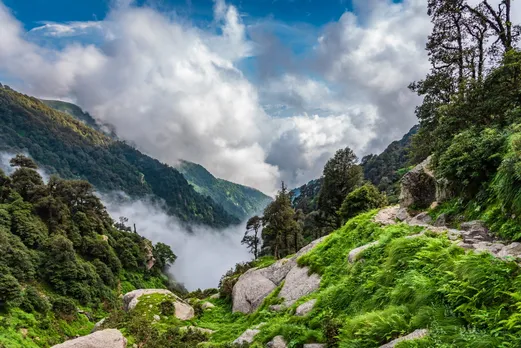 The six of us were up and ready to get stuffed in an Innova and head to the next destination with no prior hotel bookings. With the cab driver racing down the twists and turns of the mountains, a few of us, who are blessed to not have motion sickness, looked for a place to stay. We finally zeroed in on Hotel Golden Rock. This hotel was close to the Triund trekking trail so it was a perfect place for us to stay.
Our trip to McLeod Ganj was a true testament to the effect our lives have had on us. Being people who were used to the hustle and bustle of the city life, we were taken aback by everything right from the steepness of the roads to the mist laden mountains. It's truly a humongous feat to just have built these roads because without them, we would have been deprived of the breathtaking views that awaited us.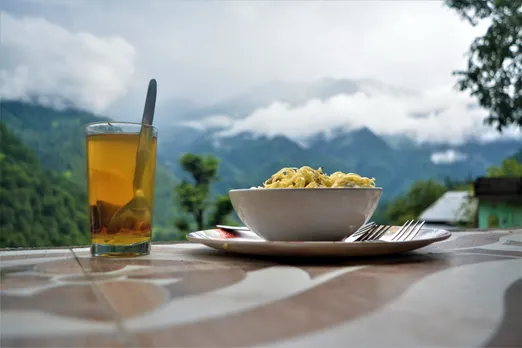 After hours of staring at everything green, McLeod Ganj hit us like a palette of colours with its vibrant markets, people and the colourful prayer flags strung high above the ground, and fluttering in the wind everywhere we saw them. The streets were snug and lined with various cafés and small shops that sold textiles and jewellery. Elderly people were walking up the streets and we just watched from the warmth and comfort of our car, knowing that we would never be able to get used to this. Everyone talks about life in the mountains and how easy and peaceful it looks, but only the ones living there know the gravity of it.
Our hotel was nestled between tall mountains with gigantic cedar trees all around. I opened the balcony of our room and a cold breeze broke in. I saw a monkey running away with an uprooted flower plant and a lady running behind it. I saw the sun in its slow descent behind the cedar trees. We just had to get out and onto the streets. Being the enthusiastic people we were, we had decided to walk down to the main market from our hotel. But as the cab kept climbing up and up to the hotel, we all agreed to just take the same cab back to the market.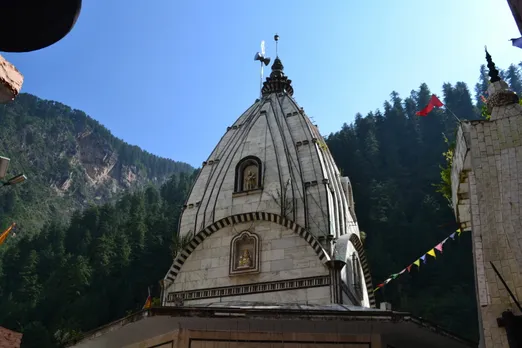 Intrigued by many mentions of Café Illiterati, we decided to go there. This café is a bookworm's paradise. They have a range of books that you can read along with a cup of freshly brewed coffee and a fluffy dog lying under your chair. All this with a view of the valley and the city lights twinkling underneath. This café is a definite must-visit if you're around. The food too is great and the ambience is just perfect. 
Have you heard of the story of the wind and sun where each competed to make the child get rid of his jacket and at the end, the warmth of the sun made it possible and not the intensity of the breeze? Similarly, we kept walking around the market in the cold enjoying the sights, but at the centre of the market, we were forced to go into Mcllo Restaurant. What forced us you ask? It was the folk music being played by a local band on the roof. We stayed and watched them play songs by Lucky Ali and many folk songs; one of them was Chamba kitni duur, a song that I had heard on the radio during the cab ride. We enjoyed our evening listening to the same songs and enjoying the food there. Mcllo Restaurant also has photos of many celebs who have visited the place. Pierce Brosnan was among some of the celebrities who visited the place. It's got to be a great restaurant if Mr Bond came by to enjoy a pint of beer, right?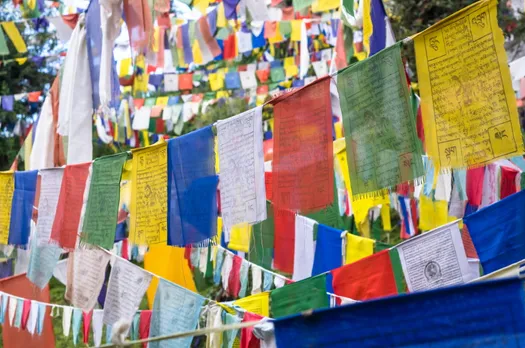 The next day half of us left for the mesmerising Triund trek and the other half, well we had to find our own little adventure, and boy we did. We left to visit the famous Dal Lake (Yes, there's one in Himachal as well), the beautiful Naddi point from where you could see the hazy trail of Triund and the church of St. John in the wilderness that was shut at the time but we explored the premises and found gravestones that dated back to the 18th century, about 220 years ago!
Our guide was a young man and he was just as excited to drive and explore as we were. He was a trekking guide but that day, he was driving us around to see all these places. He told us that there was a beautiful hot spring about 7-8kms from where we were and asked if we wanted to go — my sister and I screamed "YES!"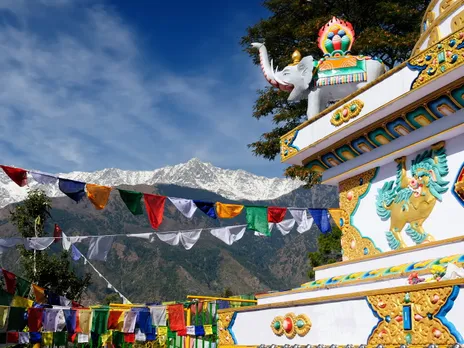 On our way to the hot spring we resisted the urge to google the pictures of the place, keeping with the mood for the day, we decided to go with the flow. Now we had been driving for 2 hours and the excitement kept building within us. With 90's Hindi songs playing in the background, we gazed out of the window like little young kids. One look at the phone screen indicated that we were almost there. We looked out again and out of nowhere we saw this beautiful river running alongside with mountains overlooking it all at the back.
After a few more minutes, we reached a temple gate. The temple was set against the backdrop of tall and green mighty mountains with a waterfall right in the middle of it all. Mesmerising as it was, when we turned towards our guide to point us to the hot spring, we saw a few shirtless guys walking towards the temple. Both me and my sister looked at them and then looked at each other with the same confused look on our faces. Never must have public baths been as glorified as to be described as hot springs! There was a separate section for women and the men's area had a running inlet of water, the women's section was just a pool of water in a dark room. The guide told us to go ahead and that he would be right here when we would be done.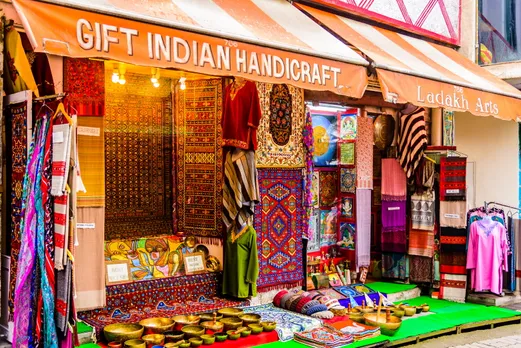 My sister and I decided to go dip our feet at least since we had come so far. I climbed onto a step next to the pool of water and peeped, a small black creature hurriedly went back into the water at the corner in the back and my sister and I made a run for it. We talked about our expectations of those Instagram-worthy hot springs while we waited for our guide to come back.
Disappointed about not being able to experience the hot springs, we headed towards the garden area. That's when the guide brought out his guitar and his brother called for hot masala tea. That evening with the cold breeze, the unusual experience with the "hot spring", the sound of the river bubbling behind us, and our guide singing folk songs for us turned what seemed like a horrifying experience into a pleasant and memorable one. We also joined in to sing bits of Chamba kitni duur, and I realised that every Himachali loved this song and moreover, they loved singing songs about Himachal.
We were so caught up in learning and singling Himachali folk songs that we did not realise that it was time to return. I am sure many people must have spent an enjoyable time in the hot springs, but very few must have experienced it the way we did. 
The dawn of the next day came with our journey to a small quaint town called Jawali, the last leg of our Himachal adventure. Our purpose for visiting this town was to attend the nuptials of a very dear and old friend. This wedding was strange because it started at 3am in the morning and the crowd was awake to witness the wedding. The caterers kept serving everyone tea so we stayed up for the wedding. When I was on my fourth cup of tea, after having the last sip, as I kept my cup down I saw a pink stain on the rim. I picked it up and turned it around to find a full, unsmudged lipstick mark on it. My OCD-infected self wanted to literally drink my bottle of sanitiser at the time. But we laughed it off while I lost every bit of sleep I had left in me.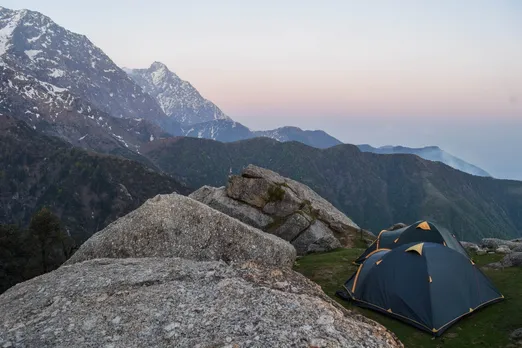 We witnessed a lot during our trip. I made a few more friends, watched old friends reunite after years, paraglided despite my fear of heights, met humble people of Himachal, and made a billion memories in a matter of ten days. This trip was more than just a breather after the lockdown and everything it had to offer. Himachal was literally a breath of fresh air and we sure made the right choice by travelling to Himachal first after the lockdown. You are sure to fall in love with everything Himachal has in store for you, and trust me, there's a lot it was waiting to be discovered. All you need to do is trust your gut, and your guide, and you're going to have an unforgettable experience.