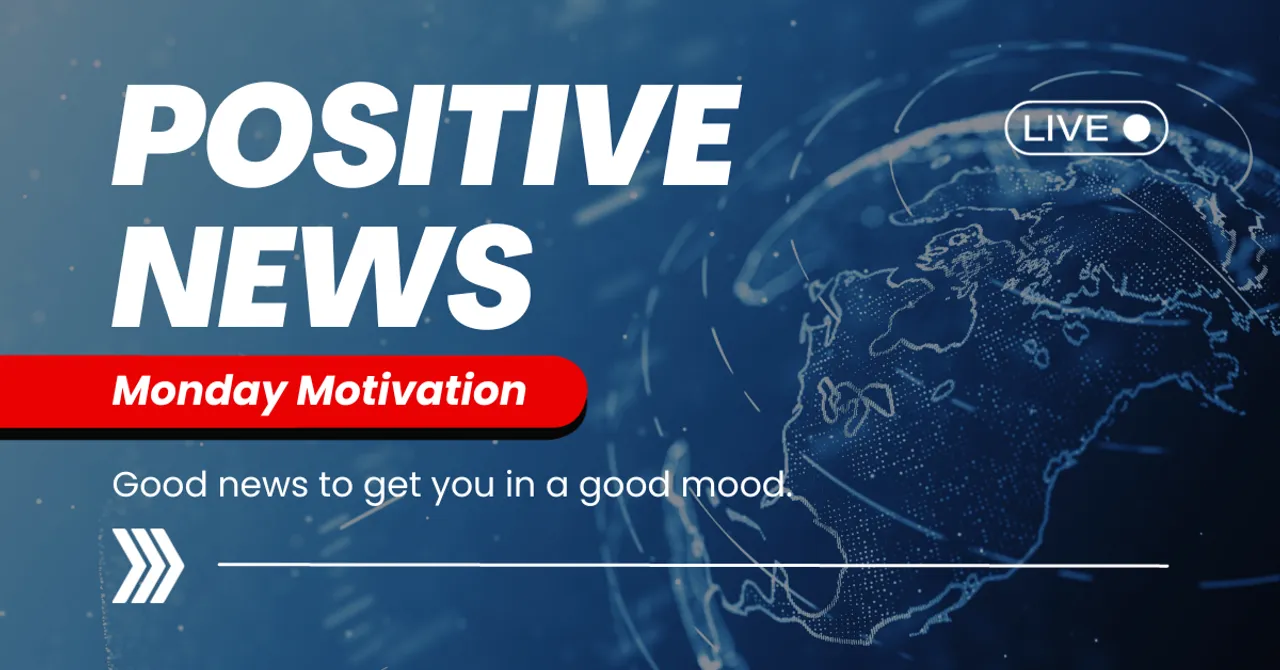 We all need a positive start to our week, don't we? The hustle and bustle of our daily lives can sometimes leave us feeling overwhelmed and drained. That's why it's essential to seek out the good news that surrounds us. Whether it's a heart-warming tale, a scientific breakthrough, or a community initiative making a difference, a little bit of positivity can go a long way. In this article, we aim to do just that - bring you some good news to kick-start your week on a high note. So, let's dive into stories and recent developments that are sure to lift your spirits and leave you feeling inspired.
The Stock Market Recovers
It had been a tough last week for the stock market. But after a tough spell, the Nifty 50 has finally rallied past 19,200, signalling positive momentum for the market. Trading remains subdued as investors are eyeing the 100-Day Moving Average at 19,300 as the next target. Analysts foresee minor corrections but suggest optimism if it surpasses the 19,300 threshold. The Nifty Bank also ended a six-week slump, marking a 1.25% increase for the week and accumulating 600 points in the last two trading sessions.
Rewilding Efforts Done Right
An abandoned golf course near Akron, Ohio has transformed into a thriving natural sanctuary, including a revitalized segment of the protected Cuyahoga River. As golf courses nationwide shut down faster than new ones open, the remaining green expanses often fall prey to non-native plants and invasive species, nurtured by excessive watering and chemicals. Summit Metro Parks took on the challenge of returning the Valley View Golf Course to its pre-settler state, merging it with existing properties to create a sprawling 1,900-acre habitat for local wildlife and vegetation.
Michelangelo's Secret Room Opened to Public
Michelangelo's clandestine hideout, discovered in 1975, adorned with his sketches, is now open for public viewing. While searching for a tourist exit in the Medici chapel half a century ago, museum officials stumbled upon a trapdoor beneath a wardrobe, revealing the 10-foot wide room with Michelangelo's charcoal and sanguine stick drawings. Limited public access is allowed until March 2024 on an experimental basis, ensuring the preservation of these precious artworks through controlled lighting and periods of darkness.
Oregon Builds Airport Out of Timber
Oregon's "Port of Portland" airport terminal champions cutting-edge timber construction, emphasizing durability and eco-friendliness with locally sourced cross-laminated timber (CLT). Contrary to common concerns, the use of mass timber presents a low-carbon building solution sequestering carbon and mitigating the environmental impact of concrete production. The timber is locally sourced, including Douglas fir, hemlock, and southern yellow pine. The project not only highlights the prowess of the American mass timber market but also underscores its contribution to global sustainability efforts.
London's Clean Air Drive Shows Results
London's efforts to combat air pollution have yielded promising results, as the mayor's clean air expansion led to a significant reduction in 'dirty' cars, with 95% of vehicles in the outer city meeting clean air standards. This progress mirrors earlier compliance rates within the inner city. Recent data highlights a noteworthy decline of 77,000 older, more polluting vehicles on the roads, representing a 45% decrease since June. Despite initial pushback, the mayor's lawful initiatives, complemented by a scrappage scheme, demonstrate a commitment to fostering a healthier environment for current and future Londoners.
As we embark on a new week, let's carry with us the inspiring tales and promising advancements that serve as reminders of the boundless potential within each of us. By embracing the spirit of resilience, compassion, and innovation, we can continue to build a world where positivity and progress prevail.