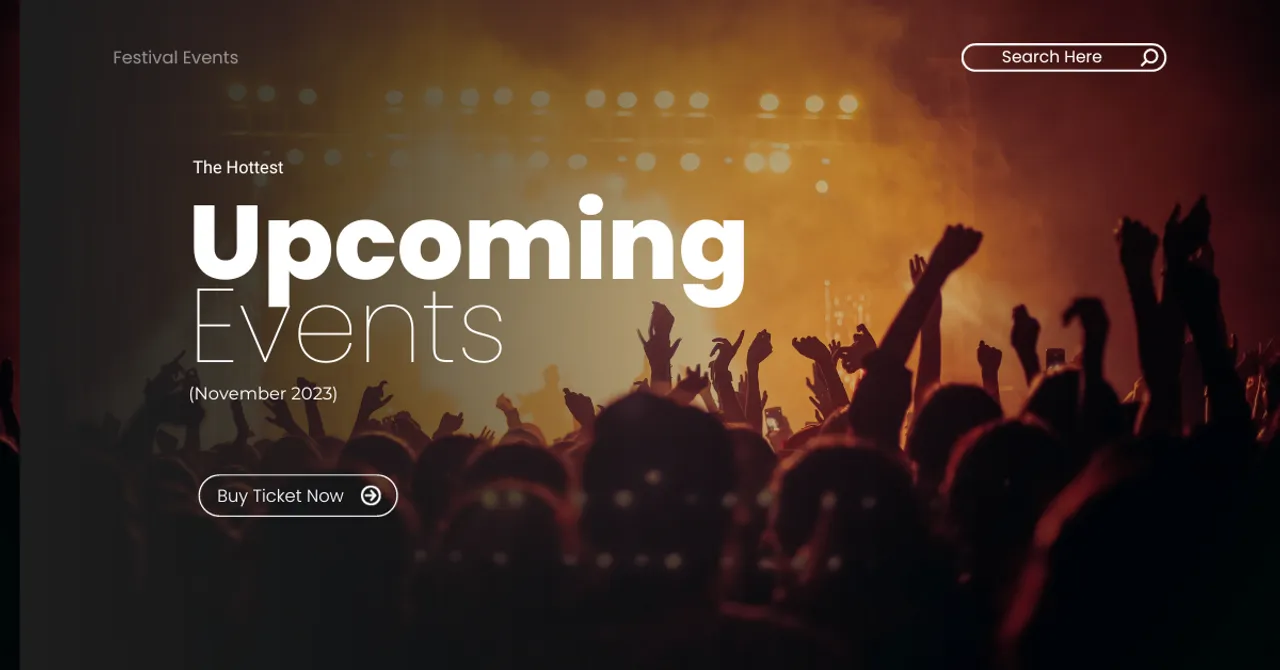 Steeped in culture and pulsating with an infectious energy, Pune hosts iconic events throughout the year. As the breezy November air ushers in a festive fervor, the city eagerly gears up to showcase its cultural tapestry through a plethora of captivating events that promise to enrapture both locals and visitors alike. From pulsating music concerts that echo through the busy streets to food festivals that celebrate Pune's gastronomic indulgences, November is poised to deliver on the festive atmosphere, offering a delightful rendezvous with the city's pulsating cultural soul. To give you the most delightful experiences the city has to offer, here is a list of some highly anticipated events in the city for the upcoming month.
Bismil Ki Mehfil Pre-Diwali Sufi Night
Date: 4th November
Location: Ballr, Mulik Capital, Kalyani Nagar
Step into an enchanting realm as the esteemed Sufi maestro, Bismil, takes over India's biggest nightclub with his mesmerizing performance. Bismil Ki Mehfil, a pre-Diwali extravaganza, promises to intertwine spiritual fervor with musical finesse, for an evening of transcendental melodies and rhythmic allure. Those who wish to attend should keep in mind that the event is following a traditional attire policy, so keep with the vibe and dress accordingly.
The Red Room, Ft Ana Lilia
Date: 4th November
Location: Escada All Day Kitchen & Bar, Viman Nagar
Prepare for an exhilarating rendezvous at "The Red Room" by Lucid Productions, headlined by the Techno luminary Anal Lilia. With a track record spanning renowned festivals and shared stages with industry icons, her pulsating rhythms promise to ignite Escada. Pune's own Aathmikk, Zekt, Malware 303, and North will contribute to the electric atmosphere, reigniting the city's underground Techno spirit. Immerse yourself in a night of relentless beats and euphoric vibes, meticulously crafted by Team Lucid Productions.
Sunburn Arena ft. Dimitri Vegas & Like Mike
Date: 23rd November
Location: (Venue to Be Announced)
Get ready to be enthralled by the electrifying presence of global EDM sensations Dimitri Vegas & Like Mike, as they touch down in India for a monumental performance. Recognized for their high-octane sets, festival hits, and ground-breaking collaborations, the Belgian duo is set to ignite the stage with their infectious energy and unparalleled beats. Experience the magic of an electrifying performance as they showcase their mastery of big room and progressive house, leaving an everlasting imprint on the Indian EDM landscape.
Zomaland by Zomato
Date: 4th and 5th November
Location: Mahalakshmi Lawns, Nagar Road
Embark on a culinary odyssey fused with captivating entertainment at Zomaland by Zomato, the epitome of India's food carnival experience. Delight in an abundance of tantalizing food and drinks amidst a symphony for of Armaan Malik, Emiway Bantai, Ritviz, and more. Immerse yourself in a weekend of indulgence, offering a medley of experiences, games, and entertainment, promising an unforgettable escape into a world of flavours and festivity.
As Pune gears up to host an eclectic array of events this November, the city's cultural landscape is set to come alive with an unparalleled vibrancy and dynamism.  Embrace the spirit of Pune's cultural renaissance, and immerse yourself in the captivating blend of tradition and modernity that defines this dynamic city. Plan your itinerary, mark your calendars, and get ready to be enthralled by the enthralling events awaiting you in Pune this November.