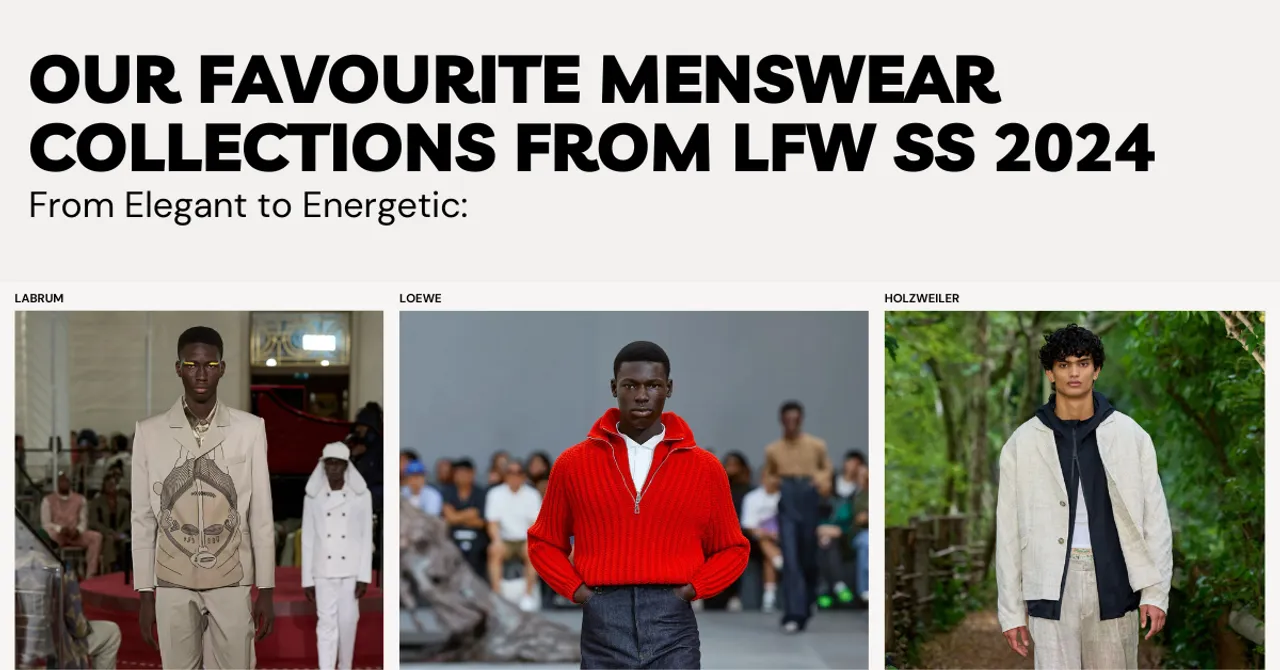 Known for impeccable style and diverse culture, London is the perfect city to spot upcoming trends and hottest new designers in the world of fashion. We're inviting you to step into the world of men's fashion at its finest as we take a look at some our favourite collections from the London Fashion Week Spring/Summer 2024 collections. This remarkable event was a feast for the fashion-forward, where the runways came alive with an electric fusion of sleek elegance and vibrant energy. Join us as we unravel the stories woven into these collections and celebrate the designers who brought them to life, shaping the future of men's fashion.
Labrum
Labrum's Spring-Summer 2024 ready-to-wear collection redefines men's fashion by seamlessly blending soccer-inspired elements with a profound commitment to diversity and heritage. Foday Dumbuya, the visionary behind the brand and a recent recipient of the prestigious Queen Elizabeth II Award for British Design, continues to weave compelling narratives into his creations. This collection introduces a captivating fusion of elegant suiting and tactile textures, featuring raffia accents and artfully frayed edges, all drawing inspiration from the vibrant tapestry of West African masquerades. Labrum's genius lies in the harmonious coexistence of bold prints and vivid hues within modern, refined silhouettes. The result is a wardrobe that empowers men to infuse their spring ensembles with rich cultural narratives and contemporary elegance.
Loewe
In his Spring-Summer 2024 ready-to-wear collection, Jonathan Anderson found inspiration in the graceful forms of Lynda Benglis's fountains, translating the organic fluidity of water into his fashion creations. The collection is a striking blend of fashion elements, featuring high-waisted pants, glistening polo shirts, substantial knits, and leather jumpsuits, all cleverly cropped at the ribcage to conjure an illusion of a statuesque, lanky silhouette. Loewe's latest offering deftly blurs the boundaries of gender in menswear, meticulously harmonizing masculine and feminine aspects. This collection establishes a unique design identity that exudes youthfulness and sophistication simultaneously, offering an elegant and modern wardrobe for the men who appreciate innovation and elegance in their attire.
Holzweiler
Holzweiler's Spring-Summer 2024 collection, unveiled in London as part of its international expansion, effortlessly marries sustainability and fashion. Showcasing a harmonious blend of repurposed scarves, botanical prints, and intricately laced-up garments, the collection embraces eco-conscious materials such as Tencel and crochet. Men's fashion is seamlessly integrated, featuring knitted sweaters, linen suits, and elaborately embroidered camp-collar shirts. This confident presentation unmistakably reflects Holzweiler's Nordic design ethos, serving as an ideal source of inspiration for the environmentally-aware gentleman. It epitomizes a perfect fusion of style and conscience, making it an exemplary choice for menswear that combines fashion and eco-responsibility.
The Spring/Summer 2024 collections at London Fashion Week provided inspiration for refreshing any modern gentleman's wardrobe. Whether it was cultural fusion by informing bold prints, vibrant colors, and textured fabrics, or more gender-neutral fashion that embraced high-waisted pants, cropped silhouettes, and innovative layering for a modern, boundary-blurring look. For the eco-conscious, brands are increasingly offering sustainable materials like Tencel in knitted sweaters and linen suits. Incorporate these looks in your wardrobe to embrace the dynamic spirit of men's fashion in today's world.