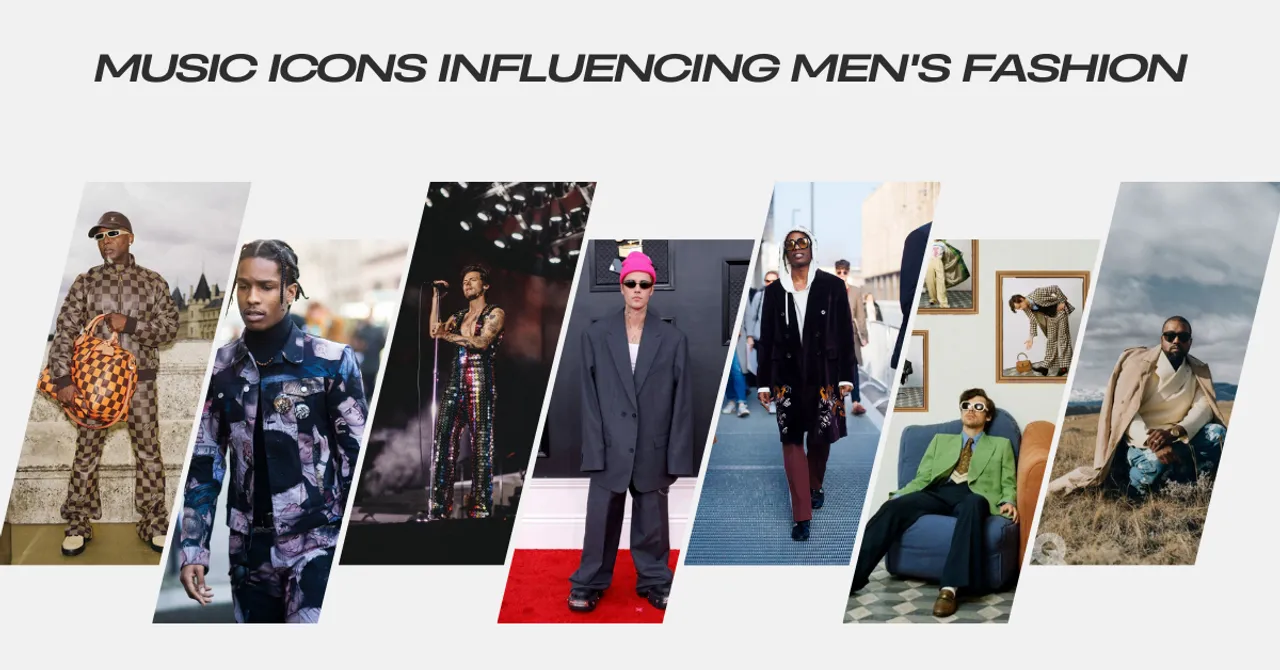 In the dynamic world of fashion, where trends are ever-evolving, there's a constant search for inspiration that transcends the boundaries of time and genre. While fashion trends are shaped by various elements, including cultural shifts and technological advancements, one source of unending inspiration has consistently been the world of music. Music icons have played a pivotal role in influencing men's fashion, providing a unique blend of style, attitude, and individuality. In this article, we will delve into the music artists that have set themselves apart with their style, who have left an indelible mark on men's fashion.
Harry Styles
Harry Styles has embarked on an unconventional journey in the music industry, and his fashion sense reflects the same. His gender-fluid and eclectic fashion sense is as iconic as his music. By seamlessly blending elements of pop and rock fashion, he's shattered the boundaries of traditional masculinity. Harry is frequently spotted sporting bold prints, wide-legged pants, and accessories that challenge conventional norms. To incorporate a touch of Harry's fashion flair into your wardrobe, consider experimenting with flowy and wide-legged trousers, adding statement accessories like chunky rings or colourful scarves, and don't shy away from playful patterns or floral prints. The key takeaway from Harry Styles' fashion journey? Confidence is the ultimate accessory, and being yourself never goes out of style.
Kanye West
As a public figure, Kanye West has amassed plenty of controversy and notoriety. However, as a creative force in the world of streetwear, his influence cannot be overlooked. West's founding of the Yeezy brand catapulted him to the forefront of the fashion industry, and his innovative designs have permeated mainstream style. One of his most notable contributions is the popularization of "athleisure," a seamless fusion of sportswear and high fashion. Men looking to incorporate elements of Kanye's style into their wardrobes can start by embracing oversized silhouettes, neutral colour palettes, and minimalist yet striking accessories. Yeezy's signature sneakers and hoodies have become iconic staples, and so has the effortless yet luxurious style of athleisure that Kanye is known for.
Pharrell Williams
Pharrell Williams spreads joy not just through his music, but also his distinctive and vibrant style. His signature oversized hats brought the trend back, making them a must-have accessory for those looking to stand out. Pharrell's streetwear flair has solidified his status as a fashion icon, and his collaborations with renowned brands like Adidas and Chanel have further cemented his impact. Men looking to incorporate elements of Pharrell's style into their wardrobe can start by experimenting with bold, eye-catching accessories and embracing a mix of high-end and streetwear pieces. Whether it's a statement hat, a pair of stylish sneakers, or an artful fusion of patterns and colours, Pharrell's fashion influence encourages men to step outside their comfort zones and express themselves with confidence.
A$AP Rocky
A$AP Rocky has undeniably left his mark on men's fashion, and it's not just his music that's turning heads. This Harlem-born hip-hop artist has become a style icon by blending streetwear and high fashion like a pro. His collaborations with powerhouse brands like Dior speak volumes about his impact on the industry. From bold patterns to eccentric accessories, he's a master at pushing the boundaries of fashion. Guys looking to incorporate a bit of A$AP Rocky into their wardrobe can start by mixing streetwear staples like hoodies and sneakers with tailored pieces like blazers or slacks. Don't be afraid to experiment with unique patterns, and don't skimp on the accessories – whether it's statement jewellery or a standout cap. After all, A$AP Rocky's style mantra is all about standing out and staying true to yourself.
Justin Bieber
Justin Bieber's influence on men's fashion has been undeniable, as marked by the resurgence of beanies since he sported them. In 2018, the Grammy-winning pop sensation launched his clothing and lifestyle brand, Drew House, which quickly gained popularity for its laid-back, streetwear-inspired aesthetic. But the Bieber fashion phenomenon doesn't stop there. His unexpected fascination with Crocs resulted in a unique collaboration in 2020, with a partnership between Drew House and Crocs. The collaboration birthed a collection of yellow-coloured Crocs adorned with playful motifs like pizza slices, teddy bears, daisies, and the Drew House logo. This fusion of comfort and style demonstrates how men can infuse their wardrobes with a touch of Bieber's carefree yet trendy vibe. From cosy hoodies and beanies to quirky footwear, Justin Bieber's fashion is all about comfort and self-expression, making it easy for men to infuse their own personality into their attire.
Conclusion
Music icons have a profound and enduring influence on men's fashion. They have demonstrated that fashion is not just about clothing; it's a statement of identity and attitude. In the world of fashion and music, these artists are the trailblazers, the visionaries who transcend the boundaries of time and genre. They beckon us to embrace style with confidence and authenticity, and to remember that in the language of fashion, being yourself is the most timeless melody of all.