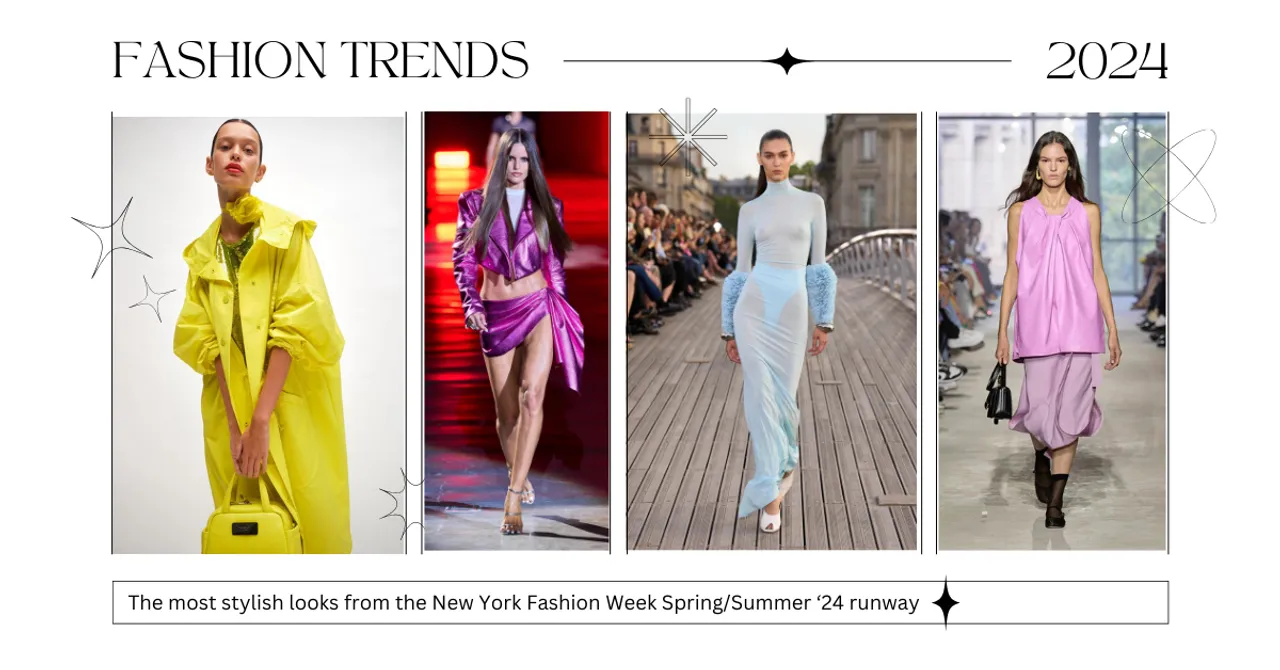 Fashion month is here, and with it, the most anticipated designers are showcasing their vision for Spring/Summer 2024. New York City became the epicenter of style from the 8th to the 13th of September, and the runways transformed into canvases where creativity and innovation were in full bloom. This year's NYFW collections for Spring/Summer 2024 embraced all things shiny, and we're here for it. Get ready to get inspired, and join us as we delve into the standout trends from the shows that will elevate your wardrobe for the upcoming spring season.
Get Be'dazzled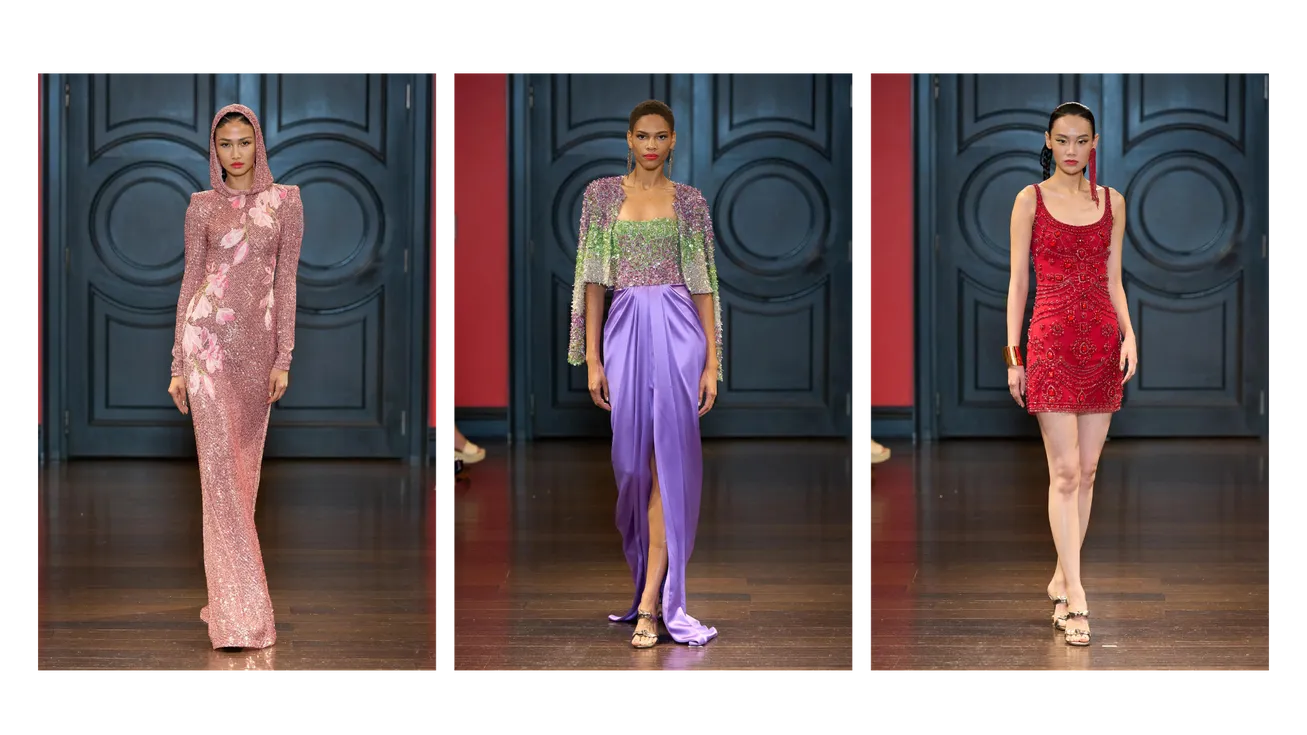 Embrace your inner diva with fabrics that shimmer and sequins that glitter. Spring/Summer 2024 is all about turning heads with sparkling looks, and there are a number of ways to achieve that. A little designer spotlight here – Naeem Khan's sequined and silky looks are the perfect way to ace this look, like with this spring-ready glittering pink dress adorned with petals. Another one to watch is the crystal encrusted looks in cool tones, perfect for a sparkling spring, or a vibrant red to stand out from the crowd.
Corporate Coded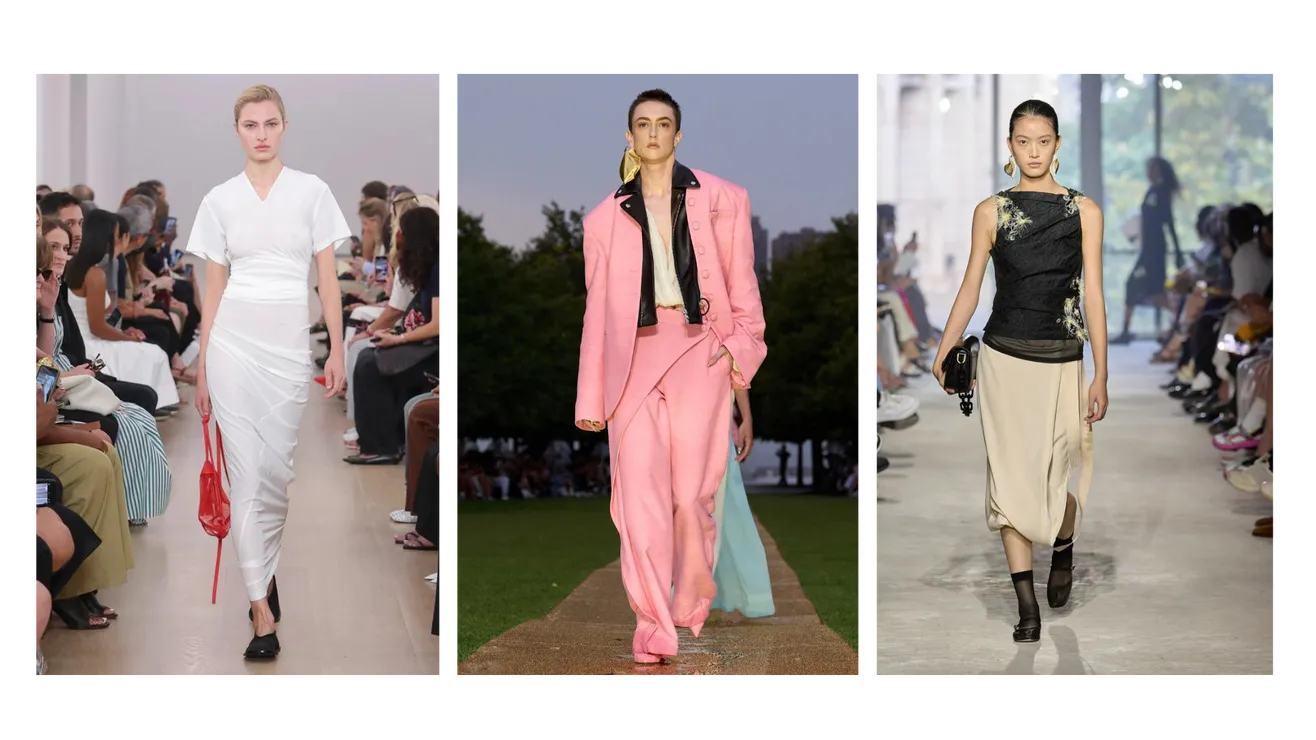 Walk the ramp of your office corridors with confidence with these looks from the NYFW. The blazers and the pencil skirts from your boardroom are being elevated with bright colours and angular silhouettes to feature on the runway. Rock two trends at once with the sheer body-hugging dress by Proenza Schouler or add a pop of colour to your business attire with a piece like this one from Prabal Gurung. For something in neutral tones, get inspired by the outfit by Phillip Lim, featuring a simple colour palette and a comfy corporate look.
Sheer Brilliance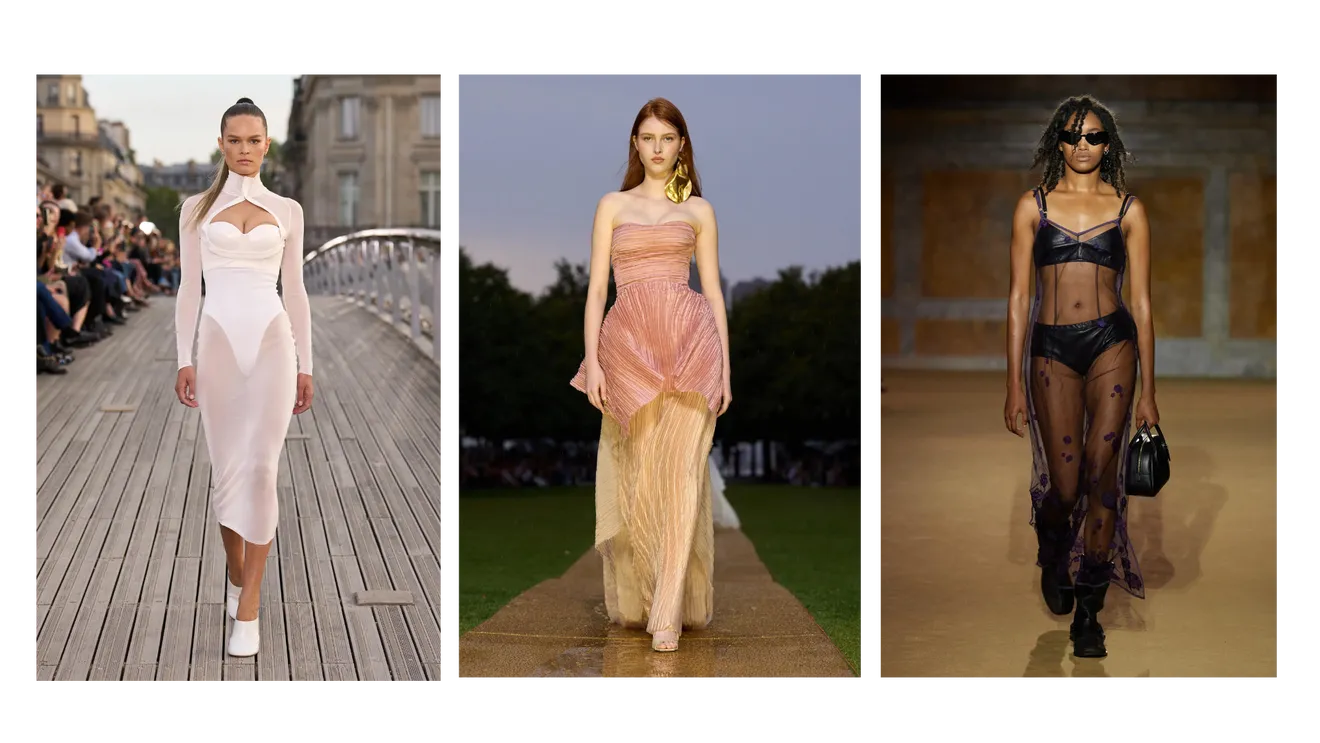 Nearly every designer at NYFW agrees on this one – sheer is in this season. From full length sheer outfits to carefully structured layers, delicate gossamer ensembles are the choice for youthful and sensual looks this spring. Get inspired by this bodysuit with a sheer overlay by ALAÏA, or go ahead and have a bit of fun with fabrics and colours, like with this dress by Prabal Gurung, reminiscent of a delicate flower in bloom. If you're feeling bold, embrace the trend in it's sheer glory, like with this sheath dress by Coach.
The Midas Touch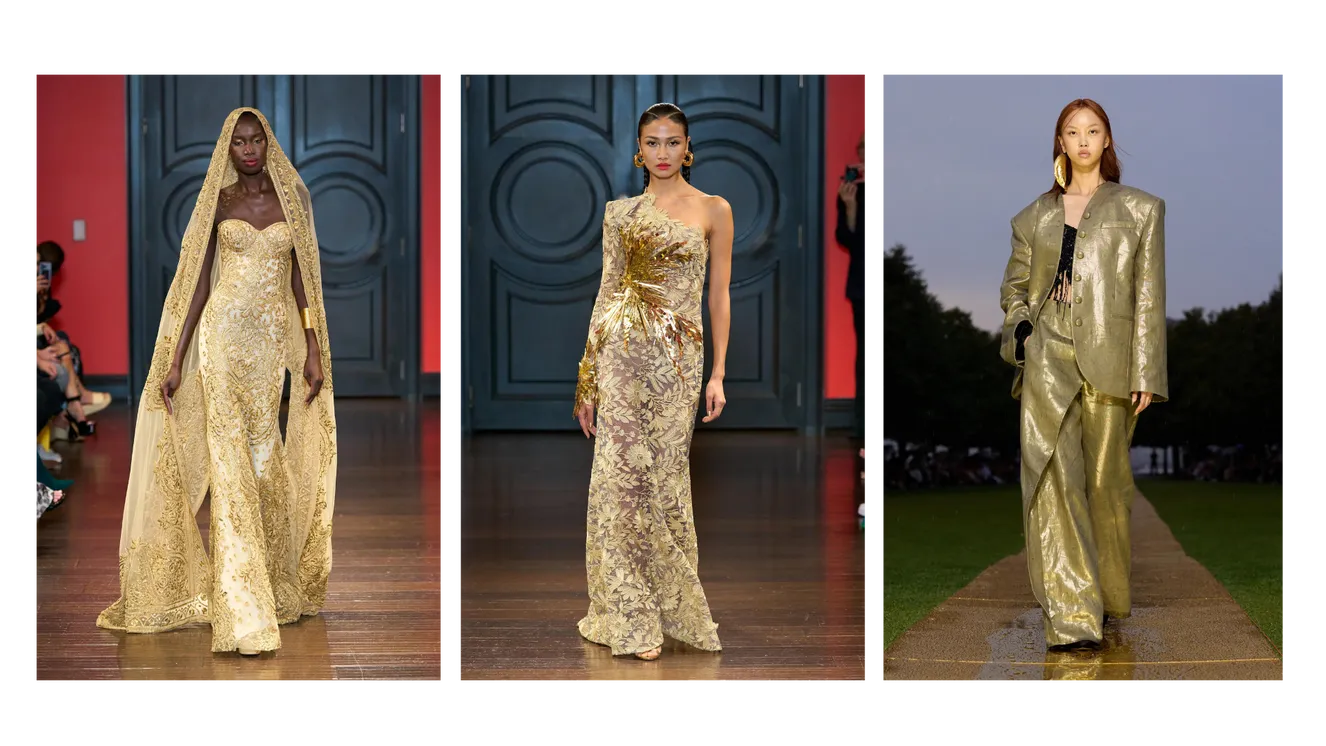 Mesmerizing outfits, shifting with the hues of liquid gold, were highlighting this year's spring-summer collection. A classy take on the shimmer trend, gold is incorporated in a number of ways for the next spring. The complete gold-and-white ensemble from Naeem Khan is a head-turner, as well as this dress by her that features a splash of gold on sheer. Or go ahead and mix business and pleasure, and rock a golden blazer like this one by Prabal Gurung.
Sunny Side Up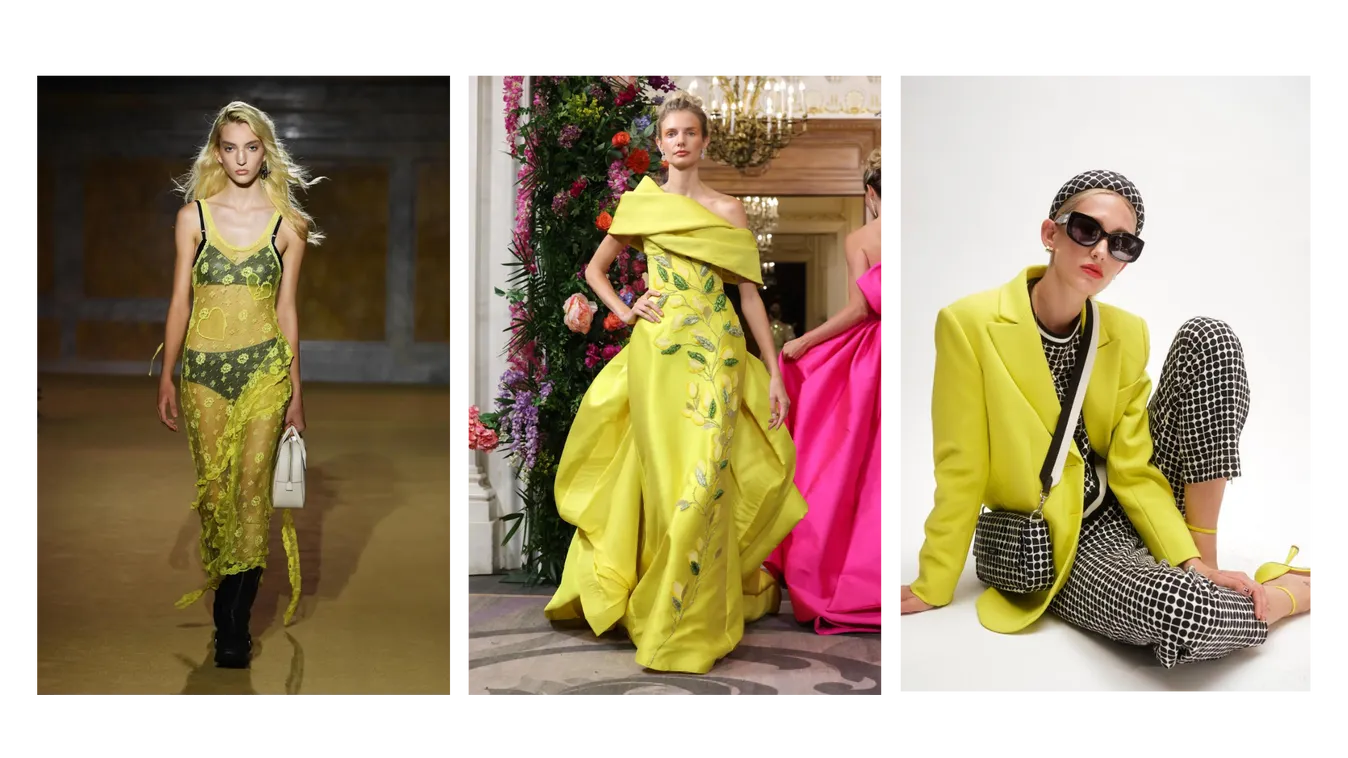 The forecast for the next spring is sunshine, at least when it comes to fashion. From buttery pastels to bold saffron, yellow is undeniably the colour to watch for the spring season, and you can keep things light and fun with this sheer overlay from Coach. Embrace your inner Belle with a bright yellow gown with floral detailing from Nardos, or go full corporate with this bright yellow blazer by Kate Spade.
Drop (The Waist) Like It's Hot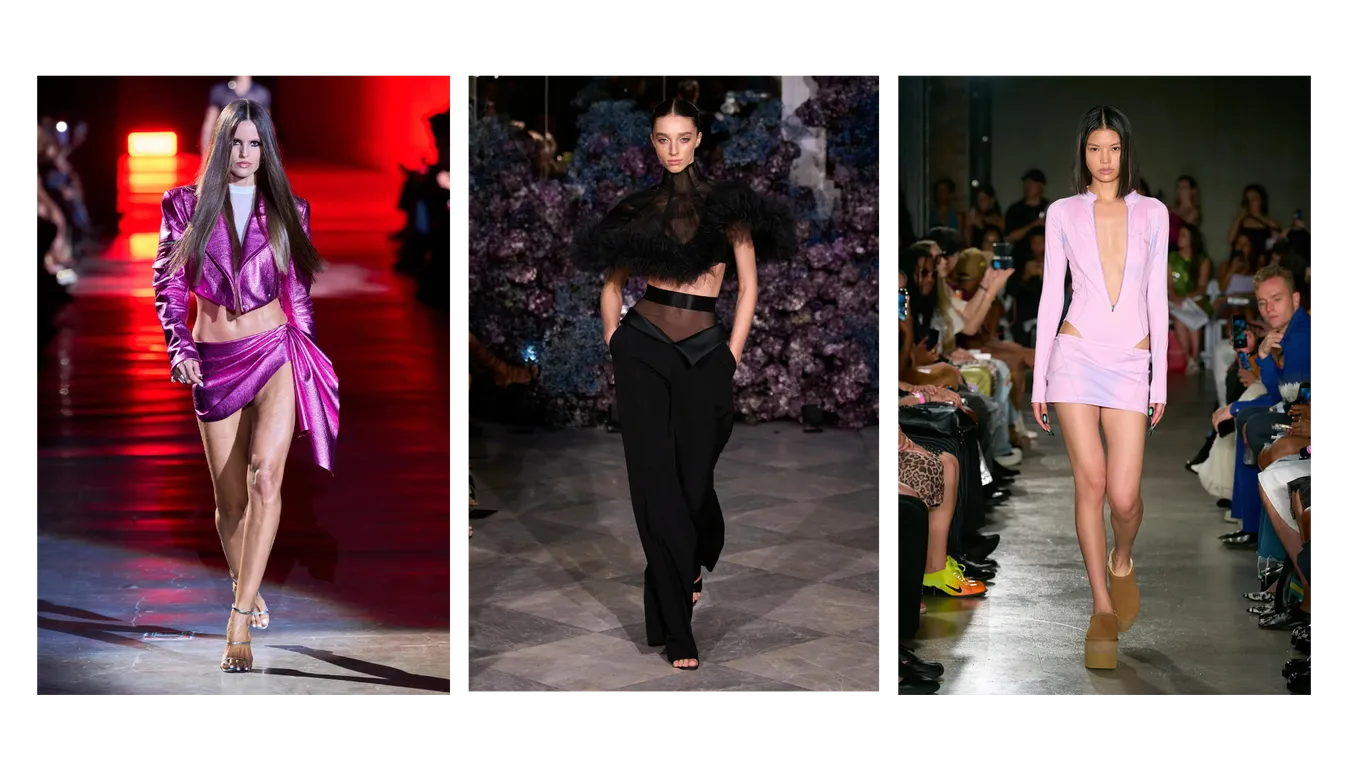 Subversive sensuality is a recurring theme on the runway for SS 2024, and it continues with the trend of the return of the low waists. This trend is all about embracing your body, and feeling confident in your skin. LaQuan Smith nails this trend with an asymmetric skirt paired with a cropped blazer for a daring look. These pants by Christian Siriano pair a low slung waist with a sheer overlay for an eye-catching style. Pair a plunge neck with a low waistline like this outfit by Remain to channel your innner Barbie with some runway inspiration.