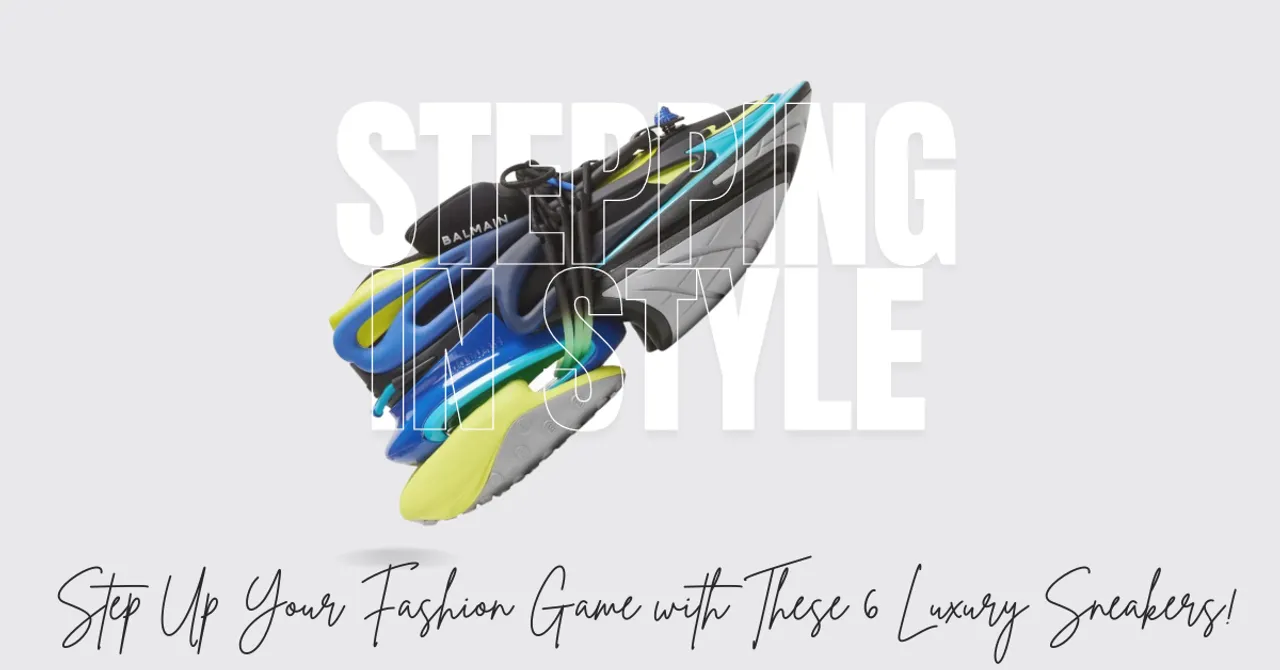 There are a few fashion staples that will show up in every closet, regardless of style preferences – the white t-shirt, the reliable jeans, and the classy yet casual sneakers. Styled by celebrities and high-fashion runways alike, sneakers are making a comeback in the limelight as a trendy and versatile choice of footwear. If you have been sporting the same pair of low-profile sneakers for a while, or are looking for something fresh to keep you on your toes, take a look at these luxury sneakers to spice up your wardrobe.
1. Rhyton Gucci Logo Leather Sneakers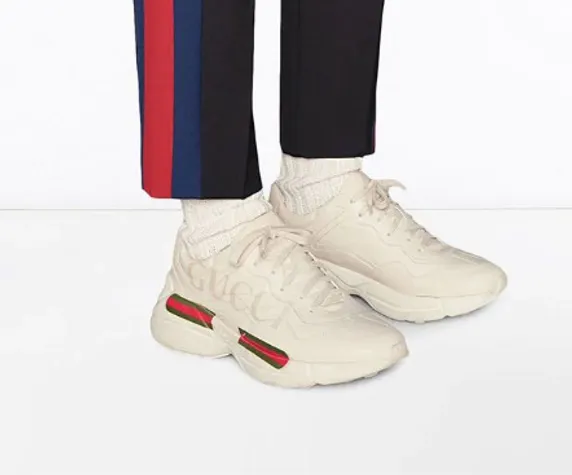 For long-time fans of the brand, this sneaker effortlessly blends retro aesthetics with modern comfort. Crafted in Italy with meticulous attention to detail, its ivory leather sports a vintage Gucci logo, a throwback to the bold prints that defined the 1980s. The Gucci logo tag and debossed emblem at the back sole are subtle yet distinctive touches. Its chunky rubber sole provides both style and stability, while the low 50mm heel adds a touch of elegance, fusing heritage and innovation for a classy take on a modern look.
2. Balmain Unicorn Trainers in Printed Neoprene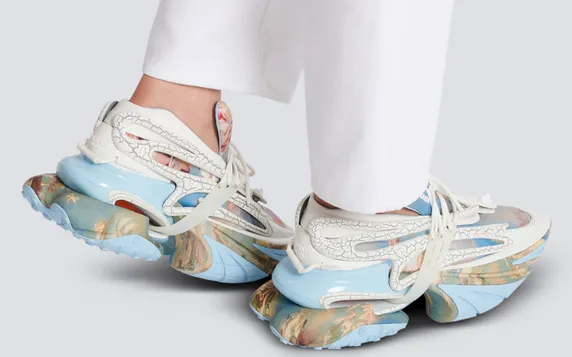 Step into a world of whimsy and innovation with these Unicorn trainers, available in a variety of colour combinations. Our pick is the sky print neoprene, embodying the spirit of renaissance for a dreamy addition to any outfit. Inspired by the art of gliding effortlessly, these Balmain sneakers blend playful design with impeccable craftsmanship. A harmonious blend of rubber, neoprene, and leather form a multi-textured masterpiece, while cracked-effect inserts add character. With lion's head-engraved studs and metallic Balmain logos, these sneakers are a true emblem of uniqueness.
3. Balenciaga Triple S Clear-Sole Chunky Sneakers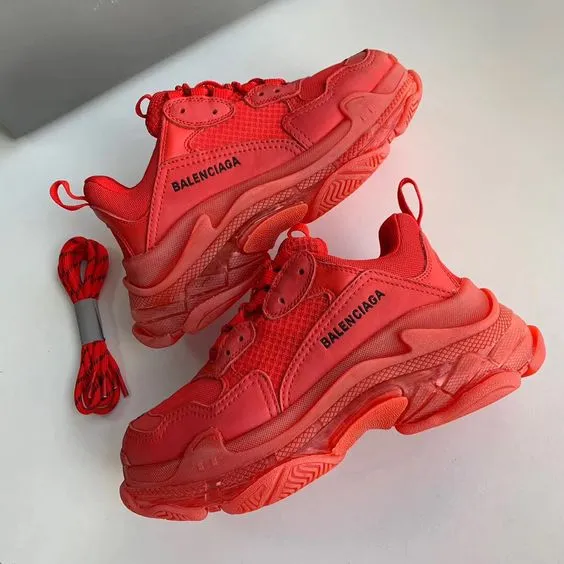 These sneakers redefine style with a 6.5cm platform, featuring not one, not two, but three distinct soles inspired by running, basketball, and track shoes. The clear sole design accentuates this design feature, giving an overall bold and dramatic look that is perfect for the daring fashion enthusiast. This is most perfectly captured in the striking ruby red /coral red colour variant, also featuring embroidered logos and size details, a panelled design, and interchangeable laces. Comfort meets couture with pull-tabs at the tongue and heel, a branded insole, and a stacked sole.
4. Adidas x Raf Simons Replicant Ozweego Sneakers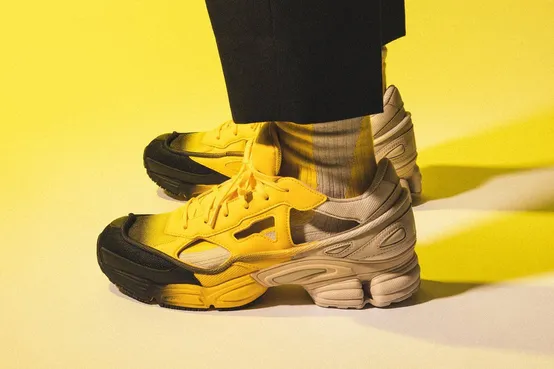 These low-top marvels showcase a striking colorblock design in black, yellow, and beige, crafted from premium leather, nubuck, and technical mesh. The tonal gradient effect adds a touch of artistry to the mix. Easy to style up or down, these sneakers are the perfect choice for a versatile yet eye-catching addition to your wardrobe. With cut-out details, a padded tongue featuring the iconic logo, and a chunky rubber sole, these sneakers fuse style with comfort seamlessly.
5. Adidas Yeezy Boost 350 v2 "Ash Pearl"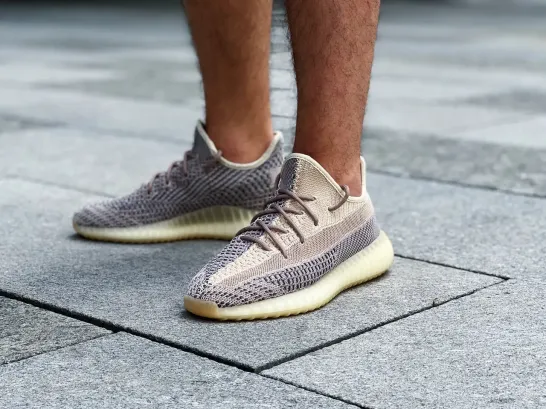 The Ash Pearl is a Yeezy Boost 350 that pays homage to the classics of the brand. Drawing inspiration from the 2019 "Lundmark," it offers a familiar yet subtly refreshed color scheme. The shoe showcases a harmonious blend of grey knit at the base and a creamy brown upper, divided by a central stripe. Ivory accents grace both upper and lower sections, culminating in a sleek heel sans pull tags. Following the footsteps of "Ash Stone" and "Ash Blue," the "Ash Pearl" embraces earthy tones, complemented by a tan monofilament stripe for a refined look. Low-key yet energetic, these shoes are perfect with any outfit.
6. Jordan x Dior Air Jordan 1 Retro High Sneakers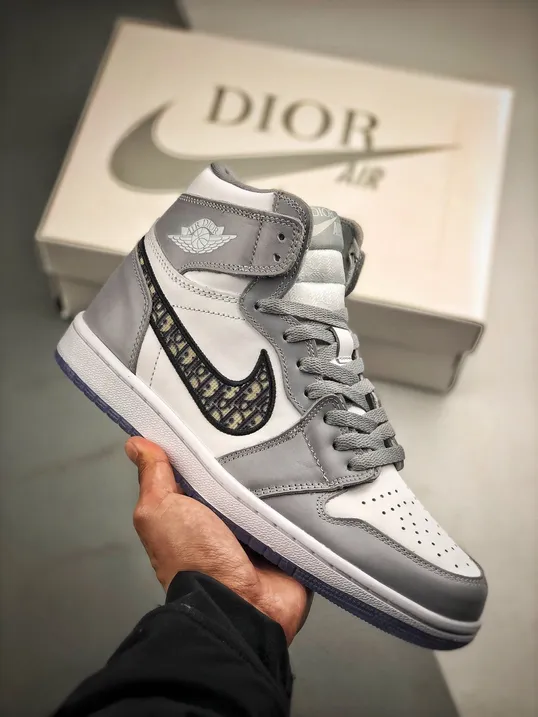 Experience the pinnacle of style with the Jordan x Dior Air Jordan 1 Retro High, a collaboration that has captured the essence of luxury sneakers. This quintessential luxury statement brings together the elegance of Dior and the iconic Air Jordan 1 silhouette. Crafted in a captivating combination of wolf grey and sail white leather, these sneakers redefine the high-top classic with a sophisticated twist. The grey Dior monogram swoosh logo adds a touch of opulence, while the round toe, rubber sole, and lace-up fastening ensure comfort without compromise.