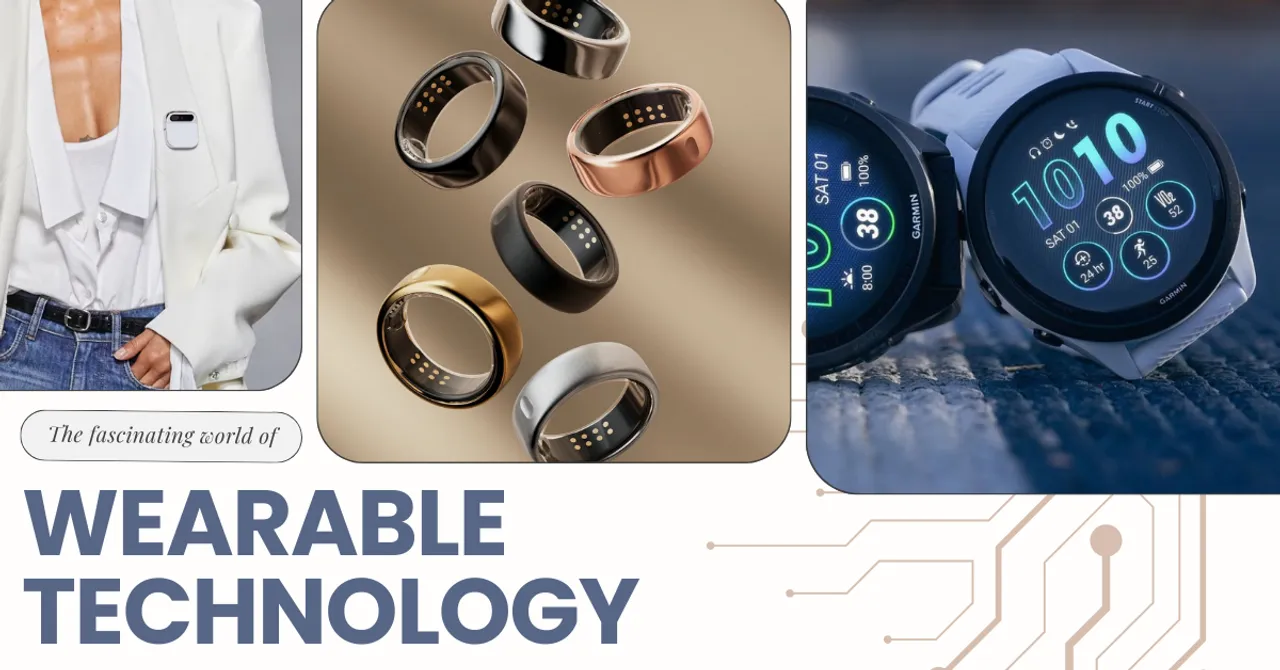 Wearable technology has revolutionized the way we perceive and interact with the world around us. With advancements in miniaturization, connectivity, and sensor technology, wearables have transcended their initial novelty status to become essential tools for enhancing various aspects of our lives. From fitness trackers and smartwatches to augmented reality glasses and smart clothing, the market is abuzz with a plethora of innovative wearable devices that seamlessly integrate with our daily routines. Let's take a look at some innovative ways that this technology is improving and augmenting our lives.
Oura Ring

Low profile, powerful, and intuitive – the Oura Ring is a smart device that provides you a greater understanding of your health. This sleek marvel syncs seamlessly with the Oura Membership, offering an unparalleled health journey. Delve into the minutiae of you sleep cycle with the detailed Sleep Score and gain actionable insights, and track real-time activity and exercise to understand what works for you. With a Readiness Score that rates your body state for the day, tracking body health parameters like temperature and heartbeat to let you know if you aren't at 100%. With customizable designs and a sleek look, this wearable technology is built for better living.
Humane Ai Pin

The Humane Ai Pin is a revolutionary wearable device redefining personal computing. With its powerful AI platform and an array of sensors, it offers seamless, real-time AI interactions. Co-founders Imran Chaudhri and Bethany Bongiorno highlight its potential to transform mobile computing. Partnered with Qualcomm Technologies, the Snapdragon-powered Ai Pin promises an unparalleled AI experience with contextual AI capabilities that transform real-time data into personalized encounters, revolutionizing the way we interact with technology. While the technology is still under development, it promises to bring the power of AI into everyday life.
Ray-Ban | Meta Smart Glasses

For a fresh perspective on life, the Ray-Ban | Meta Smart Glasses combine iconic style with cutting-edge features. The newer model has taken user feedback into account and has been redesigned from the ground up, with an ultra-wide 12 MP camera for stunning photo and 1080p video capture. With an all-new Qualcomm Snapdragon AR1 Gen1 Platform, the smart glasses now offer faster processing and computing power. The new model is also powered by Meta AI, effortlessly responding to voice commands, and improved audio and hands-free livestreaming capabilities so you can share your adventures seamlessly. With a variety of stylish frames and lens options, the glasses let you live in the moment while capturing it.

Garmin Vívomove Trend

Track your heart rate, sleep, and more with the stylish Garmin vívomove Trend. Seamlessly blending analog charm with smart capabilities, this hybrid smartwatch discreetly reveals its touchscreen display with a tap or swipe. Receive notifications, track your wellness metrics, and make secure payments via Garmin Pay. Stay in touch with the live location-sharing feature and relish the waterproof design for swimming and more. Experience sophistication with its stainless steel bezel, domed glass, and versatile silicone band. Find your perfect match among various colors and customizable 20mm bands.
Project Primrose

The possibilities are endless when fashion joins hands with technology, and Project Primrose is filled with potential. The breathtaking brainchild of Caroline Dierk (who also presented the dress), TJ Rhodes, and Gavin Miller, it was unveiled at the prestigious 2023 Adobe MAX Sneaks conference. Using the cutting-edge 'Reflective Light-Diffuser Modules,' the dress utilizes a form of non-emissive textile technology that switches from white to reflective at the touch of a button. Designers can use software from the Adobe suite to create various designs and even utilize the sensors in the dress for an interactive experience, transforming the dress into an artistic canvas.
As the field of wearable technology continues to burgeon, the future holds promising prospects for further innovations and breakthroughs. the captivating realm of wearable technology continues to redefine human experiences by seamlessly integrating technology into our daily lives. With its pervasive influence across various domains, from healthcare and fitness to communication and fashion, wearables have transcended mere gadgets to become indispensable companions. With these devices, we look towards a future where technology can help make life smarter, simpler, and better.