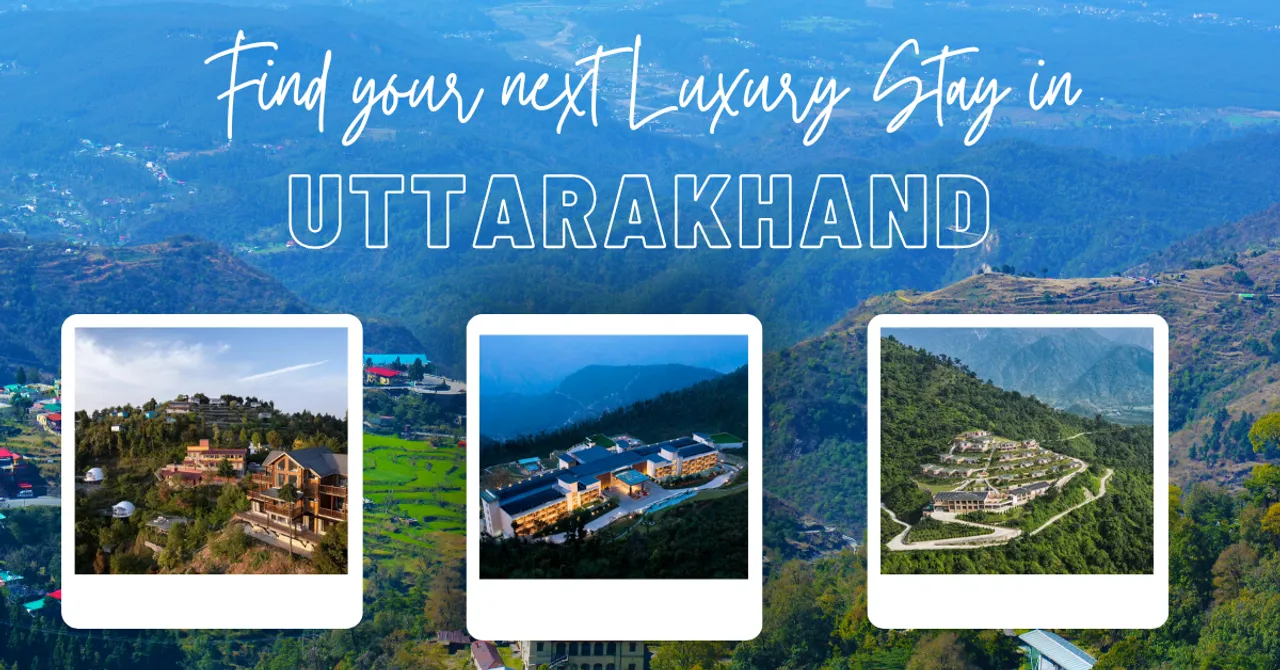 Cradled by the valleys and peaks of the pristine Himalayan ranges, Uttarakhand beckons travellers with its unparalleled natural beauty and spiritual serenity. This northern Indian state, renowned for its sacred temples, lush forests, and majestic peaks, has evolved into a sought-after destination, especially in summers, when the weather is pleasant and outdoor activities are in full swing. Luxury stays at Uttarakhand offer a unique opportunity to immerse yourself in modern comforts while being surrounded by the untouched wilderness of the Himalayas. In this article, we embark on a journey to explore the luxurious retreats and accommodations that promise an unforgettable stay in this enchanting land.
1. JW Marriott Walnut Grove Resort & Spa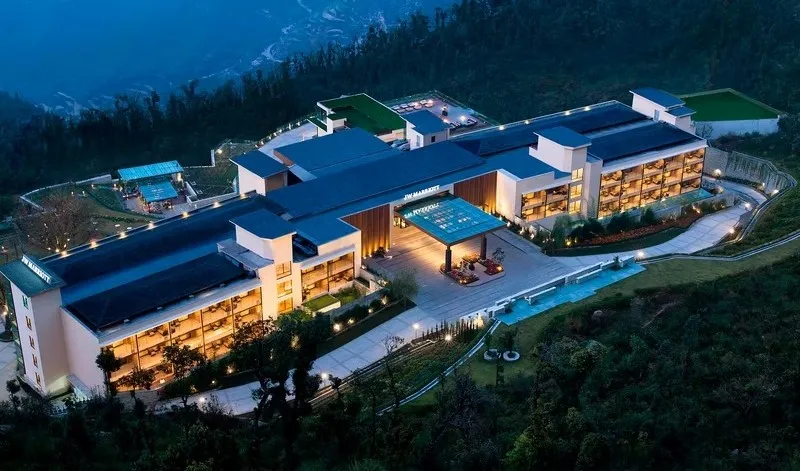 Prepare to be enchanted by the JW Marriott Walnut Grove Resort & Spa, an oasis of luxury nestled in the serene foothills of the Himalayas. Located in the heart of Mussoorie, Uttarakhand, India, the hotel is a testament to opulence and tranquillity, where the natural beauty of the Garhwal Himalayas harmonizes with world-class amenities.
Step into elegantly appointed rooms and suites that offer a retreat for the most discerning travellers. What sets this resort apart is its dining experience, epitomized by the "Wisteria Deck" restaurant, where every bite is savoured against a backdrop of mountain splendour. For ultimate relaxation, the Cedar Spa by L'Occitane awaits. Adventure seekers can explore trekking, zip-lining, and mountain biking, while those seeking serenity can lounge by the heated indoor pool or wander through fragrant walnut orchards.
2. Welcomhotel by ITC Hotels, Jim Corbett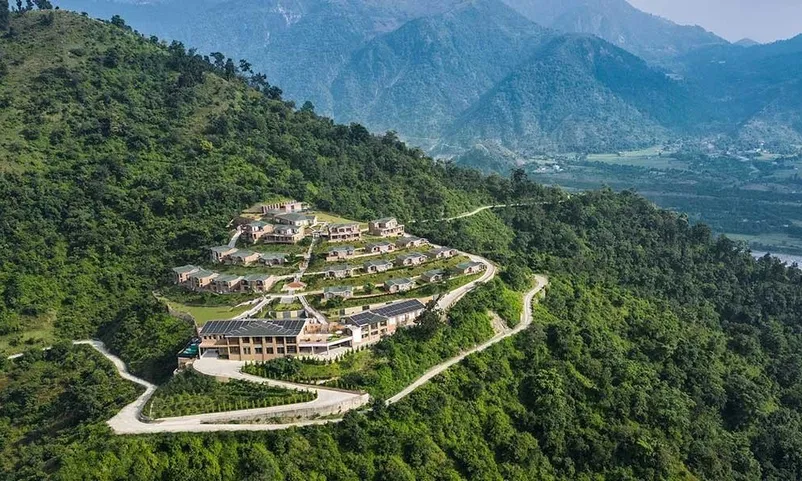 Picture this: a luxurious sanctuary nestled in the heart of Jim Corbett's untamed wilderness. At Welcomhotel by ITC Hotels, you'll bask in the lap of opulence while being serenaded by the symphony of nature. With 60% of its energy sourced from renewable solar power, sustainability meets extravagance here. Savor local Kumaoni delicacies that celebrate indigenous flavours, rejuvenate amidst vibrant nature, and embark on thrilling safaris in India's first National Park. Seek leisure by the Kosi River for memorable picnics or take a Temple Trail adventure, unveiling misty valleys and Himalayan vistas. At Welcomhotel, luxury fuses seamlessly with nature's marvels.
3. Casa Himalaya
At 9000 feet above sea level, Casa Himalaya in Auli, Uttarakhand, beckons with its luxurious charm and the majestic embrace of the Himalayas. This ski resort is renowned for its super spacious independent cottages, each a masterpiece of design, with cantilever patios that offer breathtaking 180-degree vistas of Nanda Devi and other Himalayan giants. The Oryza sky lounge restaurant and Ski Story Café offer dishes that tantalizes taste buds. With the property's sprawling cedar wood front deck, and verdant meadows in summer or glistening snow in winter, this experience will redefine the concept of ski resort luxury. Whether you're seeking adventure or tranquillity, Casa Himalaya promises an indulgent mountain haven.
4. Six Senses Vana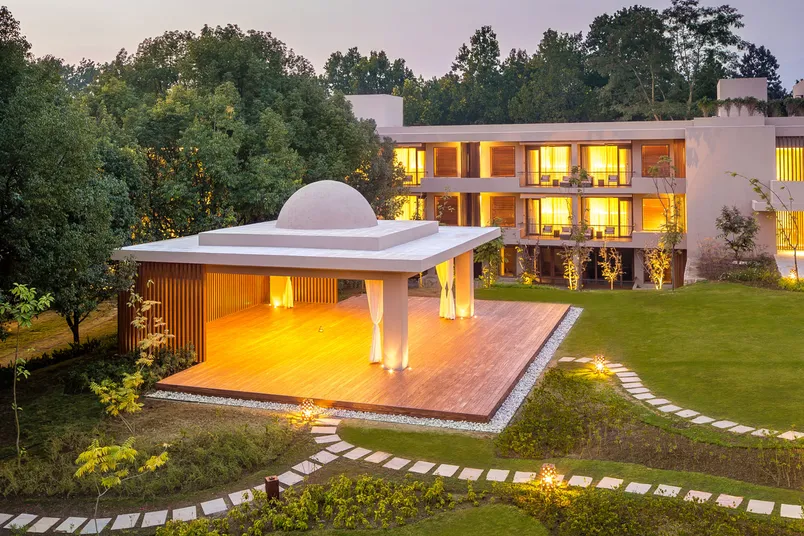 Discover a hidden gem in the forests of Dehradun – Six Senses Vana, a luxury wellness sanctuary that epitomizes rejuvenation. This retreat in the heart of Uttarakhand, named after its lush surroundings, seamlessly blends ancient traditions with modern comforts. Guests can immerse themselves in Ayurveda, Yoga, Tibetan Medicine, and Natural Healing Therapies, each tailored to their specific needs. With meticulously designed accommodations offering views of the Sal forest, gardens, or mango orchards, Six Senses Vana provides a tranquil escape from the urban life. From nutrition guidance to daily retreat activities, this resort offers a holistic wellness experience for those seeking self-discovery.
5. Avalon Cottages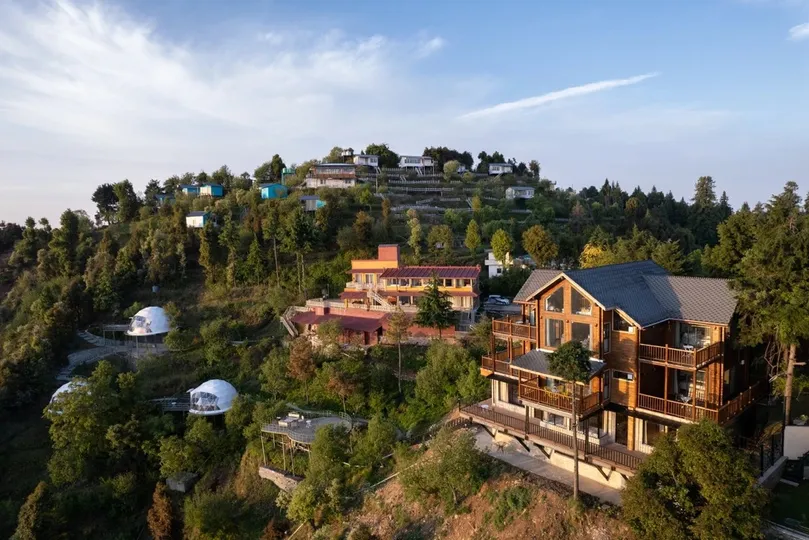 Nestled amidst the serene beauty of Kanatal in Uttarakhand, Avalon Cottages is a luxurious mountain homestay that beckons discerning travellers seeking an extraordinary experience. With its stunning surroundings as inspiration, Avalon offers an array of accommodations, from spacious villas to unique dome and igloo structures. Perched at an impressive altitude of 7500 feet, just an hour's drive from Mussoorie, this resort seamlessly combines mountain tranquillity with refined elegance. Guests can immerse themselves in the breath-taking natural beauty while indulging in unparalleled service. Whether it's the opulent villas or adventurous glamping, Avalon promises a truly unique and unforgettable stay, making it the perfect retreat in the Tehri Garhwal region.
In the serenity of Uttarakhand, a treasure trove of opulence awaits the discerning traveller. From secluded mountain resorts exuding exclusivity to extravagant glamping escapades, this region redefines luxury amidst the breathtaking embrace of nature. Here, indulgence meets the awe-inspiring beauty of the great outdoors, creating the perfect getaway for a little introspection and a whole lot of relaxation. The luxury retreats beckon, promising an unforgettable experience where sheer beauty meets the lap of luxury.