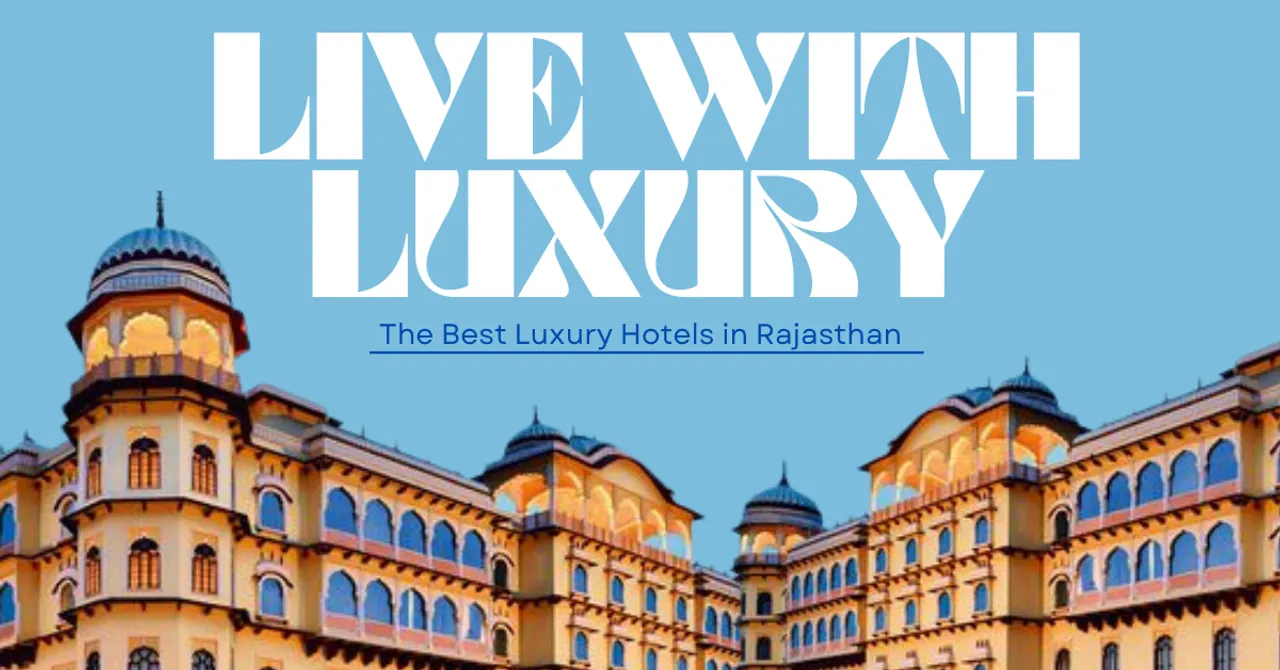 When it comes to experiencing the epitome of luxury, Rajasthan stands out as a destination that effortlessly combines opulence with relaxation. With its grand palaces, intricately designed forts, and a rich cultural heritage, Rajasthan is a dream destination for travellers from around the world. In this article, we present to you the epitome of Rajasthan's opulent hospitality. Here are the best luxury hotels in Rajasthan that will elevate your travel experience to the next level.
The Oberoi Rajvilas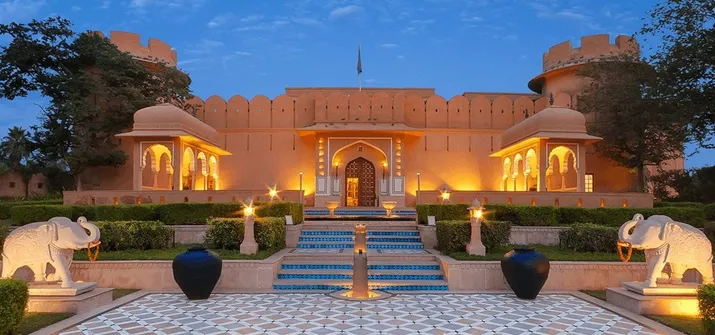 Immerse yourself in unparalleled luxury at The Oberoi Rajvilas, a Taj property based in the heart of Jaipur. A haven of refined indulgence, this prestigious 5-star resort is where opulence meets tranquillity. Immerse yourself in exquisite 5-star accommodations surrounded by lush greenery. For the most refined experience, there are rooms with private pools available.
Wander through 32 acres of immaculate gardens, where paths lead to encounters with nature's beauty. The 300-year-old Shiva temple accentuates the tranquil atmosphere of the property, serving as a testament to heritage among luxury. Distinguished globally, the Oberoi Rajvilas provides a range of amenities
Sujan Sher Bagh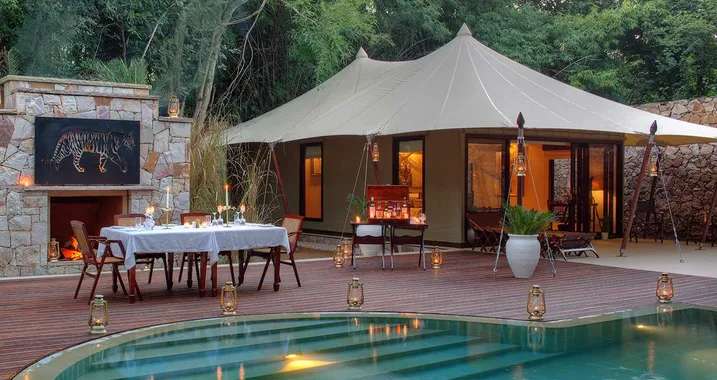 At Sujan Sher Bagh, you can relive the opulence of the 1920s in a luxury safari camp near Ranthambhore National Park. For the wildlife lovers looking for an unconventional yet luxurious stay. Sujan Sher Bagh is an ideal option. Discover a world of adventure beside the finest comforts available, where attentive staff ensures your every desire is met.
This top-rated destination beckons with unforgettable jungle safaris among experienced guides that craft a compelling journey with their knowledge and enthusiasm. Whether it's the family suits or luxury tents, each one guarantees unparalleled luxury. Indulge in jungle safaris, savour farm-to-table feasts, and weave your tale into Ranthambhore's fabric of nature.
The Leela Palace Jaipur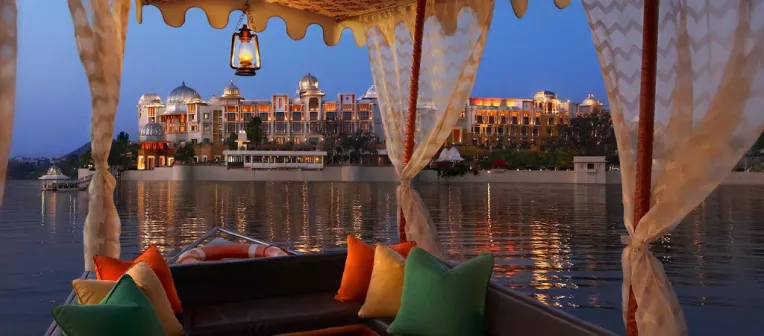 Step into a world of regal extravagance at The Leela Palace Jaipur, where Rajputana heritage meets contemporary luxury. With a backdrop of the majestic Aravalli ranges, this opulent palace sprawls over eight acres, strategically located near Jaipur's heritage gems. Take a chance to marvel at thikri craft, Shekhawati paintings, and glistening silver domes that adorn its interiors.
Discover the Royal Villa with Plunge Pool, your private sanctuary, or indulge in the Royal Villa with Courtyard, where 1130 sq. ft of aqua-hued elegance awaits. You can also steep yourself in Rajasthan's rich history by joining "A Walk In The Palace," an exclusive experience that unravels the stories hidden within every corner, making your stay truly unforgettable.
Fairmont Jaipur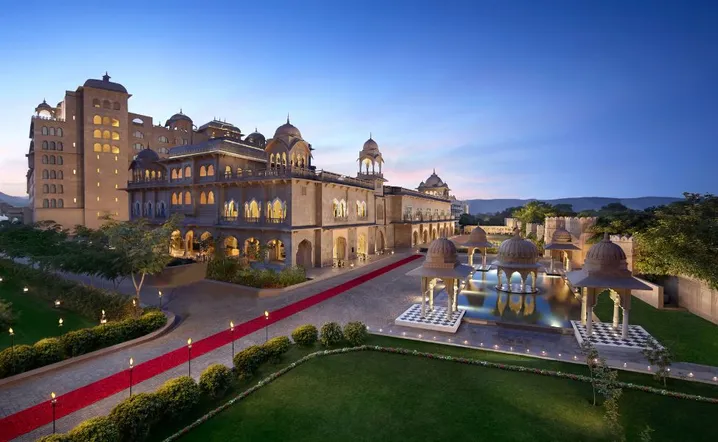 Fairmont Jaipur harmoniously blends Rajasthan's heritage with modern opulence. This 5-star oasis in Jaipur serves as the key to uncovering the Pink City's history and culture. Located near scenic attractions like Amber Palace and lively bazaars, visitors can spend an eventful day before returning to the comfort of their luxury suite at Fairmont Jaipur.
The 245 guest rooms, including 7 lavish suites, are a fusion of contemporary comfort and Mughal elegance. Plush linens, intricate arches, and attentive service transport guests to a regal realm. Whether it's the Aravalli vistas or the tranquil courtyard, views from the rooms or terrace suites are mesmerizing. From poolside serenity to a cutting-edge fitness center, Fairmont Jaipur defines luxury. It allows guests to immerse themselves in an extraordinary experience, wrapped in the allure of this serene destination.
Suryagarh
Suryagarh lies in the heart of the mystical Thar Desert, a sanctuary of luxury awaits, offering not just accommodation but a profound connection with tradition and modernity. Here, in this oasis of wonder, your soul finds solace in the desert's silence and the celestial canopy above. The rooms are a blend of classic charm and contemporary convenience. These spacious sanctuaries open onto expansive verandas and turrets reminiscent of regal palaces.
At this haven of opulence, hospitality is an art form, intuitive and genuine. Experience the vibrant traditions of the Thar Desert with enchanting cultural evenings. Engage in leisurely pursuits at the Taash-Billiards Room or embark on an equestrian adventure across the undulating landscapes. Whether its adventure or leisure you seek, Suryagarh has the perfect choices for a personalized experience.