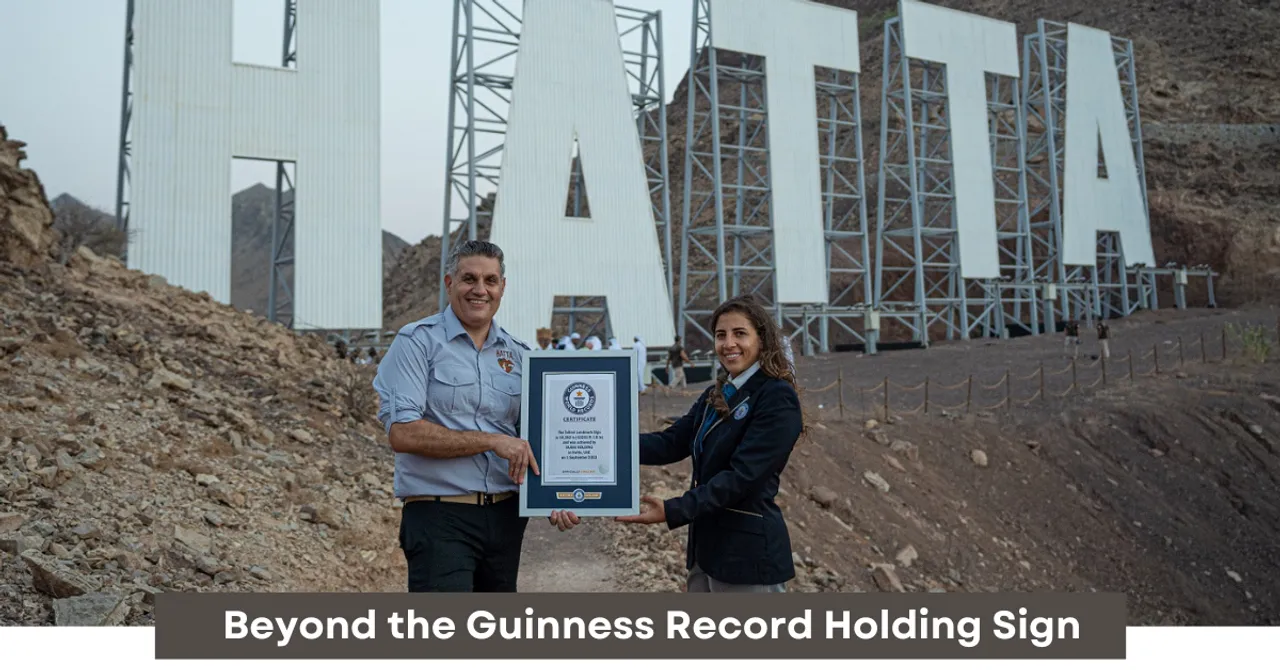 Overlooking the scenic landscapes of a charming town outside Dubai, the Hatta Sign is an iconic landmark for the Emirates, and now the entire world – having recently earned a Guinness Book of World Record for "The Tallest Landmark Sign." Nestled in the heart of the Hajar Mountains, Hatta is a place where time seems to slow down, offering a tranquil escape from the bustling city of Dubai.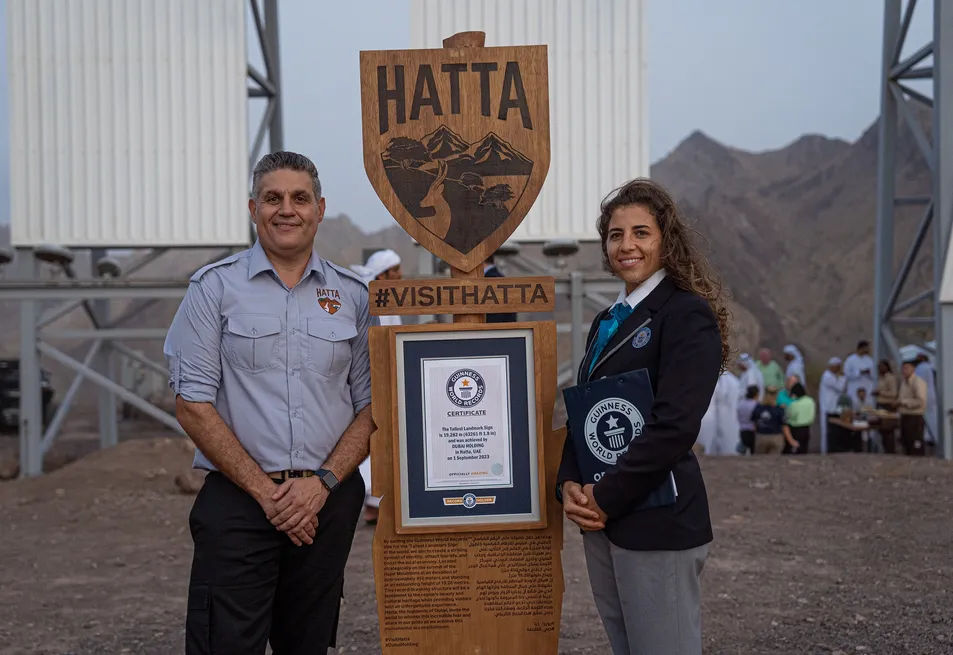 With its rich history dating back centuries, this town is a testament to the enduring heritage of the region. The 19.28-metre-tall sign invites the world to take a look at this town full of history and natural beauty, and we're bringing you some of the best activities to take part in when visiting during your next trip to Dubai.
Sightseeing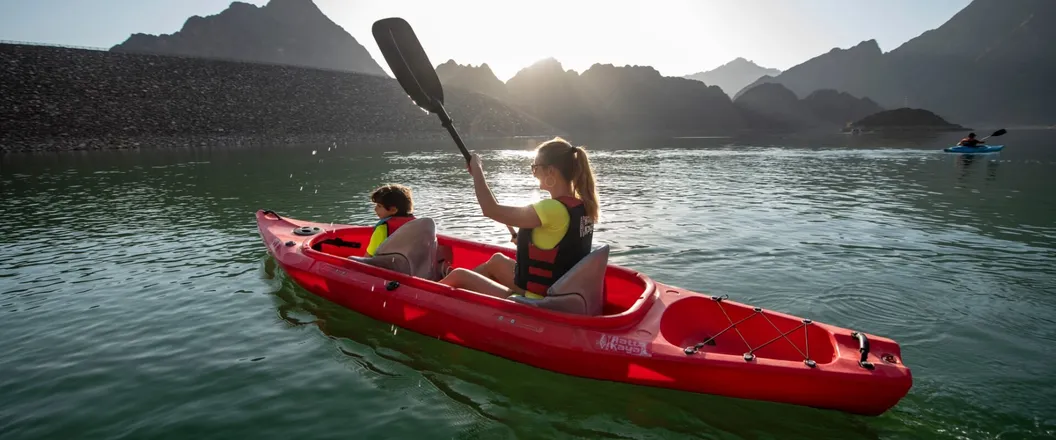 There is so much more to see in Hatta than the iconic sign, though you wouldn't want to miss it if you're visiting. As the town is situated at the foot of the Hajar Mountains, you will experience a wide variety of scenery as desert transforms into majestic mountains on your way. Nestled in these mountains is the Hatta Dam, forming a stunning vista with turquoise waters set against the jagged peaks.
For the history enthusiasts, the Hatta Heritage Village, a restored historical site, provides an opportunity to delve into the bygone eras. It showcases Emirati life from centuries past, complete with 30 authentically reconstructed buildings and cultural artefacts. Nearby, the Hatta Hill Park provides a lush setting for picnics and scenic tower views, if you are looking for a bird's eye view of the city.
Adventure Sports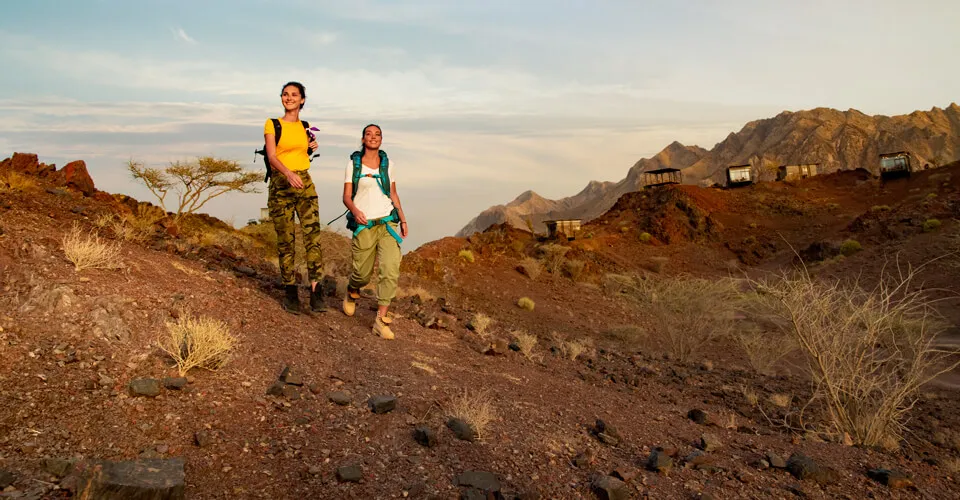 Hatta is a haven for those with a taste for adrenaline and adventure. The Hatta Mountain Bike Trail Centre offers a network of trails spanning 52km, catering to riders of all skill levels. You can explore these scenic routes at your own pace, with clear markers to guide you. For hikers, the undulating peaks and winding valleys of the Hajar Mountains offer incredible trekking experiences. You'll encounter diverse terrain, from sandy patches to rugged rocks, making each hike an adventure of its own.
Embrace the thrill of kayaking at Hatta Dam, also known as Hatta Lake. It is easy to rent a kayak or paddle boat from the reservoir's kiosk and cruise across its crystal-clear waters, surrounded by breath-taking natural beauty. Thrill seekers can venture into hidden passageways concealed behind the mountains for a truly immersive experience.
If you're looking to try out more fun activities, Hatta Wadi Hub is the place to be. Open during the winter months, it offers a wide array of thrilling activities. Test your aim at the archery range or try your hand at axe throwing. Soar above dramatic mountain vistas on a zipline, or tackle a challenging adventure ropes course. Whether you're an adrenaline junkie or simply seeking outdoor fun, Hatta has something exhilarating for everyone.
Accommodations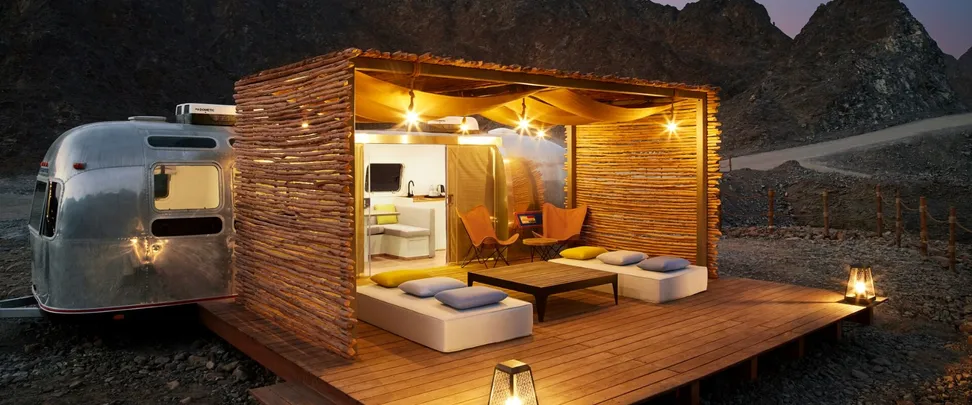 The town offers all you would need for a luxurious accommodation, each offering a unique perspective on the dazzling surroundings. The Sedr Trailers at Hatta Resorts redefine camping, allowing you to stay in plush trailers along the tranquil Hatta Dam. Modern amenities like Wi-Fi, TVs, and comfy bedding await, all the comfort of a 5 star hotel amidst nature's wonders.
For those seeking a cozy retreat, the Damani Lodges blend seamlessly into the Hatta mountainscape. These purpose-built lodges offer private terraces with stunning hill-top views. Equipped with hotel-standard conveniences, they're perfect for families and adventurers alike. Step outside, and you're right on the doorstep of Hatta's mesmerizing trails.
The newest addition, the Domes at Hatta Resorts, provides a glamping experience like no other. With panoramic windows overlooking the Hatta mountain range, you can immerse yourself in nature while enjoying private BBQs and fire pits. Inside, you'll find double beds, single sofa beds, and stylish washrooms, along with modern luxuries like in-room TVs and mini-fridges. Whether you're gazing at starry skies or exploring the great outdoors, these domes offer an unforgettable stay.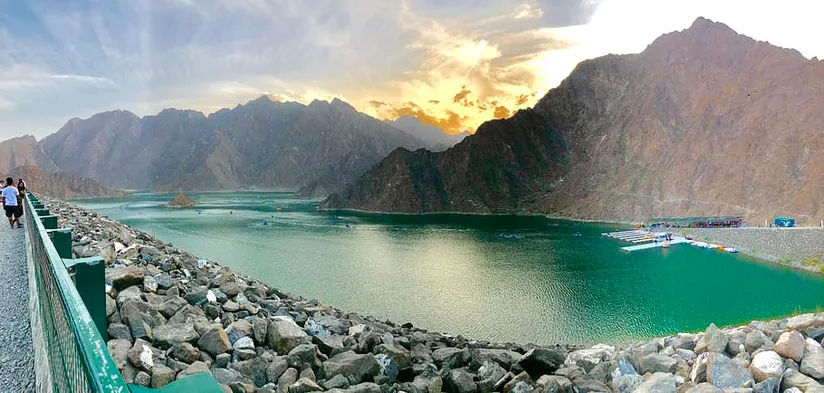 Hatta's Guinness World Record-holding landmark, the Hatta Sign, is just the beginning of what this charming town has to offer. While the record is impressive, the real treasure lies in the rich history, stunning landscapes, and thrilling adventures waiting to be experienced here. Don't just come to witness the record; come to immerse yourself in the adventure, relax in luxurious accommodations, and discover the true allure of Hatta. Your next unforgettable journey awaits in this remarkable gem outside Dubai.