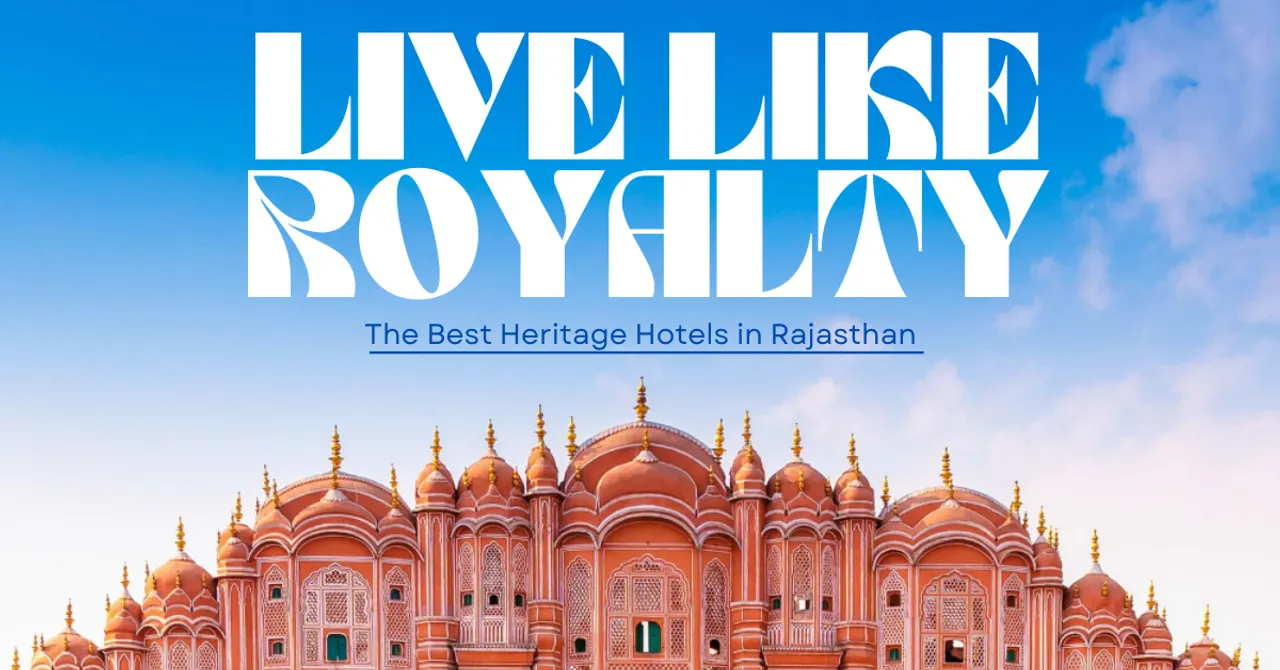 Rich culture, breathtaking forts, and vibrant arts – Rajasthan effortlessly transports you to a bygone era. The state's every nook resonates with its royal history, beckoning you to immerse yourself in its heritage and warm hospitality during your weekend getaway. Don't miss the opportunity to step into the shoes of the legendary Rajputs on your upcoming holiday, as we present to you five splendid heritage hotels where you can truly relive the regal charm of Rajasthan.
Neemrana Fort Palace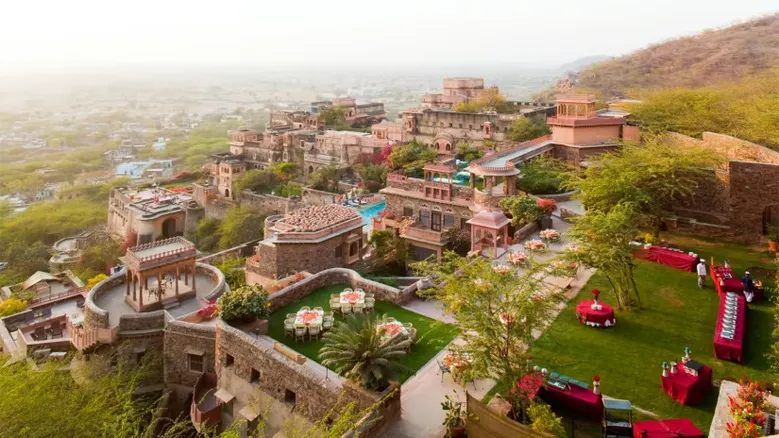 Neemrana Fort commits to an authentic experience of its 15th century heritage, right from the gate. While there are two elevators available on the property, visitors will find it much more rewarding to explore the various nooks and crannies of the 14-tier hotel on foot. Nestled amidst the ancient Aravalli hills, this heritage gem beckons from the Delhi Jaipur highway, offering an ideal weekend escape.
Hanging gardens, an ayurvedic spa, and two luxurious pools make the destination worth the effort you put in to get there. This is your chance to immerse yourself in a journey through the past five centuries at this distinguished heritage resort near Jaipur, where standard comforts yield to an opulent grandeur rarely encountered in the present day.
Six Senses Fort Barwara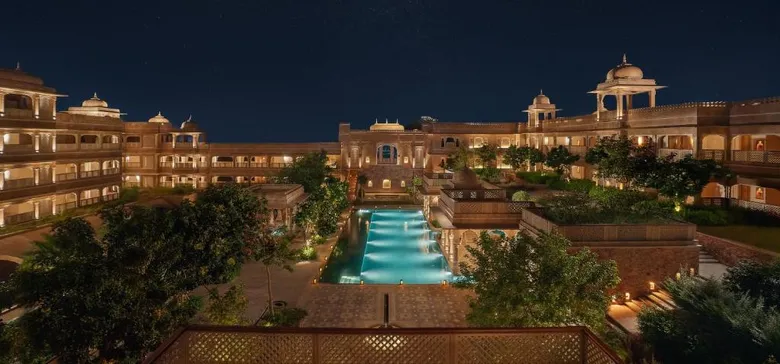 Originally owned by a Rajasthani royal family, this 14th-century fort opens a window into the past. Modern amenities have been gracefully integrated into the fort, alongside dedicated conservation efforts aimed at preserving its regal charm from seven centuries ago. The restoration endeavors encompass two palaces and two temples, showcasing a diverse array of ancient architectural marvels.
Each suite is thoughtfully designed in a contemporary Rajasthani style, harmoniously complementing the fort's historic backdrop. These spaces subtly incorporate high-tech features and elegant, surprising artwork. Be it the wellness programs, spa center, or culinary delights, everything at Six Senses Fort is inspired by local culture and enriched by modern advancements.
Umaid Bhavan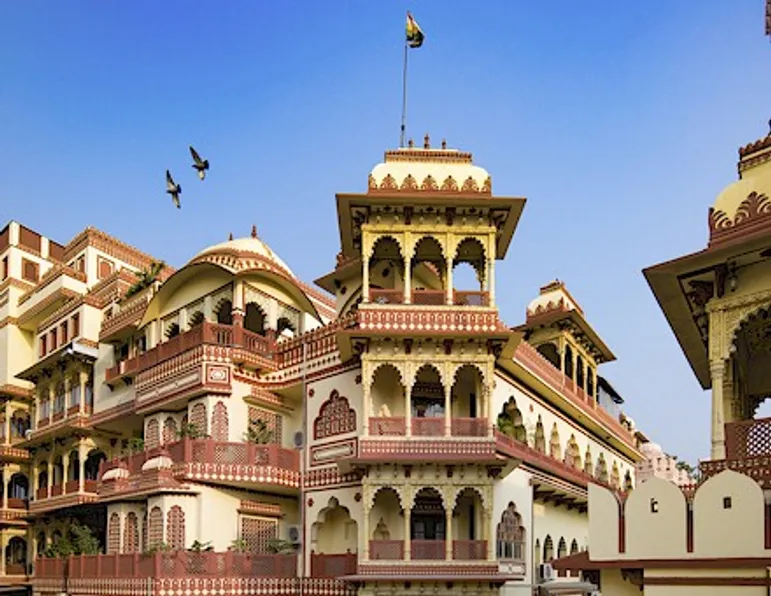 Umaid Bhawan Heritage Hotel, a celebrated vintage gem, graces the vibrant heart of Jaipur in the upscale Banipark district. Since its establishment in 1993 by a royal family from Borunda, it has served as a flagship that propelled the Umaid chain to global recognition. Featuring Rajasthani craftsmanship in every room, the hotel is a testament to the rich culture.
With regal suites, intricately carved balconies, expansive terraces, charming courtyards, and verdant lawns, the hotel whisks guests away to the era of kings and queens. Its ambiance mirrors a sumptuous palace, complemented by tantalizing Rajasthani cuisine that impresses your palate. For those who return, Umaid Bhawan becomes a cherished home away from home in the Pink City.
Rambagh Palace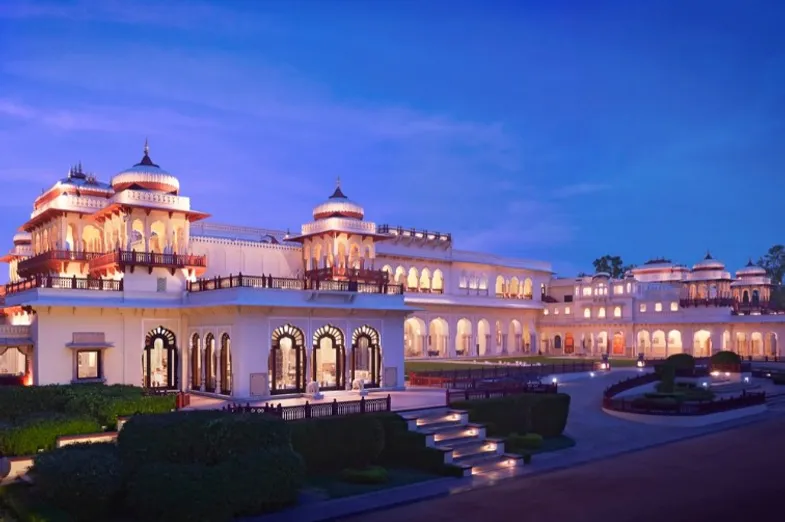 Dating back to 1835, Rambagh Palace epitomizes the grandeur of royal transitions. From a handmaiden's abode to a regal guesthouse, hunting lodge, and the residence of Maharaja Sawai Man Singh II and Maharani Gayatri Devi, this palace is steeped in history. With 78 opulent rooms and suites, it retains its intricate charm, adorned with hand-carved marble 'jalis,' sandstone balustrades, and Mughal Gardens.
Within this opulent palace, fine dining reigns supreme at Suvarna Mahal, a former ballroom, and Rajput Room. Mediterranean delights await at Steam, while the Polo Bar exudes sophistication. The J Wellness Circle offers ancient Indian therapies, yoga, and meditation. Perfect for weddings and events, Rambagh Palace has hosted luminaries like Lord Louis Mountbatten, Prince Charles, and Jacqueline Kennedy, inviting guests to savor Rajput hospitality at its finest.
Taj Lake Palace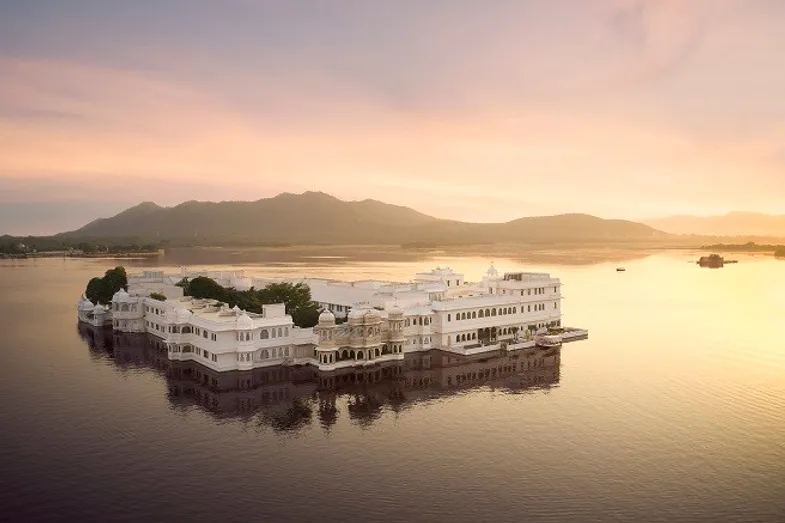 Surrounded by the tranquil waters of Lake Pichola, Taj Lake Palace, formerly known as Jag Niwas, is a timeless architectural masterpiece. This splendid palace, originally constructed between 1743 and 1746 by Maharana Jagat Singh II, the 62nd custodian of the House of Mewar, once served as a summer retreat for the Mewar Royal family. In 1963, Maharana Bhagwat Singh of Udaipur transformed it into a heritage hotel.
Renowned worldwide for its starring role in the James Bond film 'Octopussy,' the palace offers breathtaking views of City Palace, the Aravalli Hills, Machla Magra Hills, and Jag Mandir from every room. As a guardian of tradition, Taj Lake Palace continues to host grand soirees, preserving the regal heritage of Udaipur, known as the Venice of the East, a city adorned with palaces, lakes, temples, and gardens.